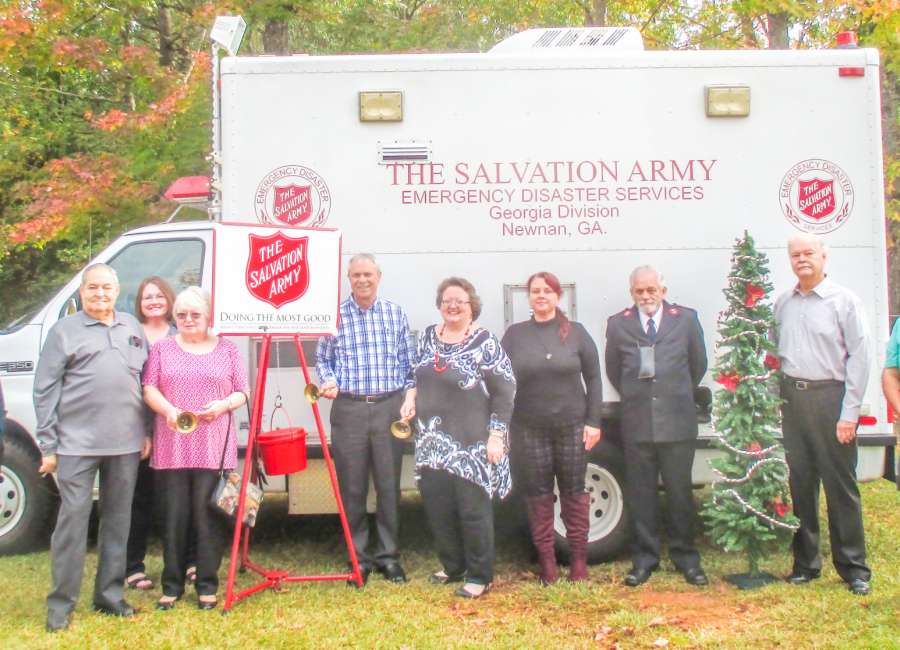 The Red Kettle Drive for the Newnan Salvation Army Service Center starts Friday.
The annual holiday tradition collects funds that will be used by the Salvation Army to help needy people in Coweta County in the months ahead. Kris Carpenter is serving as the local kettle drive director this year.
This year's kettle drive goal for Coweta County is $70,000. To volunteer to ring a bell at a kettle, contact Carpenter at 770-251-8181 or sabellringers@yahoo.com
Most volunteers ring for two-hour shifts.
"Children, friendly pets and musical instruments and dressing in holiday attire are encouraged," said Heather Creech, director of the local service center.
Although the official Red Kettle Drive starts Friday, some ringing has already begun.
"A volunteer was ringing at Golden Corral this past Friday and Saturday," Creech said.
The local service center's advisory council held a kickoff event for the kettle drive. Newnan Mayor Keith Brady issued a proclamation naming November as Salvation Army Red Kettle Drive Month.
The proclamation noted "the Salvation Army offers a helping hand to people in Newnan," and "the Red Kettle Drive is a major source of funds used by the Salvation Army to help Coweta County residents throughout the year."
The red kettle has been an American icon for 127 years. From Thanksgiving to Christmas Eve, the ubiquitous buckets can be found outside thousands of storefronts across the country.
Red kettles raise millions for Salvation Army programs that provide food, shelter, rehabilitation, disaster relief, and much more for people and families in crisis.
In December 1891, Capt. Joseph McFee of the Salvation Army in San Francisco, Calif. wanted to provide a Christmas dinner for 1,000 poor people, but had no way to pay for it.

He thought back to when he was as a sailor in Liverpool, England, where on the docks of the city's waterfront he remembered seeing a large pot into which charitable donations could be thrown.

The next day, McFee secured permission to place a brass urn at the Oakland ferry landing. Beside the pot, he placed a sign that read, "Keep the Pot Boiling." Soon, he had all the money he needed to fund the Christmas dinner.

Two years later, McFee's fundraising idea had expanded to 30 kettle locations on the West Coast.

Soon after Christmas 1895,  two young Salvation Army officers named William A. McIntyre and N.J. Lewis were transferred to the East Coast. They took with them the idea of a Christmas kettle.
McFee's idea launched a tradition that has spread not only throughout the United States, but across the world. Although red kettles are not found in all of the 126 countries the Salvation Army serves in, they can still be found in such distant lands as Korea, Japan, Chile and many European countries.