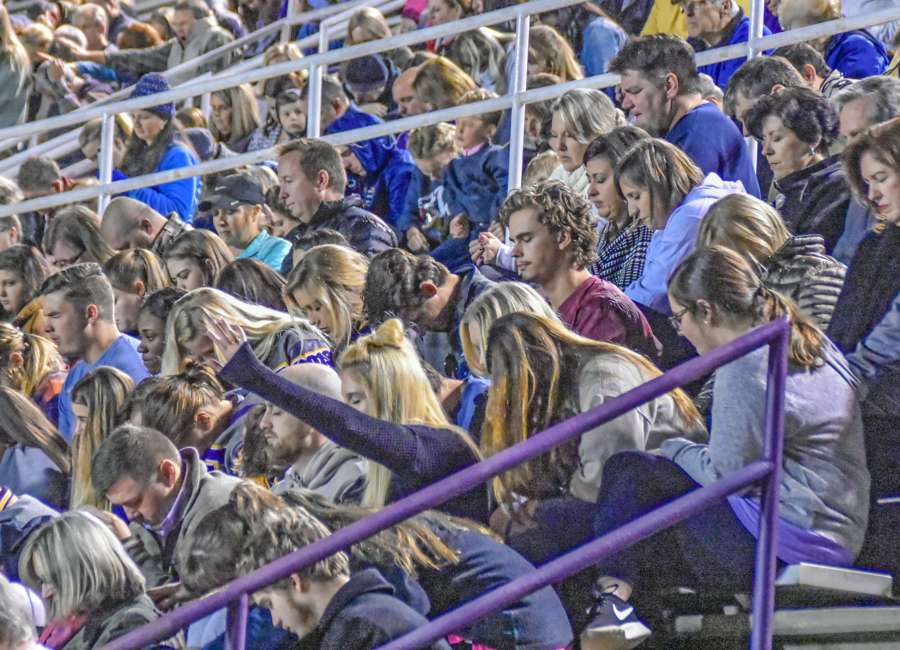 By Chris Goltermann

Courtesy of Coweta Score

The scoreboard was lit on Thursday at Garland Shoemake Stadium for nearly as long as a football game could have taken to complete.

On this particular chilly November evening, however, the only thing passed in between a group of nine speakers assembled for a community prayer rally organized by the Coweta Fellowship of Christian Athletes was a microphone.
Yet their audience was equally as large and united as a fan base on any given Friday under the lights during the high school football season.  
As for their specific target, it wasn't far outside Coweta County where the message wouldn't have been heard, nor potentially wanted.
Instead, the majority aimed at the one source where a renewed debate over school prayer couldn't be touched by red tape.
Namely, the students themselves.
On Thursday, students who chose to attend the Coweta FCA rally among hundreds including parents, coaches, school administrators and community members, weren't treated as spectators.
They were treated as the starting lineup in the ongoing disagreement over where boundaries between church and state should lie.
"It's time for you to get off the bench," said current Clayton and former Coweta FCA member Daryle Smith, who aimed right at students taking the reins when it came to taking command of their faith. "It's time to be a starter for your team, a starter in your school, a starter for your church."
The weapon of choice on Thursday was prayer, the same method that brought a warning filed last month through a letter from the Freedom From Religion Foundation to the Coweta County School Board and Superintendent Steve Barker.
The nonprofit atheist group pointed its finger toward East Coweta first-year head football coach John Small for allegedly joining the Indians in prayer during the 2017 season, much of it stemming from a video taken at the end of the team's victory over North Cobb. It began with heads lowered and a community coach saying, "Amen."
As a result, the school system reminded its administrators that prayers had to be student-led.
Small, who was the first to speak to the crowd, has found himself as an unexpected voice in a debate that had extended nationally after being a guest on Fox News' "Fox and Friends" program early Friday morning.
But his focus remained on how his players and East Coweta's student body reacted after the letter of complaint, choosing to pray together prior to the Indians' final game of the season at Newnan without coaches.
"Students, I want to thank you for taking the stance that you took for setting an example for us as adults, to push us out of our comfort zone," Small told the crowd. "I would encourage you that when adversity comes your way, you stand up, you look at it, and you say, 'God, you've got this, don't you?' And stand strong."
Student representatives from all three of the county's public high schools got a chance to speak, each taking a unique perspective on the people who have an influence on them on a daily basis.
Indians senior quarterback Christian Reid had the strenuous task of following Smith's powerful words, but found a connection with the same poise of any of this year's completed passes, thanking both his current and former coaches for inspiring him during both his middle school and varsity careers.
"Before I head onto the field before each drive, I blow a kiss to the sky and ask God to show me my purpose. I don't ask for a win. I don't ask to throw this many touchdowns," Reid said.
"God has given me a platform, not just to throw a ball, but to do things like this. When adversity hit, we looked at his face and we laughed at it. … It's not always about us. I just want to thank my coach for standing up for something that's bigger than yourself. You understood the bigger picture."
Earlier, Smith reminded students that battles for religious freedoms rarely take young people into consideration in controversies waged mostly by adults.
"Freedom of religion don't respect you. That's why they're telling the adults not to pray," he said. "Because they don't see you as a threat. They know as adults we have faith, but the last time I checked, ninety percent of the people that we preach about in the Bible were your age when they got called."
Smith equally called the letter brought forth by the FFRF as much a part of a "spiritual national championship between the church and the devil."
Along with Reid, Northgate junior Olivia Sims and Newnan senior Garrison Morgan spoke to the crowd. Sims implored teachers to continue to use their influence to help students before leading a prayer for them.
"You can do so much," Sims said. "We follow your example."
Morgan urged FCA student members and character coaches to also take a united front "and go out of your way and push each other to be the leaders in your school."
Closing speaker Todd Scarbrough choked away tears about the influence Coweta FCA's program has had on his life just three days prior to marking one year since he and wife Joni lost their son, Hunter, an eighth-grader at Madras Middle.
A beloved student-athlete with a penchant for helping others in need, Hunter took his life in the middle of the night having suffered through night terrors during his youth.
Upon an outpouring of support from the community, the Scarbrough family has now raised more than $100,000 in less than a year through a foundation in Hunter's name. Todd announced that the foundation plans to award three $7,000 scholarships this spring, one to a senior from each of the school system's three high schools.
"I've got a new purpose. I go three days a week to FCA with these schools. And if it wasn't for the kids, I wouldn't be here. They have shown me love and care, and I've shown it back," Scarbrough said. "Y'all have laid down the law for me and my family to keep us alive (and) to bear the burden with us. Kids, it is time to rock the house. It is time to show people in Wisconsin or wherever else they want to be that y'all are the stuff."
East Coweta was only the most recent school in the area to be a subject for the FFRF, which previously filed a complaint in Phenix City, Ala., over a public high school's tradition of announcing The Lord's Prayer over a loudspeaker prior to football games.
While Coweta County doesn't expect to be the last target either, it's one that has only been strengthened according to Small.
"Moving on from tonight, we've all got to be a united front, because I'm telling you the enemy ain't gonna stop," he said. "But the good news is, we've already won. We just have to choose to walk in that."
***