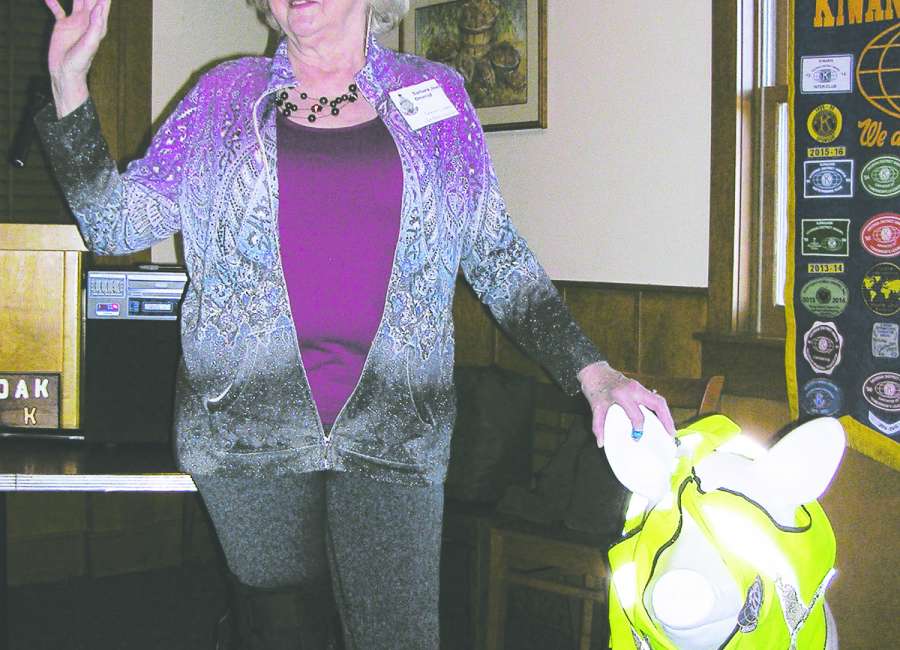 The members of White Oak Golden K got an art lesson of sorts at one of their recent meetings.

Barbara Jean Polivka Omerod shared the story of her life and her art at the meeting at Sprayberry's on Highway 34. Omerod began her journey back to the world of art after 35 years in the legal field.
Growing up in the foothills of the Appalachians, Omerod studied art while attending Bellaire Public Schools. She earned a scholarship awarded to high school students by Ohio University in Athens, Ohio, to attend a two-week workshop at its College of Art.
While working closely with the university's art in-structors, she learned the joy of working "out-of-the-box" and using many mediums.
Many years later, after moving to Newnan, Omerod uncovered a set of pastels and supplies given to her earlier by Arleen Cramer Omerod, her stepmother-in-law, an accomplished pastel artist. With encouragement from local artists Jenny Jones and Debra Kidwell, she joined an art class at Corner Arts Gallery, Newnan.
Barbara Omerod's pastel, "Going Home in Amish County," was awarded "Top Ten" at the eighth annual Newnan-Coweta Art Association Juried Art Show held in June 2013.
Omerod's love of abstract art soon led her to experiment with hard and soft – including "pan" pastels. She became energized as she created works. As an image came to life, the title for each piece came to her. Her work includes pastels, one-of-a-kind greeting cards, and hand-made costume jewelry. She also teaches classes at Corner Arts Gallery in downtown Newnan.
Omerod is an officer and board member of the NCAA, a board member of the Friends of the Coweta County Libraries and a Presbyterian. She and her husband, David, a Presbyterian Church USA pastor, have two grown daughters and give grandchildren.
Another recent Golden K meeting featured Linda Kirkpatrick of Family Patterns Matter as the speaker.
A native Californian, Kirkpatrick was transplanted to Georgia in 1979 when her husband became employed in Newnan. She has six sons and one daughter, is a grandmother of seven, and great-grandmother of two. She holds a masters degree in counseling from the University of West Georgia.
Kirkpatrick is an expert in non-profit design. She understands the art of utilizing research to write a grant. She has been a foster and adoptive parent, a pediatric nurse for infants to toddlers, a supportive living coordinator for Pathways Mental Health, a designer and implementor of therapeutic foster care for Pathways Mental Health Southern Crescent Area and past executive director for Community Welcome House.
Kirkpatrick has also gained insight into the needs of the aging and elderly as medical social worker for home health clients.
Kirkpatrick is founder and CEO of Family Patterns Matter, Inc., which explores the generational patterns in families that allows children to define who they are and works with youth in addressing concerns such as bullying and self-harm to include cutting and dropping out of school.