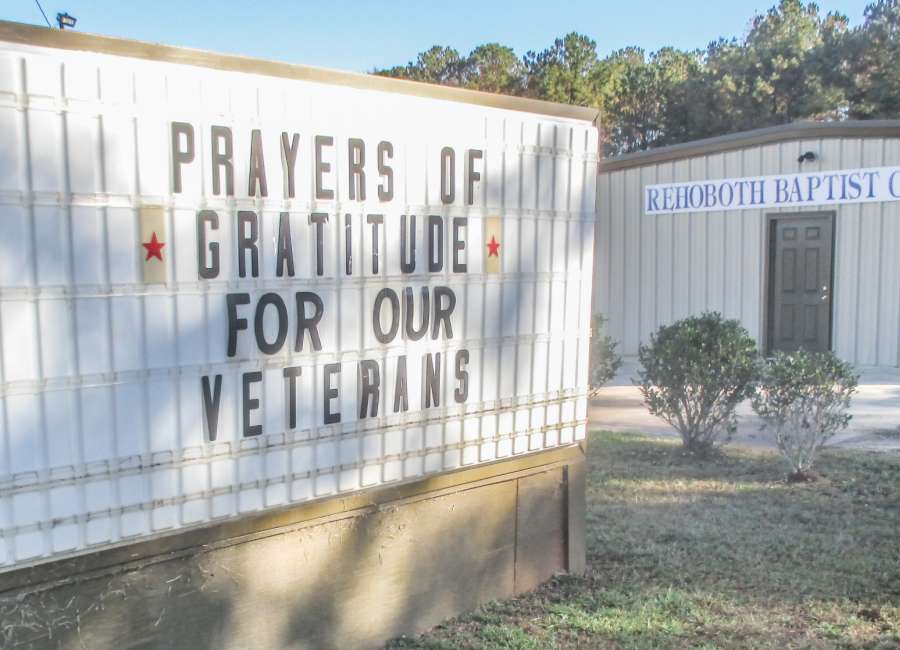 Veterans Day was on a Saturday this year, and the following day offered an exceptional opportunity to recognize veterans.

Coweta congregations recognized military personnel – past and present – at services during November. Some of the services also featured patriotic music.
When Elaine Lee, worship team chairperson at Emory Chapel United Methodist Church, began planning for the Sunday after Veterans Day, she came up with ideas for music to honor veterans in the congregation at the rural church between Newnan and the Heard County line.
Lee also decided to ask Emory Chapel member Sharon Frost to share some reflections about veterans on that Sunday. Frost's remarks follow:
"I would like to thank all of the veterans for their service. We know that freedom is not free,  and – because of you – we are able to enjoy all of the blessings that God gives us.
"I also want to thank all of the wives of veterans. The sacrifices that you made while your soldier was away, does not go unnoticed. And mothers, I want to thank you for raising the son or daughter who would lead our nation victoriously. God bless you all.
"President John F. Kennedy said, 'As we express our gratitude, we must never forget that the highest appreciation is not to utter words, but to live by them.'
"Last weekend Charlie and I took a trip to Washington, Ga., to locate grave sites of my ancestors who fought in the Revolutionary War. The Battle of Kettle Creek in Wilkes County was a turning point for the war in Georgia in defeating the British. As we looked
for the grave sites, I thought about how brave and patriotic they must have felt.
"Monuments and crosses marked those who died there at Kettle Creek, meaning that they did not go home to their loved ones. But greater still, they left them the best gift – Freedom.
"Their blood still runs through our veins, and I am reminded of this as Reverend Billy Graham once said, 'Courage is contagious. When a brave man takes a stand, the spines of others are often stiffened.'
"Since the beginning of time, soldiers have been the glue that has kept the world from total annihilation. Families have been torn apart for months, even years during war time. When soldiers come home, a joyous celebration takes place over all the land.
"For the soldiers who come back with wounded bodies and mangled minds diffused by a cloud of battle visions, they are still very much present in a foreign land.
"And then there are those families who can only cry because their soldier gave the ultimate sacrifice. Gut-wrenching grief controls the atmosphere, and time seems to stand still.
"Abraham Lincoln in his Gettysburg Address said this, 'The brave men, living and dead, who struggled here, have consecrated it, far above our poor power to add or detract. The world will little note, nor long remember what we say here, but it can never forget what
they did here.'
"How lucky we are. How blessed we are. How fortunate we are to be living in a country with rights, and privileges that other countries dream of. The men and women in uniform don't make excuses for doing their jobs. It is their hearts filled with patriotic pride committing to protect and defend this great country that drives them. A force so great that only God could know.
"As a mother of a retired soldier, I can relate with many moms wondering how and where our son or daughter was in a distant country. The pride in seeing your son or daughter dressed in a uniform itching to get in the action is quickly put on the back burner.
"A mother's soul is consumed by the dreaded goodbyes and the pain in sending a precious part of her own body in harm's way. As worry turns into madness for allowing such a thing to happen, reinforcement comes to the rescue. God has been there all the time –
waiting for me to turn all the anger, pain and worry over to him. In the end, I realized that my son was God's before he was mine. Pain was lifted, and God was in control.
"After all, as a mother, there is nothing I can do to help my son flying missions in his helicopter, except pray. And Jesus said, 'They that wait upon the Lord shall renew their strength; they shall mount up with wings of eagles; they shall run and not be weary; and they shall walk and not faint.'
"This is the most important quote of all."