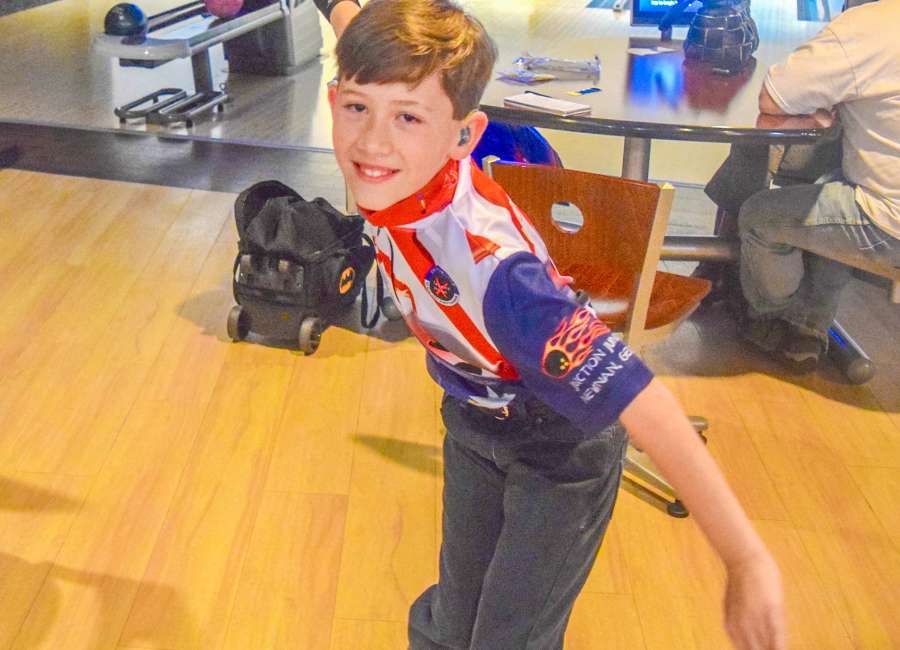 Spiros Schenk is a typical 9-year-old boy: he likes super heroes, cheese, bacon and the game "Yahtzee."
There are a couple of atypical things about Spiros. He is 98 percent deaf – and he can beat you in bowling.
Spiros is a regular bowler and a member of the Junction Juniors league, which features kids from ages 7-11. He bowls at least four to five days per week before Junction Juniors' play begins on Saturday mornings.
He shows up with his black Batman bowling bag which holds two balls – one with Superman on it, a pair of black bowling shoes and his wristguard. Once he puts his equipment on, he gets in game mode. He doesn't let being deaf handicap him on the lanes – in fact, he sometimes uses his disability to concentrate.
"If it gets too loud for me, I will take my hearing aids off and focus on bowling," said Spiros, whose favorite TV show is "Henry Danger" on Nickelodeon.
Spiros is so serious about bowling that if he could go bowling every day, he would.
"Bowling is a lot of fun," he said. "I like to be challenged, and bowling is challenging for me."
The true challenge would be beating Spiros in an actual game. He said his league bowling average is 120, his highest overall average is 150, and the highest score he's bowled is 208.
And he's only been bowling for less than a year.
Spiros has been deaf since he was born, but that hasn't stopped him from loving sports.
However, he can't play contact sports like football and soccer because of permanent damage that could occur from blows to his head.
Spiros enjoys basketball, but he would have to worry about that game's physicality as well as he gets older. Bowling was the perfect sport for him to play.
"He took to the game immediately, and now it's his favorite sport," said his mom Lara, a registered nurse.
Lara said she's amazed at how good he is for his age.
"I don't know where he got the talent to bowl. He certainly didn't get it from me – I'm not that good at all," she said, laughing. "I'll be lucky if I break 100 in a game."
Lara said she realized how good Spiros was during his tournament games throughout the state last year. He placed third in the first tournament he entered and played well in the Rising Stars Tournament in Columbus last March.
"Spiros bowled 135 points above his average in three games at the Rising Stars Tournament in his age group, and he ended up winning the tournament," Lara said. "I was stunned that he was able to win that type of a tournament. That's when I knew he was truly good at bowling."
Spiros' showing in Columbus enabled him to qualify for a tournament in Sunset Beach, N.C., last July for kids 8-19, where the second-grader was the youngest bowler to compete.
"That was such a fun trip for us, and it was an all-expenses-paid trip. Spiros bowled well and we even stayed a bit longer to enjoy the beach," Lara said.
Spiros said the secret to his bowling success is watching YouTube videos of professional bowlers like Diandra Asbaty and Rhino Page. He also constantly works on improving his form.
"Before you roll the ball on the lane, you have to twist it to get a curve. You can't twist your arm during your swing or you'll miss your mark and not bowl well," he said. "It's fun to get a strike, but it's great to pick up spares. Getting spares will raise your average."
Junction Juniors coach Lillian Hawkins is pleased with Spiros' thought process and his work ethic.
Hawkins said Spiros' mental approach to the game is key during tournament play, where coaches aren't allowed to instruct their young bowlers.
"I'm always telling Spiros to think about what needs to be done in every frame. I always want him to make sure he focuses on hitting his mark on the lane," she said.  
"Spiros is a competitor. He's not overly aggressive, but he wants to do well all the time. And he's always practicing, trying to get better," Hawkins said. "He's dedicated to the sport, he listens well and he takes instruction well."