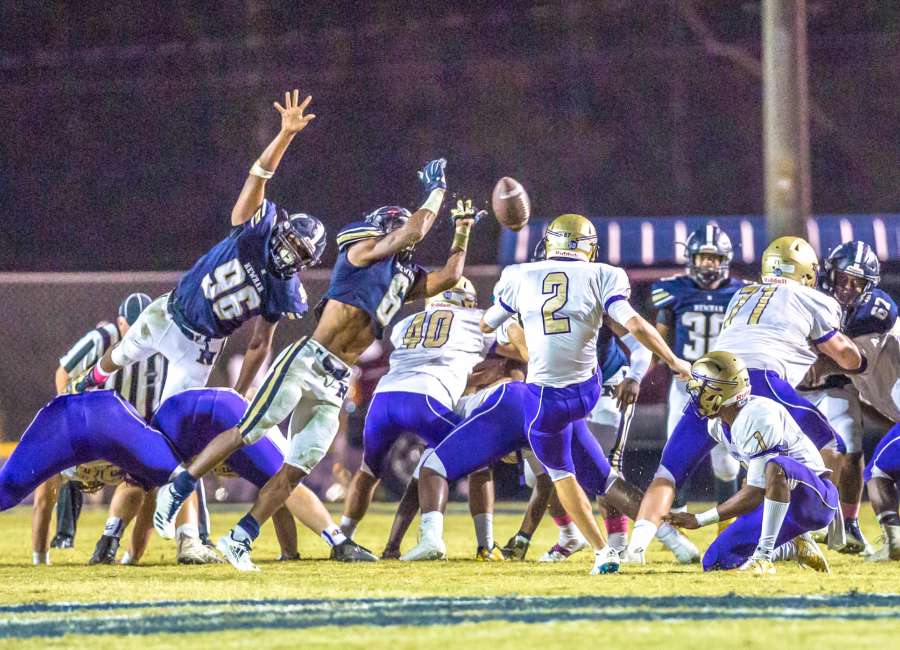 Newnan High senior Mautavier Parks rushed for 159 yards and two touchdowns and the Cougars defense stopped a critical 2-point conversion attempt to give Newnan the 30-28 win over the East Coweta Indians Friday night in Region 2-AAAAAAA action at Drake Stadium.
For a gallery of images from this game, please visit our online photo gallery
With the win in an action-packed game, Newnan (4-6 overall, 3-2 region) qualifies for the state playoffs as the third seed after a one-year absence, rebounding well from an 0-3 start. East Coweta (5-5, 1-4) saw its season comes to an end and will miss the state playoffs for the first time since 1996. 
Newnan will travel to face No. 2 seed Tift County High on Friday evening in state-playoff action.
"This was a fun game, and it was big for the kids and for the community," said Newnan first-year head coach Chip Walker. "Both teams battled all evening and we were able to hold on and qualify for the state playoffs."
Newnan decided to give the Indians a short field on kickoffs rather than kick the ball deep to EC return specialists Gerald Green and Dantarius Chunn on Friday. EC made the Cougars pay for the good field position right away with a five-play drive capped by a 35-yard touchdown run from EC's Green. Peter Walker's extra point made the score 7-0, EC.
Newnan answered right back. The Cougars went on an 80-yard drive, with the big play being a 33-yard pass from Bryant Walker to wide receiver Woody Waters. Newnan junior Tyriq Hussie then ran for an 8-yard TD to get the Cougars on the board. Kellen Lynch's extra point was good, and Newnan tied the game at 7-7.
The Cougars tried another short kickoff. This time it paid off, as EC muffed the kick and Newnan recovered. Minutes later, Lynch connected on a 32-yard field goal to give Newnan the 10-7 lead.
Green took the majority of snaps on the Indians' next drive. As he ran deep in Newnan territory, he fumbled the ball, but it bounced right to his teammate Brayden Carey, who scooped the ball and ran five yards for the TD and the 14-10 Indians lead at the end of the first quarter.
Newnan scored 13 unanswered points in the second quarter. EC tried a 48-yard field goal, but Newnan's Malik Hussie blocked it, recovered the ball and ran 50 yards for a TD to give the Cougars a 17-14 lead.
"I came through untouched and was able to scoop the ball after I blocked it. I told myself not to mess this up by falling down," said Malik Hussie, twin brother of Tyriq Hussie. "The guys did a great job blocking for me down field, and I was able to run it in for the touchdown."
The Indians were stymied for the rest of the period, while Newnan was energized. Late in the second, Parks made a nice spin move and motored down field for a 63-yard TD run and the 23-14 Cougars lead, which stayed that way at halftime.
Newnan got another TD run from Parks in the third quarter to increase its lead to 30-14. EC fought back, getting a TD run and a 2-point conversion run from Green to slice Newnan's lead to 30-22 with 3:27 left in the third.
Newnan tried a 37-yard field goal early in the fourth quarter, but EC's Chunn blocked it and fell on the ball. Two plays later, Indians quarterback Christian Reid threw a 52-yard TD pass to Chris Moore with 8:18 remaining to cut the Newnan lead to 30-28. EC tried a 2-point conversion to tie the game, but the Cougars defense stopped Green short of the end zone, keeping the score 30-28 in favor of Newnan.
The EC defense forced a Newnan punt, giving the ball back to its offense with 4:06 left in the game. The Indians were driving down field and looked to at least try a game-winning field goal, but they committed a huge personal foul penalty which cost them great field position. Faced with a fourth-down-and-33 just seconds later, the Indians didn't get a first down and Newnan then ran the clock out the rest of the way for the win.
The loss spoiled a great effort from EC's Green, who rushed for 171 yards and two TDs.
"It feels really good to make the state playoffs. This was a great team win; we kept our heads up all game long," said Newnan junior linebacker Ricky Boozer. "I was embarrassed after our blowout loss to EC last year. I said that will not happen to us this year, and we made sure of that tonight."
"This is a big step for us. We just played one game after another and made state after starting 0-3," said Cougars junior linebacker San Juan Warner. "We had the opportunity to win and knock EC out of the playoffs at the same time, and we did that."
The Newnan seniors were extremely happy to finish their high school careers as playoff participants. 
"It feels great to qualify for the playoffs, but we have to play better next week," said Newnan senior wide receiver P.J. Harris. "It's sweet to get a win over our rivals at EC, but we still made mistakes which we need to iron out next week."
"The whole team, especially the seniors, have been putting in the work and now we're third in the region," said senior linebacker Emmanuel Williams. "We did what we were coached to do and we have to keep it up next week."