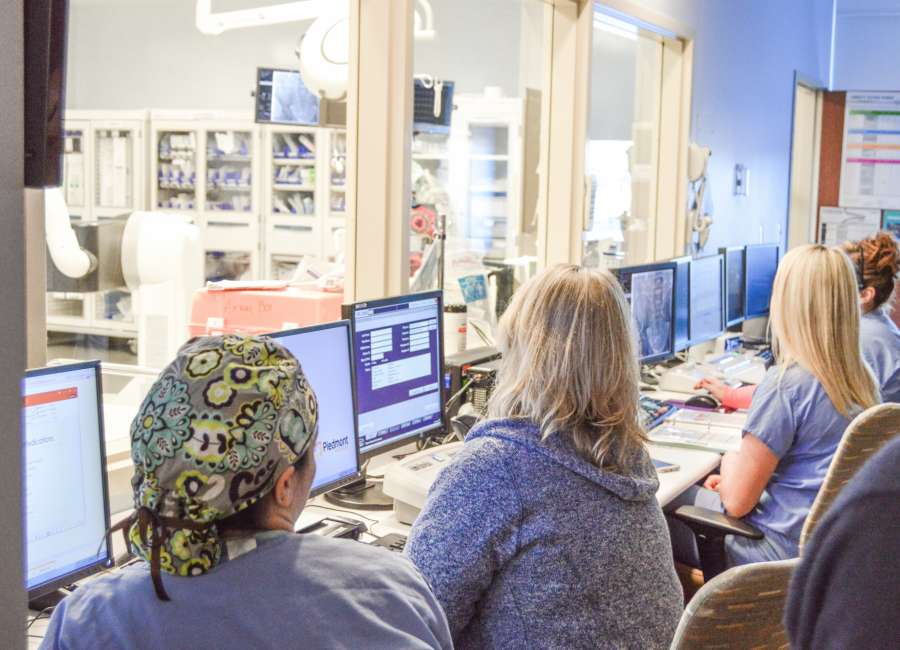 "Time is muscle" is the new catchphrase being heard up and down the halls of the cardiology wing in the Piedmont Newnan Hospital.

The expression refers to the precious minutes and seconds a person has between feeling the symptoms of a heart attack and being treated by medical professionals.
That time is now cut in half  for patients in Coweta County and the surrounding area with the creation Piedmont Newnan Hospital's new  Percutaneous Coronary Intervention program, or PCI.
PCI is a non-surgical procedure used to treat narrowing of the coronary arteries in the heart. The medical condition usually precedes a heart attack if not caught in time.
Hospital officials unveiled the program to the community on Tuesday with a presentation and tour of the renovated cardiology wing.
"Time is muscle. Every minute you're not being treated, the heart muscle is dying," explained Jennifer Vaughn, the clinical manager of the new Cardiac Cath Lab. "This (program) is saving your heart, saving your life and saving the time you might have to spend in cardiac rehab after a procedure."
The program, which officially rolled out in October, boasts two new cardiac catheterization labs inside the hospital that are both filled with state-of-the-art equipment.
Now, the medical center is equipped to not only diagnose a heart attack, but provide non-surgical life-saving treatment, such as inserting stents into blocked arteries.
"I'm thrilled. This means we can get more timely care for patients in our community," stated Dr. Jacqueline Green. "This is what you want for you and your loved one. They can be diagnosed and be treated within the same facility."
Green specializes in interventional cardiology. She was one of 13 new medical professionals hired for the new PCI program at Piedmont Newnan.
Green said the program will make a positive difference in patient outcomes.
Prior to October, Piedmont Newnan was only equipped to diagnose patients experiencing a heart attack. Patients that needed invasive procedures would be transported to other medical facilities.
"...  if an active cardiac patient called EMS, they would have been driven to Piedmont Fayetteville and past this hospital," Green stated. "That's 20 minutes down the road. Those 20 minutes means life or death."
"We were losing opportunities to help people," Vaughn said. "Five hundred ambulances would pass by our hospital per year and drive onto other facilities. Now, we can help those patients."
The PCI program at Piedmont Newnan has completed more than 120 non-surgical procedures since opening their doors in October, hospital officials stated.
The staff trains continuously and can have a patient prepped and ready for a procedure within seven minutes, Vaughn said.
However, patients who are critically ill and in need of open heart surgery will still be transported to a hospital in Atlanta, she added.
Nonetheless, the hospital expects to see an increase in cardiac patients from Coweta County as well as Troup and Muscogee counties, plus people with emergency medical needs who are traveling down the Interstate 85 corridor.
The PCI program will also mean better access to top notch medical professionals, Vaughn said.
"With us opening up this service line and treating sicker patients, it will be a draw for other physicians," she stated. "You won't have to drive to Atlanta to see them, those physicians will be coming here."  
***
By Melanie Ruberti
Email: melanie@newnan.com
Facebook: @MelanieNTH