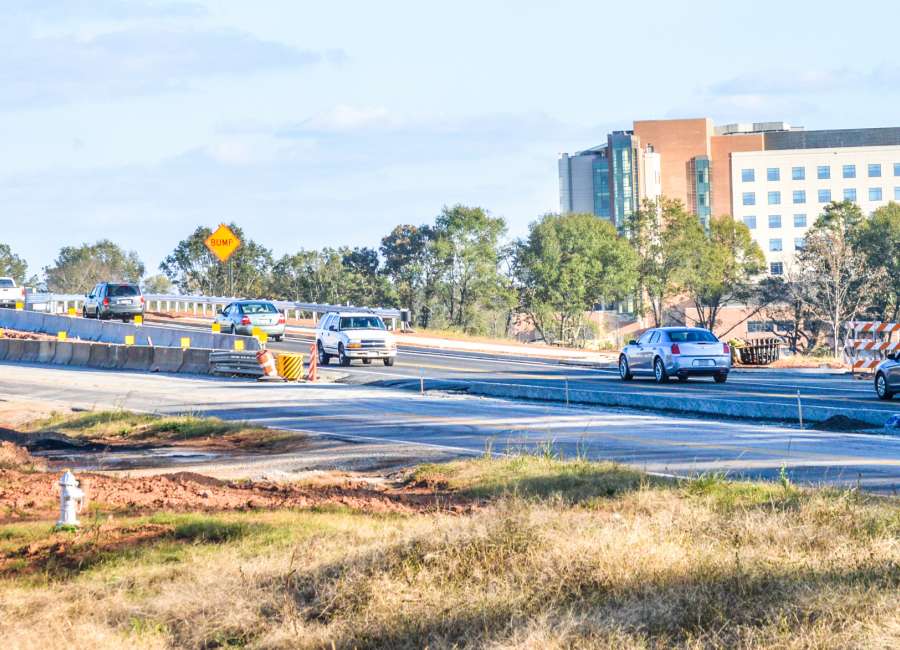 Just after 3 p.m. on Tuesday, traffic began flowing on the new bridge over Interstate 85 at Poplar Road.
With the shift to the new bridge, work can begin to demolish the old bridge to make way for another new bridge section. Once work is complete, there will be a four-lane bridge across the interstate to serve the new interchange being built there.
The entire section of Poplar Road between the Newnan Crossing Bypass and Newnan Crossing Boulevard was closed for a time Tuesday afternoon as preparations were made for the shift to the new bridge and newly paved lanes.
Work was ongoing to widen and pave a section of Poplar Road west of the Newnan Crossing Bypass, and single-lane closures were in effect Tuesday afternoon.
Construction on the interchange project began in the summer of 2016, and the new interchange is set to open in early 2019.
Extensive progress has been made in the past several weeks, and portions of the on- and off-ramps even had a layer of asphalt on Tuesday.
With the shift to the new bridge and new lanes, a concrete median now prevents access to the homes along Poplar Road. A gravel access road to allow access to those homes from the Bypass is now open – though it was covered with several seemingly random piles of asphalt Tuesday afternoon.
The project is on schedule, and is over 50 percent complete, said Kimberly Larson, regional spokeswoman for the Georgia Department of Transportation.
The interchange has been discussed since the 1990s, and design work for the construction project began in 2010.