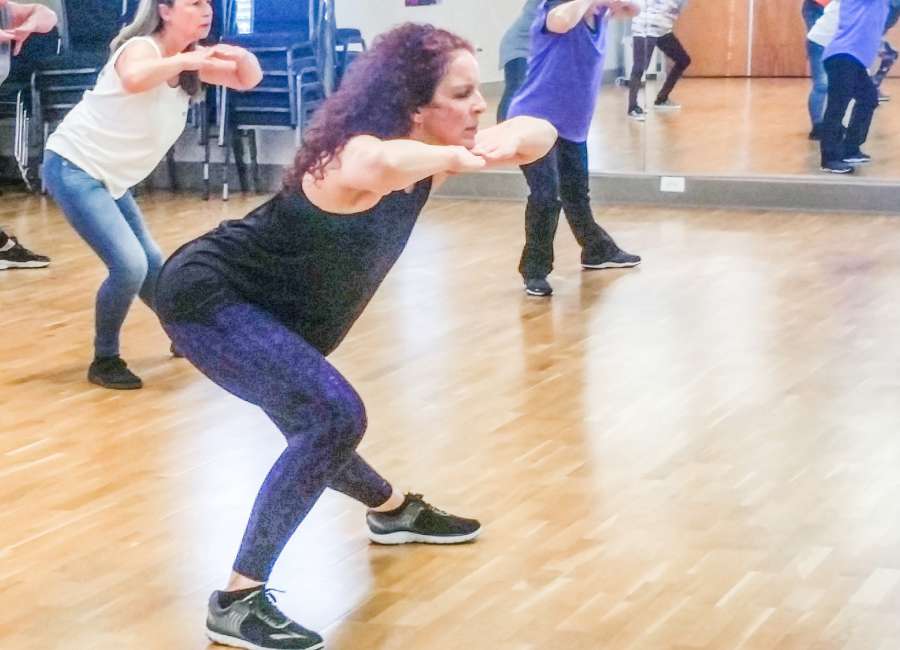 Just watching Heather Haskin's Zumba class at the Piedmont Newnan Fitness Center gets people's toes tapping.
The rhythmic sounds of up tempo latin music rings out from stereo speakers as Haskins leads participants through a series of movements that infuse popular dances such as salsa and merengue.
Zumba, a dance / fitness combination, became popular in exercise studios 10 years ago. The class is 70 percent Latin inspired dance moves and 30 percent pop / hip hop moves, Haskins explained.
While the classes are choreographed by the instructor, exercise enthusiasts do not have to be versed in dance to participate.
"It's not about dance, it's about movement," Haskins explained. "We really stress that. It's about having fun, sweating, feeling free and letting go. It took me a long time to move my hips."
Zumba is great for building cardio strength, balance and coordination, Haskins said.
The class also builds up mental stamina as participants have to watch instructors carefully and concentrate on repeating the movements.
Haskin's knows the benefits of Zumba firsthand.
"I was 45 years old, unfit and unhealthy," she said. "I had small children and I was binge watching 'The Biggest Loser' on Netflix. Suddenly, I wondered if I would be here for them when I was older? The Coweta County Rec Center was teaching a Zumba class at the time. I started going three days a week and the ladies (instructors) embraced me right away. The class sucked me in. It was a God-send."
Haskins said she lost 40 pounds in four years and became physically stronger.
She decided to branch out, obtained an instruction certificate and began teaching Zumba classes throughout Coweta County.
"Zumba gave me back my life," Haskin stated. "It made me see how strong I am. It changed my outlook on other people. I want to empower them. I see everyone's capabilities.
"You have to be consistent in taking classes and commit to it. Zumba will work for you," she added.  
Participants agreed.
"It's awesome," one woman said. "I've lost 15 pounds over five months and several inches. I'm also off my blood pressure medications and cholesterol medications."
Zumba is good for folks of any age who are cleared to participate in cardio activity.
There are two other types of Zumba classes: Zumba Gold is for seniors and incorporates chair exercises for those confined to a wheelchair or folks building up stamina. Zumba Strong combines interval training while set to music.
All Zumba classes can be modified by the instructor to adapt to participant's skill set, Haskin stated.
Anyone interested in taking a Zumba class or for more information, contact the Piedmont Newnan Fitness Center at 770-254-3550.
***
By Melanie Ruberti
Email: melanie@newnan.com
Facebook: @MelanieNTH