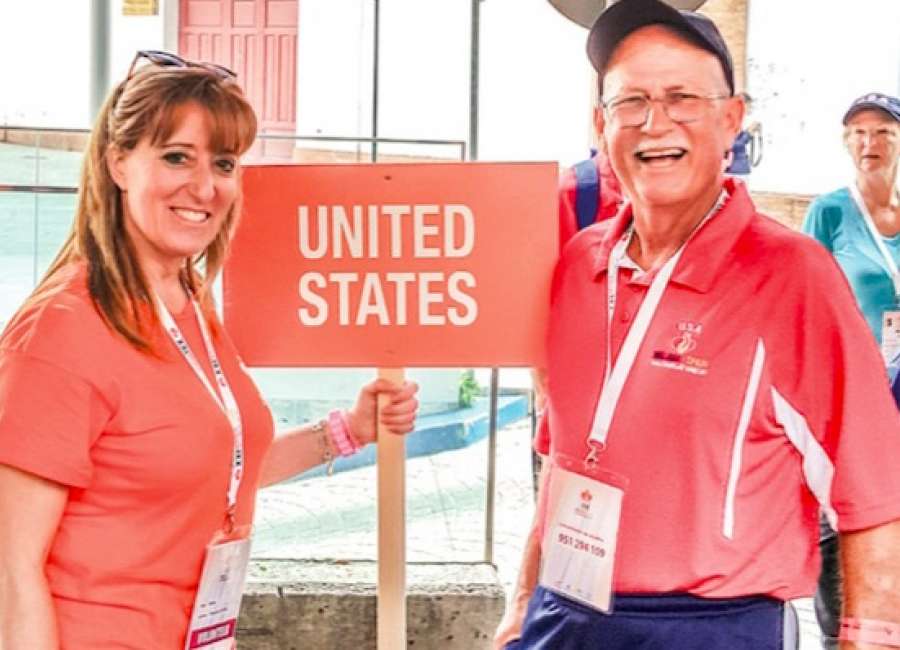 Moreland mayor Dick Ford definitely has the heart to compete in sports. It's not his original heart, but he has one to compete and that's the main thing.

After years of running 5K and 10K events throughout the metro Atlanta area, Ford was diagnosed in his early 50s with cardiomyopathy, which is a bad aortic heart valve. He got the valve replaced, but in the summer of 2007 he couldn't run and he felt sluggish all the time.
It turned out he needed a heart transplant.
Ford was in Emory Saint Joseph's Hospital for 75 days in summer 2007 and by the 65th day, an organ donor's heart saved Ford's life. A transplant mentor assigned to him at the hospital saved Ford's mental state.
"When you're in the hospital waiting on an organ, you start feeling depressed and feeling like your quality of life is never going to be the same again," said Ford, now 71. "Transplant patients are assigned mentors who've survived transplants to help the patients adjust to the process. My mentor came in to talk to me and did his best to calm me down and make me feel better."
Ford said he will never forget the words from his mentor during his hospital stay.
"He and I were talking and he said after our conversation, he was going to go kayaking," Ford said. "I said that was great and I asked him if I could ever run again. He said, 'Hell yeah, you can run again!' and that made me feel much better."
Ford struggled with exercise after receiving his new heart at age 61, but he slowly and surely got stronger. He was looking for motivation to help him stay active and heard about the Transplant Games of America (TGA), which sponsors the Donate Life Transplant Games, and that piqued his interest.
The Donate Life Transplant Games are a multi-sport festival event designed to help promote the need for organ, eye and tissue donation. The purpose of the Games is to show the world that transplantation is a treatment that does work.
Sports at the Games include everything from basketball, volleyball and table tennis, to cornhole, darts, the 100-, 200- and 400-meter dashes, bowling, track and field, racquetball, Trivial Pursuit and much more. The athletes compete by gender in age groups that range from 14-17 to 70-plus. There are even events for kids under 14. Athletes are grouped by their home state and converge in a select city every two years.
Ford went to his first Games event in 2008 in Pittsburgh and was immediately hooked.
"I ran my first sprint in Pittsburgh and had a great time," he said. "Unfortunately for me, I fractured my heel and was out of action for a while until it healed."
Ford also had his hip replaced and couldn't run under doctor's orders. That was difficult for the very competitive Ford, but he managed not to hurt himself any further before going to the rest of the Games, which he has attended every time except 2016.
The next Transplant Games will take place August 2-7, 2018 in Salt Lake City. 
Ford has even attended two World Transplant Games, one in Sweden and one in Spain. The Spain 
Games were held this year and Ford won bronze medals in tennis and the 100- and 200-meter dashes in his age group.
"The beauty of the Transplant Games is they show everyone all over the world that we can be functional after organ donations, especially if you eat right and take your medication," said Ford, who is the manager for Team Georgia. "If you're competitive like I am, then there's a chance to win medals in the sports, which is also great. But the camaraderie and support that comes with these events is priceless."
Ford said anyone interested in representing Team Georgia at the Transplant Games can contact him at dickfords@gmail.com and 770-251-5556.