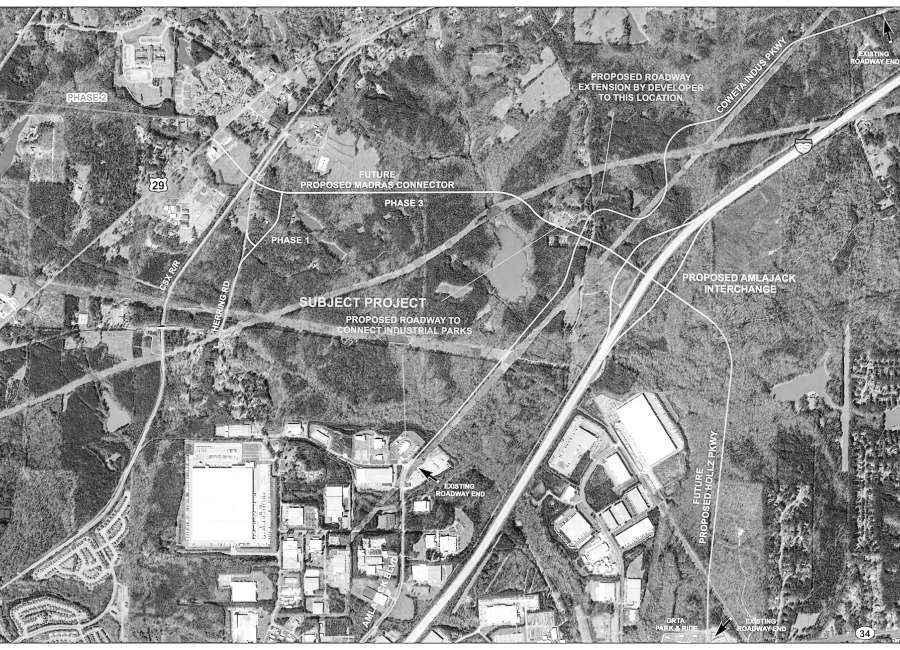 Phase II of the Madras Connector will likely be the first section of the multi-phase project to be built.

Phase II, which runs from Happy Valley Circle at Hal Jones Road to U.S. Highway 29, could go out for bid in the summer of 2019, according to Tod Handley, Coweta's director of transportation and engineering.
Phase I, which is a reworking of part of Herring Road that includes a bridge over the CSX Railroad, is expected to go to bid in the summer of 2020.
Because the second phase is completely funded with local money, the process can move more quickly. Phase I has state funding, so the process is longer.
A public information open house on Phase II was held Thursday night at Madras Middle School.
Thursday's meeting, attended by 72 people, was in stark contrast to the July meeting on Phase I, which was attended by more than 200 people.
At the meeting, several maps showing the road project were on display, and visitors could speak with county staff or consultants from the design firm.
Like the meeting on Phase I, only maps of the specific phase were available, with no details about the overall master plan, which includes several road phases that will eventually tie into a proposed interchange at Interstate 85.
Barbara Lee said she thinks the county is well-run and she appreciates county officials being proactive, but she was looking forward to seeing the whole master plan. Lee said she had seen a copy of the master plan in The Newnan Times-Herald, but was looking forward to seeing a larger-scale version.
"I don't think they're being up front with me at all," said Tim Goddard. "I don't trust them not giving you the whole story. Trustworthiness is where I can hear from you the bad news."
When asked why there was no information given out about the other phases or no large map of the master plan, county officials said having the master plan would be too confusing for visitors. The overall master plan is conceptual, and no specific routes have been determined. There are also no proposed dates for the other phases, according to Tod Handley, Coweta's director of transportation and engineering, and County Administrator Michael Fouts.
Plus, Phase I and Phase II are separate projects, they said. And there's no guarantee the other phases and road connections will be built.
Phase II will improve the intersection of Happy Valley and Hal Jones Road, which will become a roundabout. There will also be a roundabout at U.S. 29 at the intersection with Phase I, which will come out at Madras Parkway, the road serving Coweta Fire Rescue Station 6, and Phase II.
It will provide easier access to U.S. 29 and Herring Road from the Happy Valley area.
Cathy Goddard, who lives on Happy Valley near the intersection, likes the idea of both phases, especially the roundabout at Hal Jones and Happy Valley.
Left turns from the stop sign at the intersection can be difficult and during peak times, traffic can back up significantly.
But Goddard is a little more concerned about the eventual connection to the interstate and the increased traffic that might bring to her area.
"Why? Why do it at all," asked Doris Griffin. "Somebody's hand is going to be greased somewhere along the line. There has to be more of a reason."
Pat and Jeane Yancey have a home on Herring Road, and stand to lose a good bit of their property. They are not in favor of the project at all.
Mrs. Yancey said she'd like to see the road shifted a bit so the project doesn't take as much of their property, and the Yanceys have already talked to an attorney about the issue.
Both Phase I and Phase II will be two-lane roads, but the county will be purchasing enough right-of-way on the Phase I project to eventually build a four-lane road.
Phase II will have two 11-foot lanes with no median.
Several homes will be impacted by Phase II, but no homes will be taken, according to Chris Edmondson of CHA Consulting, which is doing the design work for Phase II.
The right-of-way will be more narrow near the homes to reduce impacts, said Edmondson, but temporary construction easements will come quite close to a few homes. The new road bed will be as close as possible to the existing roadbed in the area, he said.
Those in attendance at the meeting were given the opportunity to fill out comment forms.
No information could be found on Coweta's website about the comment process for those who were not in attendance.