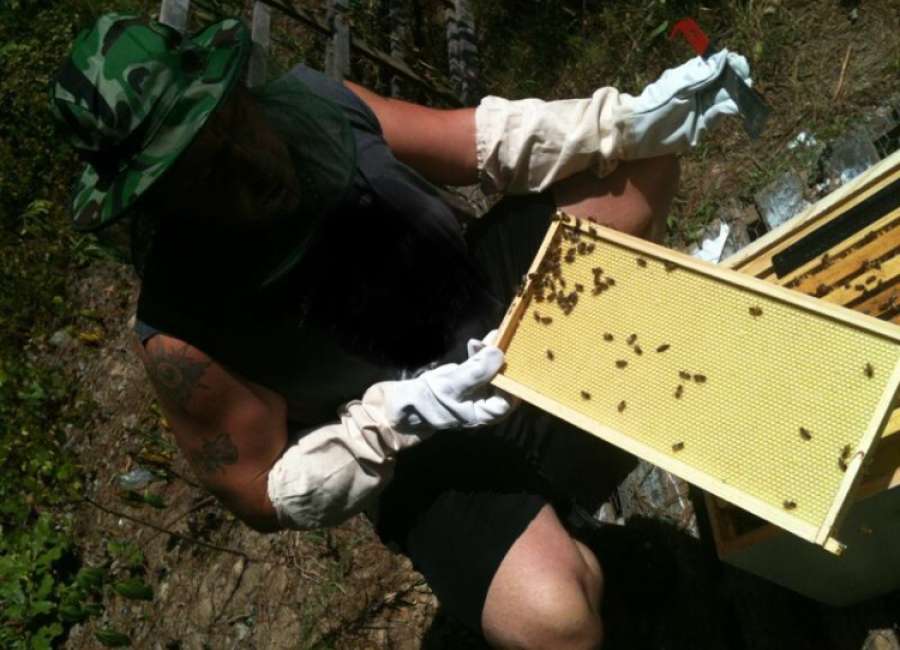 There is a discernible buzz on the property surrounding Coweta County Sheriff's Deputy Toby Nix's home.

The noise gets louder upon approaching a wooden post in the treeline about 100 yards from his house.
The post, which faces east, is where Nix keeps between 40,000 - 50,000 honeybees.
Beekeeping became a hobby for Nix about four years ago when he developed a taste for raw honey. He bought jars from another local beekeeper then decided to make his own.
"It's one of the most fascinating hobbies I've ever done," Nix said. "You do have to inspect the hives a good bit to make sure the queen bee is laying eggs. Since we've gotten the bees, our flowers and vegetables have flourished. We're trying to be as self-sufficient as possible, so the fact they help the garden is an extra bonus for me -  and I like raw honey."
Nix harvests between 10-15 pounds of honey each year. He and his family stockpile some of it and give the rest away to relatives and friends.
The deputy said he is careful not to take all the honey from the hive.
"They make honey all year long and build up a stockpile for the winter," Nix explained. "We leave enough for them to survive the winter months."
According to the website beeraw.com, the flavor of raw honey will vary depending on which type of flower it came from.
Raw honey can be used several ways in the kitchen: as a drizzle on top of salads, to a glaze for roasted pork loins and chicken or as a natural sweetener for desserts such as cake and pie.
It can also be added into mixed drinks and smoothies.
Nix and his family eat the honey in its raw form and do not cook or bake with it.
"It has the most benefits in its raw state," Nix stated. "Raw honey adds in allergens from the yard and will help raise your tolerance to them. I also use raw honey to soothe a cough. I'll mix part whiskey, honey and lemon together. It really works."
Nix also harvests the beeswax and makes his own chapstick.
"I mixed tubes of beeswax with organic coconut oil and used some honey for flavoring," he explained. "It was amazing. I really enjoyed it."
While Nix reaps a lot of the benefits of beekeeping, he admitted there are some challenges to his hobby.
The price of maintaining honey bee colonies is expensive and there is the risk of getting stung, he stated.
But to Nix, the benefits of having his own honeybee hives outweigh the costs.
"If I need raw honey, I don't have to go very far to get it and the taste of it is so good," he stated.
***
By Melanie Ruberti
Email: melanie@newnan.com
Facebook: @MelanieNTH