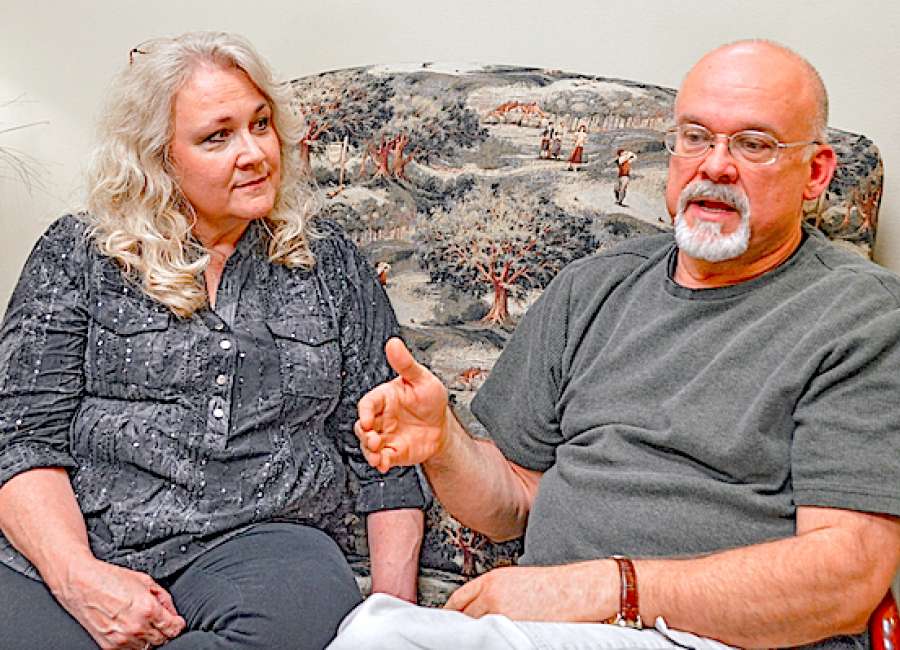 News of last Sunday's deadly rampage at Sutherland Springs Baptist Church hit close to home for Cowetans Tess and Tom Price. 

On a September evening in 1999, in Fort Worth, Texas, Tess Price lay on the floor between pews in the sanctuary of her church, Wedgwood Baptist, watching a deranged gunman's white sneakers as he paced back and forth, shooting and ranting. She had no way of knowing whether her oldest daughter, who also was in the sanctuary, was alive or dead.
The Prices' daughter was unharmed, but seven people – four of them teenagers – died that day. 
"Life never goes back to the way it was," she said Thursday from Tom's office at Christian Families Today in Newnan, where he works as a counselor.
A little over a year after the shooting, the Prices moved to Newnan. She said she still was processing the church shooting when the terror attacks of Sept. 11, 2001 occurred.
"It shut me down," she said. 
Today, 18 years after the shooting, Tess can't tolerate fireworks displays. A car honking its horn at a traffic light can send her into a panic. She no longer can watch the action and adventure movies she once enjoyed because they can trigger her. 
News of another Texas church shooting immediately took Tess back.
"You grieve with them and you feel all of the emotions," Tess said. "Their journey is just beginning. Right now they are in intense pain and emotion and numbness, and they are vacillating back and forth and trying to make sense of it all."
Right now, there is an outpouring of support for the people of Sutherland Springs. But it's not an endless supply, she said.
"I can't imagine what it is going to be like in this small community when it has been six months to a year," Tess said. "This still hangs on and people have heard enough. People think you should be over it, but you're not."
 
For Tess, details of the Wedgwood Baptist shooting remain vivid. It was a Wednesday night, five months after the Columbine High School massacre and two months after independent stock trader Mark Barton murdered his wife and children, then shot and killed nine people at two Atlanta trading firms. 
Wedgwood had been selected as the site for a Fort Worth-area "See You At the Pole" youth rally, and the church sanctuary was full of teenagers listening to a band. The music was loud, Tess said, and it blocked the sound of the initial shots in the lobby. When a girl burst through the doors screaming, "Get down! He's got a gun!" Tess thought it was part of the skit listed next on the program.
"The kids didn't get down," she said.
But Tess did.
A man sitting near the back of the sanctuary tried to tackle the gunman, Larry Gene Ashbrook. He was shot and killed. Tess said the gunman came within 10 feet of her.
"He continued to shoot and holler and yell. I could see his white tennis shoes pacing," she said. "They say it was only 10 minutes, but it felt a whole lot longer."
A young man, Jeremiah Neitz, stood up and starting talking to Ashbrook. 
"One of the things I remember vividly – he said, 'Go ahead and shoot me. If I die, I know where I'm going. Do you?'" Tess said.
Ashbrook aimed at Jeremiah, but didn't shoot. The 19-year-old turned and walked out, and Ashbrook turned the gun on himself. 
With the gunman dead, Tess began checking victims' pulses. Kristi Beckel, who'd been shot in the head, was still alive. Tess said she held Beckel upright and talked to her while a bystander administered first aid.
"I said, 'Your mom can't be here right now, so I'm going to,'" she recalled. "We're going to get through this." 
Beckel was transported by paramedics to a local hospital, where she later died.
Covered in the teenager's blood, Tess walked out of the church and quickly was reunited with her oldest daughter. Her younger two children, who had been in a different part of the church during the shooting, were safe at a nearby school. Tom had rushed to the scene and the family walked home together.
The walk turned into a journey for the Price family.
"That was the beginning of big life changes," Tess said.
Back then, everyone didn't have cell phones. If Tess stopped by the store on her way home, her children would be terrified until she got home because they were afraid something had happened to her. The kids no longer enjoyed hiding behind things and jumping out or popping paper bags filled with air to startle each other.
But life didn't stop for the community, or for the church.
Just a few days after the tragedy, blood-spattered carpet and pews were removed. Those who were in the church the night of the shooting returned to write messages in permanent marker on the bare concrete floor of the sanctuary. 
Services resumed that Sunday, and Tom, a member of the choir, sang a song about hope.
People asked what changes the church would make, and what security measures they would put in place. 
"Our pastor and leadership responded so uniquely to this," Tom said. "They said, 'We're not changing anything, because it's not security measures that protect us. And we don't want to send a message to our community that we are afraid and that we fear man.'" 
The church even reached out to the gunman's family. 
"We wanted them to know that we did not hold them accountable or responsible for his actions, his choices," Tom said. 
The Prices said they see evil, not guns, as the problem.
"An evil person can take a vehicle and mow people over, an evil person can throw people off a building or plant a bomb," Tom said. "And I realize that you can take out more people with with a gun than you can with some of those other things. But the only way that we are really going to change the tide of violence is for people to change – and you can't legislate that.
"When there is evil in the heart of someone, they may act good on the outside, but if they have already decided to do evil on the inside, laws are not going to stop them," he added.