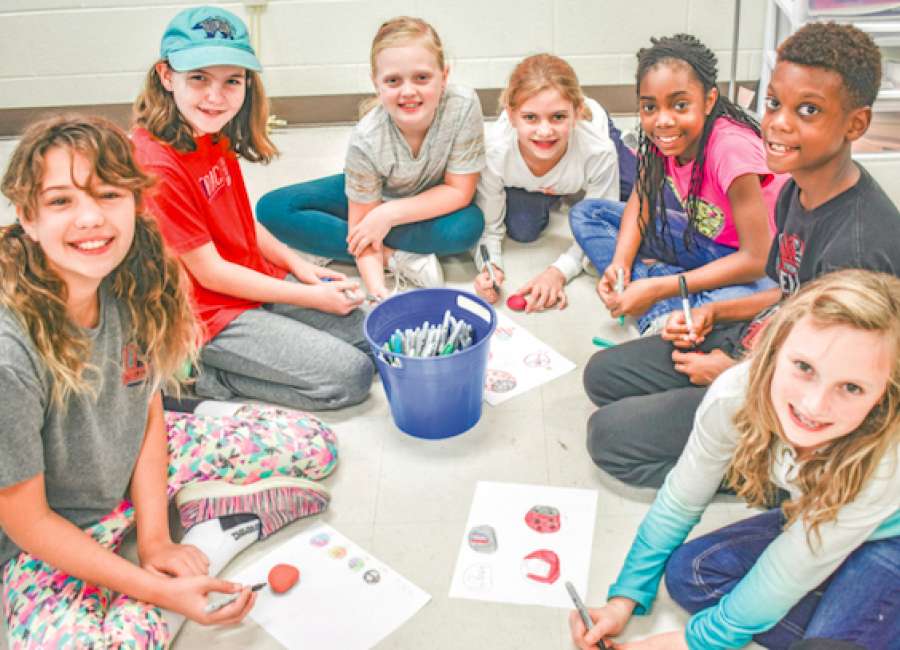 Brooks Elementary School fourth-graders rock at spreading kindness.

Their recent project, "Kindness Rocks," proves it.
Led by Dr. Kelli Zachry – a fourth-grade teacher at Brooks – students decorated stones with positive messages and art after reading "What Does it Mean to be Kind?" by Rana DiOrio.
"We talked about how actions speak louder than words," Zachry said. "We decided a good way to act out kindness was to make Kindness Rocks for other people to find."
Borrowing ideas from painted rock groups across the nation – as well as the local Facebook group Newnan Rocks (@newnanrocks) – Zachry encouraged her students to hide their rocks out in the community. Some students hid their rocks at home or school, but the stones – all marked BES to identify them as Brooks Elementary School contributions – also might be found in places like Newnan's Court Square and Ashley Park.
Aidan Cox's rock made its way to Ashburn, Ga., where he left it at the World's Largest Peanut Monument on the way to a family reunion.
"I hope that it made someone happy when they found it," he said.
Fourth-grader Marli Duncan said she was very excited about the project.
"I had found rocks around the Newnan square," said Duncan, who shared her experiences with Newnan Rocks with classmates.
Her favorite part of the project?
"I enjoyed designing and painting the rocks," she said.
Anyone lucky enough to come across one of the Brooks students' tiny works of art is encouraged to admire it, take a photo and then release the rock back into the wild by securing it in a new hiding place. Send photos to kelli.zachry@cowetaschools.net