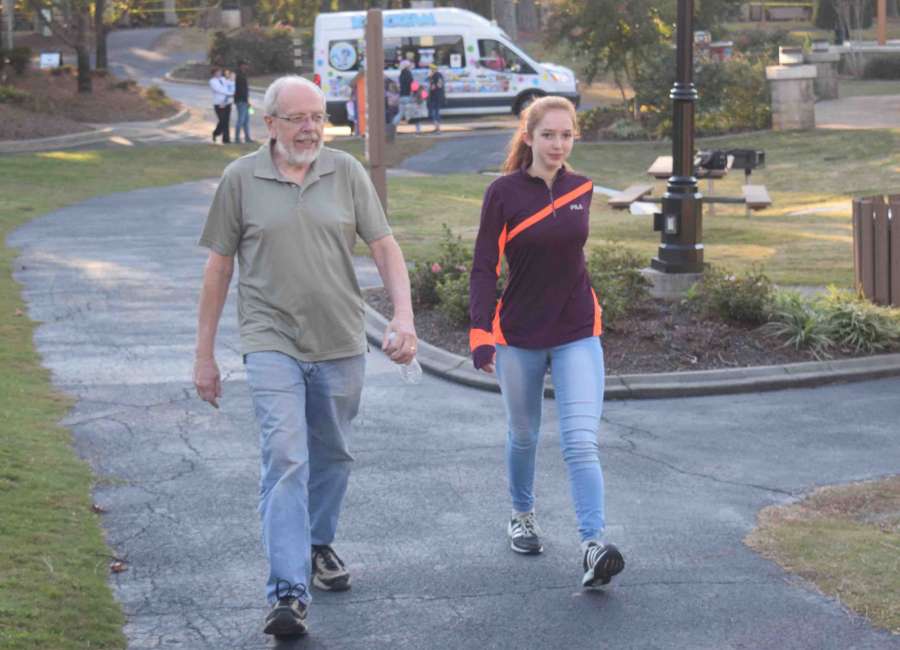 Dan Triggs and his granddaughter, Isabella Triggs, have a weekly appointment they've been keeping for several months.
The two of them meet once a week at Carl Miller Park in the Newnan Utilities complex to walk the track in preparation for a 500-mile trek in Europe next summer.
The Triggs will be walking in the Camino de Santiago, known as the "Pilgrimage of Compostela" and "The Way of Saint James." There are several starting points on The Way, but Dan and Isabella will begin their journey at St. Jean Pied-de-Port in France and end at the Santiago de Compostela in Galicia, Spain.
"This will be one heck of a pilgrimage for us. A typical journey takes about four weeks, but we plan on taking five weeks to complete it," said Dan, 70. "Isabella and I have been really practicing for the walk. I've clocked us at 3.9 miles per hour when we're walking together."
Isabella, a 17-year-old senior at Northgate High, said she was interested in making the pilgrimage with her grandfather ever since last year.
"He sent a mass email to the entire family last Christmas. Instead of wanting the traditional Christmas presents, he wanted to us to get him items he could use for the trek," she said. "I started thinking about it and felt it would be a good idea to join him on the pilgrimage."
Isabella, who plans to attend Columbus State University next fall, said the long pilgrimage is right up her alley.
"I didn't play sports at Northgate, but I was a soccer player for seven years, and I've always been into the outdoors," said Isabella, who was on Northgate's Color Guard this year. "I figured this pilgrimage would be a great way to get some exercise, foster my spiritual growth and spend some quality time with my grandfather."
Dan said he got the idea for the pilgrimage by watching the 2010 movie "The Way," which starred Martin Sheen and Emilio Estevez. In the movie, Sheen goes on The Way of Saint James to retrieve the body of his son, who died in a storm during the pilgrimage. In a combination of grief and homage to his son, Sheen decides to walk the ancient spiritual trail where his son died, taking his ashes with him.
The movie had an impact on Dan.
"My youngest son and I watched the movie, and I thought it was very interesting," he said. "Then after watching it, I found out that our pastor at St. Matthew Catholic Church in Tyrone did the pilgrimage himself. He told me everything about it, and I thought it would be something fun to do."
And so the Triggs will make the pilgrimage, joining other "pilgrims" along the way. Dan said the beauty of the trip will be the fact that there are several inexpensive hostels along the way where they can get food and rest in bunk beds.
And both of them will have a pass called a "credencial" or "pilgrim's passport" that they can purchase and get stamped in each hostel they stay in during their journey. It will also serve as proof to the Pilgrim's Office in Santiago that their journey was accomplished on an official route.
"That will be fun to get the credencials, but when we do get to the hostels we will have to do some work," Dan said. "We will have to pretty much sleep on our sleeping bags and we will have to wash our clothes by hand each day. No washing machines and things like that."
Dan said he liked camping when he was a Boy Scout, but he wasn't big into sports growing up. He recognizes this pilgrimage will be challenging, but he's preparing hard for the walk while getting his exercise at the same time. He walks about four days per week, including the one day with Isabella.
He said they will take a backpack filled with clothes, soap, towels, a pillow, sleeping bag and first aid kits. They don't have to worry about carrying food and water, as there are water fountains with quality drinking water in them all through the trek.
"The most difficult part of the whole thing is the money for the flight to Europe. But we should be good by the summer," Dan said. "As for the trek itself, the start and the end will be the most difficult because of the terrain. It changes from paved ground to dirt and hills really quickly so you have to be ready at a moment's notice."