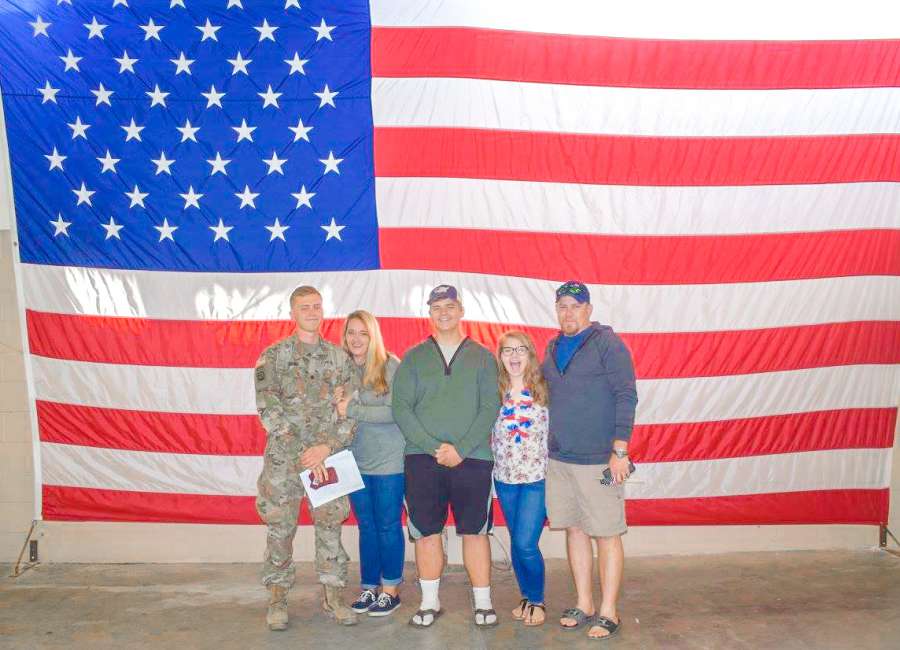 For 32 precious days, Army Spc. Christian Hand will be able to relax and cherish time with his friends and family surrounded by the comforts of home in Newnan. 

The city, with its abundant fall foliage and bustling businesses, is a far cry from the dusty, desert towns of Iraq - where Christian deployed for nine months as part of Operation Inherent Resolve. 
The 21-year-old Northgate grad returned to his Army base in Fort Bragg, North Carolina in early October. Christian is a Specialist with the 2nd Brigade Combat Team, 325th Infantry Regiment White Falcons - a part of the 82nd Airborne Division. 
The White Falcons, a paratrooper unit, can deploy anywhere in the world within 18 hours of notification. 
Christian enlisted in the Army on his 17th birthday during his senior year of high school. His first day of boot camp was a culture shock, he said. 
"I was really stupid and immature. I had long hair and they shaved my head," Christian remembered with a smile. "I went in at 235 lbs and came out  of boot camp at 155 lbs. I really wanted to challenge myself. I watched others who excelled. I was taught to be better than the person on your left and on your right. I learned how to better myself through knowledge, fitness and training."
Those core goals were put to the test in February, when the White Falcons deployed to Iraq as a part of Operation Inherent Resolve. Their job was to support the Iraqi Federal Police and other counter-terrorism groups in clearing ISIS out of the country. 
The first few weeks in a town near Mosul was another culture shock for Christian and his battalion as the troops adapted to the weather and customs of the villagers. 
Operation Inherent Resolve was a dangerous mission, but that did not stop the soldiers from spending time with the Iraqi police, their families and residents, Christian stated. 
"They would always serve us chai tea. If we came off guard, they would feed us. They would kill a chicken right there on the spot and cook us dinner. They were very hospitable," Christian explained.  "They're also super creative. We brought a TV with us but couldn't plug it in. An Iraqi man took a coat hanger, light bulb and random wires and got the TV to work. We were able to watch the Iraqi news and some of the soccer matches."
The two groups cemented their friendship on the Fourth of July. The Iraqi Federal Police gave the soldiers watermelons, cantaloupes and a cow, which was butchered and grilled as steak, Christian remembered. The Iraqis celebrated the holiday with the paratroopers.
"They said to us, 'The United States helped us gain our independence, so we will celebrate their Independence Day,'" Christian said. "That was good to hear. They were excited and that made us feel good because we knew we were a part of a bigger picture …" 
Operation Inherent Resolve was a success. The White Falcons, Iraqi Federal Police and counter-terrorism organizations reclaimed the cities of Mosul Tal Afar from ISIS in early September, according to military officials. 
 
The White Falcons returned to Fort Bragg in early October, where Christian was greeted by his family. 
"We are beyond proud of him," said Yolanda Hand, Christian's mom. "Christian is our first born and this has definitely been very challenging at times … his sister wore his dog tags while he was gone. His brother put an American flag on the back of his truck. 
"His father and I love him and will continue to support him and all of his Army family," she continued. "We can't explain how proud and honored we are to call him our son."
In late October, Christian began more than a month of leave time and immediately headed home to see his family in Newnan. 
The Army Specialist said he feels a sense of accomplishment looking back at the deployment and his military career. 
 
"I'm a little bit wiser, more respectful and more thankful," he stated. "When I was 16 and 17 years old, I was a little punk. I thought I ran the world. But being in military and losing people during deployments really puts your life into perspective." 
Christian re-enlisted in the Army while in Iraq. He will be moving to Fort Campbell, Kentucky in a few months. 
He also plans on enrolling in college to pursue a degree in forensic science. 
***
Melanie Ruberti
Email: melanie@newnan.com
Facebook: @MelanieNTH
Twitter: @MelanieNTH