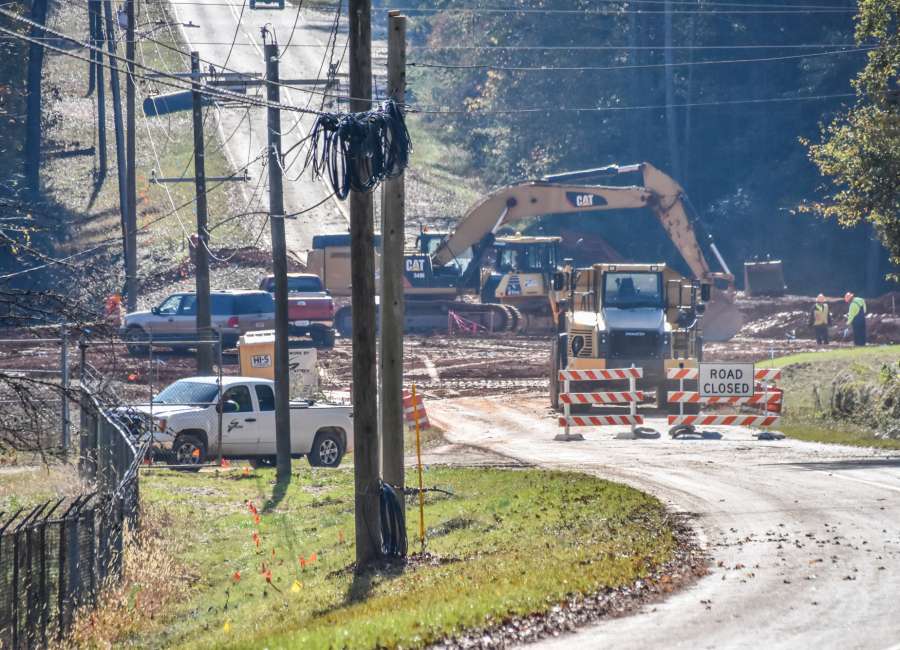 On Wednesday afternoon, tractors were seen moving once again at the proposed Greison Trail roundabout.

The closure is part of the ongoing work on McIntosh Parkway, a roadway extension that will connect downtown Newnan to Ashley Park.
Construction has been delayed during the last several weeks because of contractors encountering poor soil conditions that have now been remediated, according to Newnan City Manager Cleatus Phillips.
Phillips said the full closure of the road was designed to expedite construction by minimizing the need for traffic control and maximize safety of the construction workers.
In June, before the full closure, a construction worker with Southeastern Site Development was briefly hospitalized after being struck by a car.
"When we closed the road in July, we anticipated reopening in early October," Phillips said. "We're hoping to be open by Dec. 1, and we're working hard with contractors to get it done prior to the major holiday season."
The current detour is directing southbound through traffic to Berry Avenue to Roberts Road to East Broad Street, back to Greison Trail.
Northbound through traffic is directed to East Broad Street to Roberts Road to Berry Avenue, back to Greison Trail.
While the detour has been a minor inconvenience for many drivers, many members of public safety say they're ready for the road to reopen as soon as possible.
Sheriff Mike Yeager said the closure has greatly affected his department's ability to access the southern totality of the county. Both the Coweta County Sheriff's Office and jail are located on Greison Trail.
"We really didn't realize how significant that stretch of road is before the closure," Yeager said. "The southern detour has us going through heavily residential areas and encountering school busses, while the northern route is generally jammed with traffic.
"We're all for progress, but we're ready to get this thoroughfare back open and help all of us in public safety."
Police Chief Douglas "Buster" Meadows said the closure has increased the time his officers are involved with prisoner transports.
"Cutting through residential streets is not a good route since the stop signs, yield signs, and other obstacles are hard to anticipate," Meadows said. "Running lights and sirens in the neighborhoods is disturbing to the residents as well."
Fire Chief Pat Wilson said the detours have presented some challenges in getting to calls, but said his department has adapted to the alternative routes.
"It's increased our response time, but it's difficult to determine just how much," Wilson said. "When we learned of the detour, we were able to get a plan in place in how we respond to those areas and it's worked smoothly so far. However, we're eager to see it back open in the next few weeks."
***
clay@newnan.com, @ClayNeely