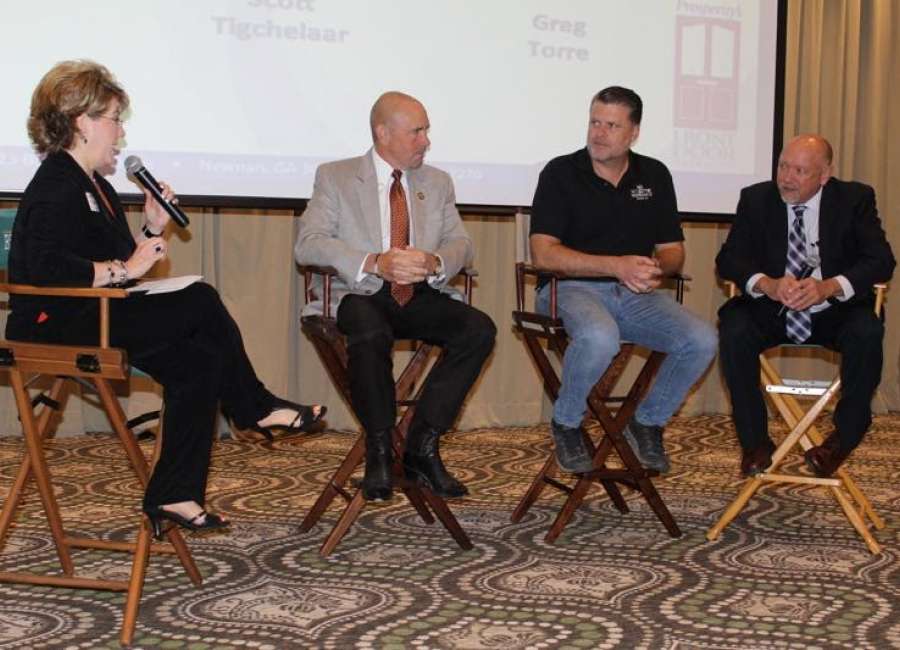 Business is booming for production houses around the state of Georgia, including Coweta County.

The movie industry had a $9.5 billion dollar economic impact on the state during the 2017 fiscal year.
The positive monetary effect was the focus of a panel discussion at the October NuLink Early Bird Forum.
Newnan-Coweta Chamber President and CEO Candace Boothby led the conversation with Mitch Seabaugh, former State Senator and former Senate Majority Whip; Scott Tigchelaar, President of Senoia Enterprises Inc. and Nic & Norman's Inc.; and Greg Torre, deputy commissioner of marketing and communications with the Georgia Department of Economic Development.
Senoia saw huge financial gains as the TV show "The Walking Dead" continued to grow in popularity. The cable channel AMC purchased the Senoia studio where the show is filmed. Network executives bought the studio for $8.25 million dollars in July.
The studio was built in 1989 as Riverwood Studios by Paul Lombardi, Tigchelaar's uncle and Joe Lombardi, Paul's father, who was well-known for his special effects work in Hollywood.
Tigchelaar said the Lombardis looked at where production was going, "and it was going to Georgia." But in the 1990s, the movie industry was dying here and they couldn't give away the studio space, he added.
State officials began to understand the positive economic impact of the movie industry when "Deliverance" was filmed in North Georgia in 1972, stated Torre.
A year later, the Georgia film office opened its doors in hopes of attracting more movie productions to the state, Torre added.  
"Smokey and the Bandit" was filmed in the state in 1977. By the '80s and '90s, Georgia was well-known as the production site for movies such as "Glory," "Driving Miss Daisy," "Forrest Gump" and "Fried Green Tomatoes."
Georgia was soon competing for movie productions as states, including North Carolina and Utah, began to offer tax incentives, Torre said.
Georgia lost out on filming the movie "Ray" to Louisiana because of a significant tax incentive passed by that state, he continued. Georgia officials wondered what they could do to remain competitive in the industry.
State Senator Seabaugh reportedly reached out to Torre when he realized the movie industry could be good for Georgians if it was handled in a financially responsible and sustainable manner.
Seabaugh consulted with professionals like Tigchelaar and staff at the state film office.  He even traveled to Hollywood to ask industry insiders what it would take to bring more movie production to Georgia.
In 2008, Georgia legislators passed a measure creating significant movie and TV production tax credits.
The movie companies first have to spend a certain amount of dollars on production here, Seabaugh explained. Since many of the companies aren't actually located here in the state, they can sell their tax credits to Georgians who then settle their tax liability at a discount.
Torre said folks in the movie industry "spend a ton of money" at small businesses like lumberyards, hotels, car rental businesses and dry cleaners.
Tigchelaar said the movie industry also provides jobs right here in Georgia, so "it's people in Georgia working in Georgia."
Torre noted that in fiscal year 2017, some $9.5 billion was spent in Georgia on 320 film and TV projects.
"It's about jobs and investment," Torre said. "This has made a difference, and it works."
***