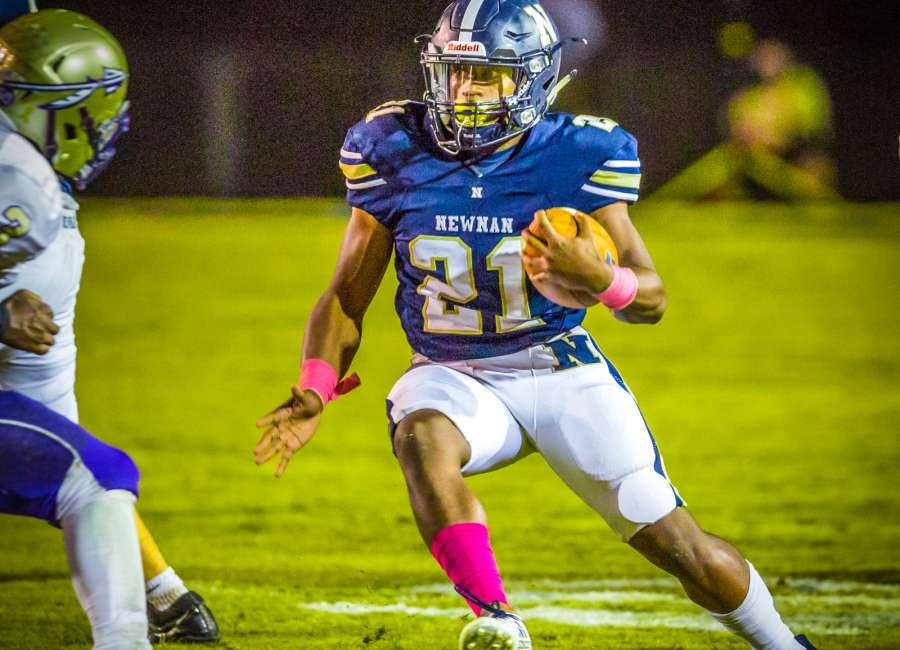 GHSA First Round Playoffs
Newnan (4-6) at Tift County (9-1)
Tonight, 7:30 p.m. in Tifton
Coaches: Newnan — Chip Walker (13 seasons, first at Newnan, 131-32); Tift County — Ashley Andres (3 seasons, 20-11)
Series Record: Newnan leads 1-0
Last meeting: Newnan 42-0 (2008)
Players to Watch: Newnan — QB Bryant Walker, Sr.; RB Brayson Moss, Fr.; RB Mautiver Parks, Sr.; CB Trae Bridges, Sr.
Tift County — WR Rashad Bateman, Sr.; LB Andrew Johnson, Sr.; QB Griffin Collier; Sr.; OT Ches Jackson, Sr.
"Our guys are excited about the opportunity and the challenge of going to play Tift County," said Newnan head coach Chip Walker. "We feel like we've gotten better each week. We need to limit explosive plays and execute on offense against them."
What to Know: Despite a losing record, the Newnan Cougars are headed to the playoffs after earning the No. 3 seed. Newnan closed out its regular season last week with a hard-fought 30-28 victory over rival East Coweta. Tonight, they make the long trek to south Georgia and a game against a Tift County team that enters the playoffs on a two-game winning streak. The Blue Devils earned the No. 2 seed out of Region 1-AAAAAAA. Tift County's only loss was against undefeated and top-ranked Lowndes.
Newnan enters the game winning three of its last five games. In addition to beating East Coweta, the Cougars also beat Wheeler and Campbell during the last five weeks of the season.
The winner of tonight game plays the winner of the Hillgrove-Roswell game.
What we Think: Tift County 28, Newnan 14
GISA Final Four
Trinity Christian (10-2) at Gatewood (12-0)
Tonight, 7:30 p.m. in Eatonton
Coaches: Trinity — Kenny Dallas (12 seasons, first at Trinity, 98-43); Gatewood — Jeff Ratliff (Five seasons, 41-21)
Series Record: First meeting
Players to Watch: Trinity — QB Zach Seymour, Jr.; RB Luke Vermilya, Sr.; LB Sam Cotton, Sr.; WR Kyle Riesselmann, Jr.; DB Sharmari Reid, Soph.
Gatewood — LB Tyler Myers, Sr.; DE Evan Hallman, Jr.; QB Jake McMillian, Sr.; CB Drew Haley, Sr.
"We have come a long way from starting out 0-2. This group of young men have really bought into our desire to build a culture of preparation and brotherhood," said Trinity head coach Kenny Dallas.
What to Know: It's been the best season in school history for the Trinity Lions. With a victory on the road tonight, first-year head coach Kenny Dallas will lead the team to the GISA state title game. In order for that to happen, they will have to get past an undefeated Gatewood team.
There are plenty of similarities between the two teams. Both squads have put up big offensive numbers. Gatewood has won all 12 of its games by double figures and is averaging 49 points per game, while Trinity is averaging 50 points per game. Trinity also has five shutouts this season including both of its playoff victories, a 48-0 victory over Westfield and a 35-0 win over Southland.
Gatewood shut out Loganville 50-0 in its first-round playoff game and then beat Deerfield 31-7 last week.
The winner of tonight's game plays the winner of the Valwood-Frederica game next week for the state title at Mercer University.
What we Think: Trinity 35, Gatewood 31