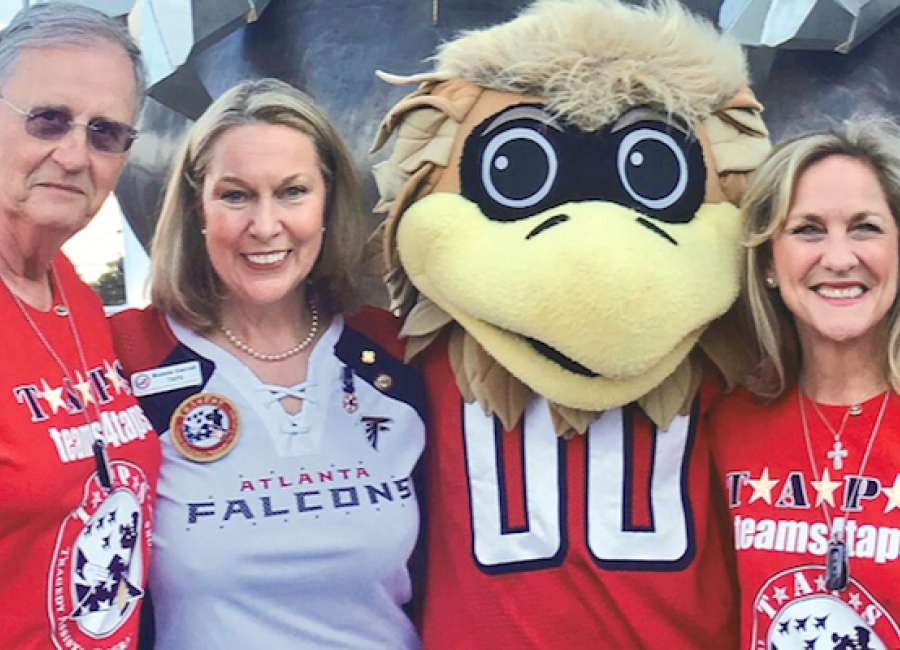 Nicholas Whitlock, the Newnan hero who lost his life in North Africa in February 2012,  has been honored with two tributes recently.

The heroism of the U.S. Air Force captain was celebrated at an Atlanta Braves game, and he also was honored with a flyover at Moody Air Force Base in Valdosta. On Sept. 17, the Atlanta Falcons and video tribute to Whitlock early in the first quarter of their game with the Green Bay Packers.
The tribute was at the Falcon's first regular season home game at the new Mercedes-Benz Stadium.
TAPS staff member Erin Hefner met Nick Whitlock's parents, Newnan residents Jimmy and Clare Whitlock, at the Falcons statue in the stadium. Hefner escorted the Whitlocks to meet with Falcons staff, who took them to the field to watch pre-game warmup.
During the video tribute, the camera cut to the Whitlocks who stood and were recognized.
Bonnie Carroll, founder and president of TAPS, attended the game and met with the Whitlocks. The Tragedy Assistance Program for Survivors offers compassionate care to all those grieving the loss of a military loved one.
Since 1994, TAPS has provided comfort and hope 24/7 through a national peer support network and connection to grief resources, all at no cost to surviving families and loved ones.
TAPS has assisted more than 70,000 surviving families, casualty officers and caregivers.
TAPS is a national nonprofit 501(c)3 Veterans Service Organization and is not part of, or endorsed by, the Department of Defense.
Nicholas Whitlock and Army 1st Lt. Robert Collins were honored during flyovers at Moody Air Force Base on Oct. 29. The flyover was held at 3 p.m.
The U.S. Air Force Thunderbirds posted on Facebook regarding the flyover. "It was a chilly day here in south Georgia, but we warmed up the skies with a high show. Today we had the opportunity to honor two outstanding Moody AFB airmen."
Nichols Whitlock, born in Newnan in 1982, graduated from Newnan High School in 2001 and from Mercer University in 2005. He earned his private pilot's license in 2005 and joined the Air Force the following year.
In 2008, he was assigned to Air Force Special Operations. He and three comrades lost their lives in an accident near Camp Lemonnier, Djibouti. Whitlock was serving on his fifth deployment, and the accident occurred while the aircraft was returning from a mission in support of Operation Enduring Freedom.
In addition, to his parents, Nick Whitlock's surviving family include his wife, Ashley, and his brothers, Jimmy and Robert.