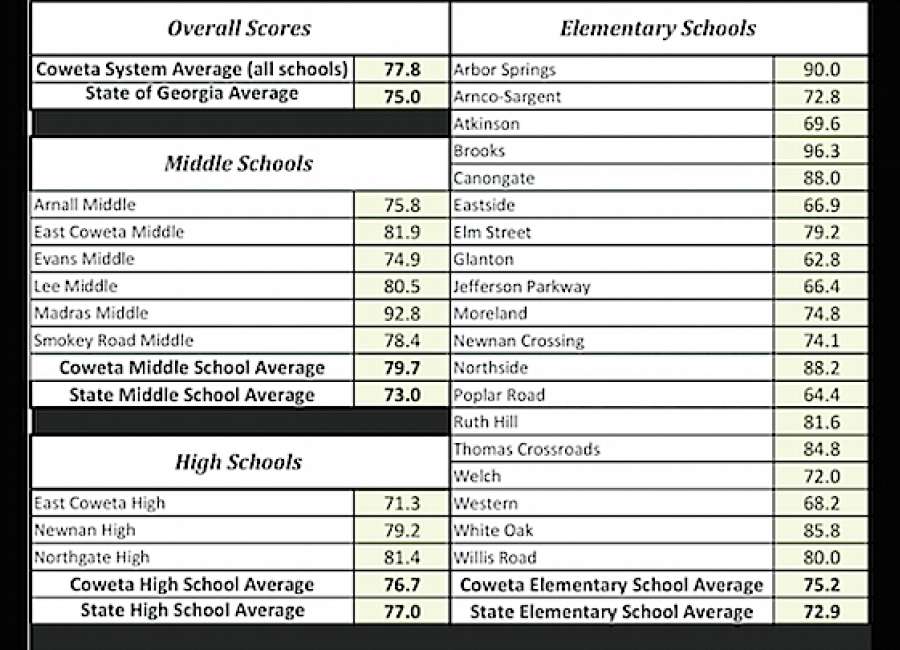 Coweta County Schools outpaced state averages on the Georgia College and Career Ready Performance Index in 2017, showing significant increases in elementary and middle school scores on the state accountability measure.

The CCRPI measures student performance data on a scale made up of three major areas, including "Achievement," "Progress" and "Achievement Gap". The report gives a single score for schools and districts, based on multiple points of student data and weighting systems.
As a district, the Coweta County School System scored a 77.8 on the CCRPI, outperforming the state's overall CCRPI score of 75.0. This year's score is a 2.6 point increase over 2016.
The statewide CCRPI score was up 1.4 points over last year. 
CCRPI is the state of Georgia's educational accountability system for public schools and school systems. The index uses a broad set of academic criteria to evaluate and score schools and districts on a 100-point scale. This year's report reflects data from the 2016-17 school year.
"We are pleased to see the positive trend of improvement reflected in these overall results and we will continue to strive to meet the needs of each individual student," Superintendent Steve Barker said. "Gains for our students are realized when everyone is focused on student learning." 
The Coweta County elementary school score rose significantly with a 4.4 point increase on this year's accountability report, from a 70.8 to 75.2 in 2017. Fifteen of Coweta County's 19 elementary schools saw increases in their CCRPI scores this year, including Ruth Hill Elementary School, whose CCRPI score rose by 29 points in one year to 81.6. 
"We have had almost a 30-point leap in our score. That's unheard of," said Ruth Hill Principal Aaron Corley. "Our teachers are elated. Not because of the number, but because they felt their hard work was validated. Their students' hard work was validated. We proved we could do it."
Once labeled a "chronically failing school" by Governor's Office of Student Achievement, Ruth Hill made significant gains in both Milestones and CCRPI scores.
"Ruth Hill is one example of many where hard work is paying off for our students, our staff and for our community," Barker said.
Brooks, Elm Street, Northside and White Oak Elementary Schools also saw score increases of 10 points or more on the 2017 CCRPI, with Brooks' overall score rising to 96.3.
"Growth in elementary schools is reflective of a concentrated focus from administrators, teachers, and students on monitoring the progress of each individual student in regards to growth in reading and literacy skills and setting individual goals," said Dr. Karen Barker, the school system's director of curriculum.
Coweta County's middle school score also rose noticeably on this year's CCRPI report, from  74.6 to 79.7. This 5.1 point increase surpasses the state middle school score increase of 1.5 points. 
"Coweta County middle school CCRPI scores continue to rise due to students making higher levels of progress when compared to like peers across the state of Georgia," said Dr. Julie Raschen, Director of Assessment and Accountability for the school system.
Most significantly, each individual Coweta County middle school outperformed the state's middle school score of 73. Several middle schools saw a multiple point increase in CCRPI, including Smokey Road Middle School with an increase of 11.5 points.
"My faculty, students and parents were very happy with those results," said Smokey Road Principal Keafer Triplett. "There was a lot of hard work… For the past three years we focused on reading comprehension, including targeted reading for sixth-graders, and a school-wide reading initiative that our whole faculty bought into." 
Triplett said his faculty's approach extended to before and after school programs as well, and working with all students to set goals and monitor their progress.
The Coweta high school score saw a slight decrease of 1.9 points in 2017 with a CCRPI of 76.7. Newnan High School's CCRPI score increased by 1.7 points. While the system's overall high school CCRPI score decreased in 2017, the district's graduation rate as well as student performance on national assessments such as the SAT and ACT have continued to increase yearly and outperform national averages.
Newnan High School Principal Chase Puckett said that his school's increases in academic achievement, four- and five-year graduation rates, fine arts and career-technical participation, and in the number of students making typical or high growth are the result of a team effort by a staff and community pulling in the same direction.
"We are committed to providing every opportunity for every student," Puckett said. "The increases in this year's College and Career Readiness Performance Index for NHS come from the common commitment that every student can learn and every student deserves to have a teacher who is passionate about who and what they teach." 
Newnan High's leadership team meets weekly to work on ways to support students and teachers, and teacher-led parent workshops are provided throughout the year to give parents an opportunity to partner with NHS and Communities In Schools. Students are provided with in-school counseling and advocates, and community mentors.
For more information about the CCRPI, visit www.gadoe.org