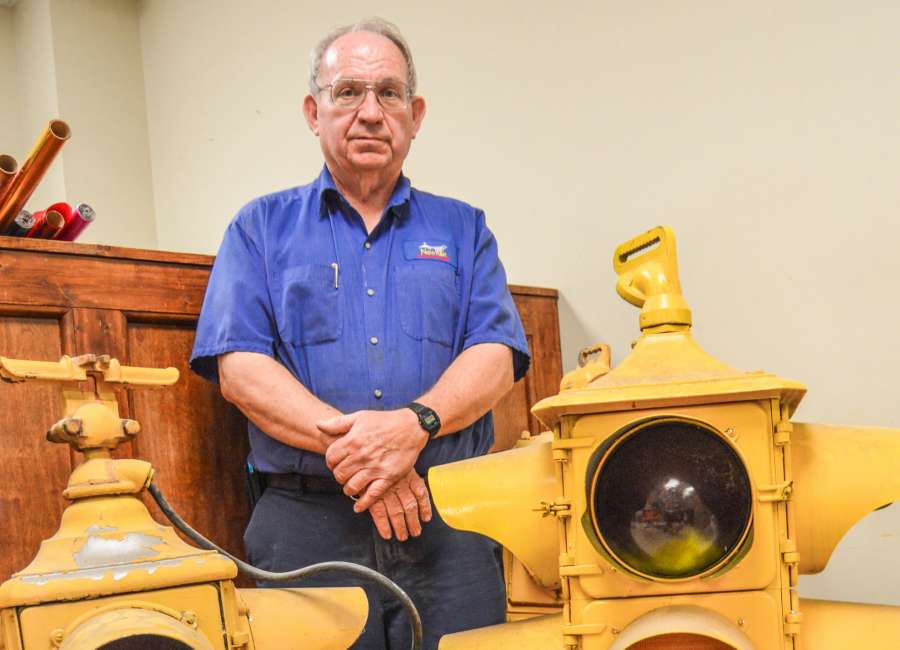 There isn't one intersection or roadway within the Newnan city limits that J.W. Davis doesn't know intimately. 
The maintenance technician is responsible for almost everything that happens - or doesn't happen - on those streets. 
But starting Jan. 1, 2018, those responsibilities will fall to someone else. 
Davis is retiring after serving 37 years in the city's maintenance department. 
"When I started, the town was small," Davis remembered. "We only had 14 buildings. I maintained state traffic lights at 21 intersections and 13 intersections of city traffic lights. I did all the maintenance work, including changing light bulbs and replacing electrical wires." 
The Newnan native and Western High School graduate was on a different career path when he entered Troup Technical School. 
"I went to school to be a draftsman, but there were no jobs back then," Davis stated. 
Davis had been working for an electrician and a plumber in the early '70s before he was hired by the city maintenance department.
During that time, the maintenance division worked under the city's Building Department. The entire maintenance "crew" consisted of only Davis. 
He was tasked with maintaining the Lynch Park pool and trimming trees so school buses could scoot safely down city streets. Davis also helped move houses by escorting crews in a bucket truck and boarded up old homes deemed uninhabitable by city inspectors. 
Beginning in 1984, Davis worked with Newnan Utilities to put up electronic traffic lights around downtown Newnan. He also installed new controllers and underground wiring. 
"Doing the traffic light work is different from anything else," Davis explained. "You have a lot to figure out. I went to a few schools on it. When I started, it was all mechanical. Now its all electronics."
 
When the Powers Crossroad area started to grow, Davis was asked to help hang traffic signs and lights. 
In 2000, Davis and one other person moved entire offices to the new city hall on LaGrange Street. 
Two years later, after running the city's maintenance department by himself for 21 years, a second technician was hired to work with Davis. 
The two-man crew immediately remodeled an old shotgun-style house on Farmer Street. The building is now the African American Alliance Museum. 
Davis and the second technician also remodeled the old jail in 2005 and moved 911 dispatchers into the building.
The job didn't stop at 5 o'clock, Davis stated. He would work overtime and be out at all hours of the night if a storm rolled through the city. 
"If you have traffic lights out and no power on, I'd have to figure out what happened and how to get the light back on," he explained.  
Davis said he enjoyed the "non-routine" of the job and that every day brought a new project and new set of challenges. 
After suffering from some health problems, including bad knees, Davis decided earlier this year it was time to move on. 
His co-workers said Davis left a legacy in every project he completed.  
 "J.W. Davis laid the foundation for the department that were in right now," stated Mark Johnston, facilities maintenance director with the city of Newnan. "For years and decades he was the only man in the department and he did it all. He laid the foundation for us to keep growing. His forethought and vision helped us fix traffic lights. He also drew up plans  for all the wiring and electrical work around the city. He had enough foresight to do that. He is truly going to be missed."
Davis said he plans on spending time with his family, gardening and woodturning. 
He is thankful for his time with the city. 
"I am grateful to have been given the chance to learn as much as possible," Davis said.  
His last day on the job will be Dec. 31. 
***