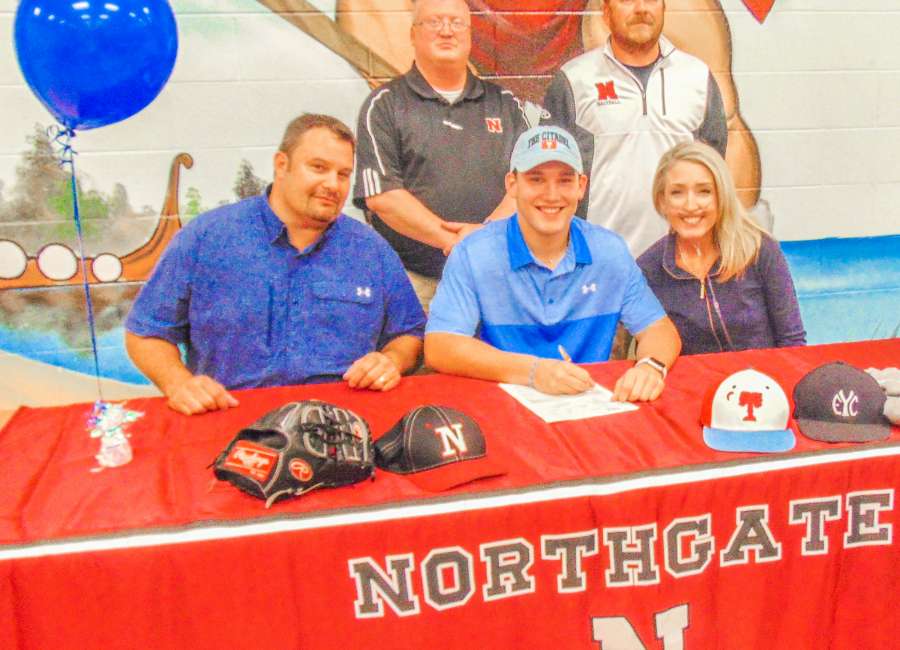 Northgate High senior baseball player Corbitt Cimadevilla knew he would end up playing college baseball at The Citadel if he got the call.
He got the call, and Cimadevilla will play baseball at the school of his dreams, signing a letter of intent Wednesday afternoon to play college baseball next year at The Citadel in a small ceremony at NGHS in front of several teammates, coaches, friends and administrators.
Cimadevilla said he talked to East Tennessee State University, Georgia Gwinnett College and the University of Georgia, but The Citadel always remained his No. 1 option. He remembered seeing The Citadel when he and his family took a trip to Charleston, S.C. years ago when he was much younger, and it left an impression on him. During his latest visit this year, he was even more impressed with the school and says he cannot wait to become a Bulldog.
"The Citadel has always been my spot. I am looking forward to upholding the school's motto of 'Duty, Honor, Respect' as soon as I get there," Cimadevilla said. "The academics and the military training are going to be tough, but I'm ready for them. I'm very excited about playing baseball there."
Cimadevilla said the coaches were good to him when he made his recent visit.
"I received fantastic treatment by the coaches at The Citadel. They plan on using me as a relief pitcher, which is fine by me," he said. "I would rather be a reliever than a starter. The adrenaline's pumping and everyone's super hyped when I come in. I want to be the guy to get the last three outs."
Cimadevilla said he wouldn't mind going from The Citadel to Major League Baseball one day, but it's not something he's worried about at this moment.
"Getting drafted to the majors would be nice, but if it doesn't happen, I'll be fine," he said. "I'll just go join the Marines. My grandfather was in the Marines, and I looked up to him as a hero."
Northgate Vikings head baseball coach Todd Herrington said Cimadevilla should be up to the task of handling baseball and military training at The Citadel.
"Corbitt's got the opportunity to go to a prestigious school like The Citadel, and we're very proud of him around here. If he can make it there, he'll be set for life," Herrington said. "He's determined to succeed at The Citadel and we're all behind him. We can't wait to see him rise to the challenge."