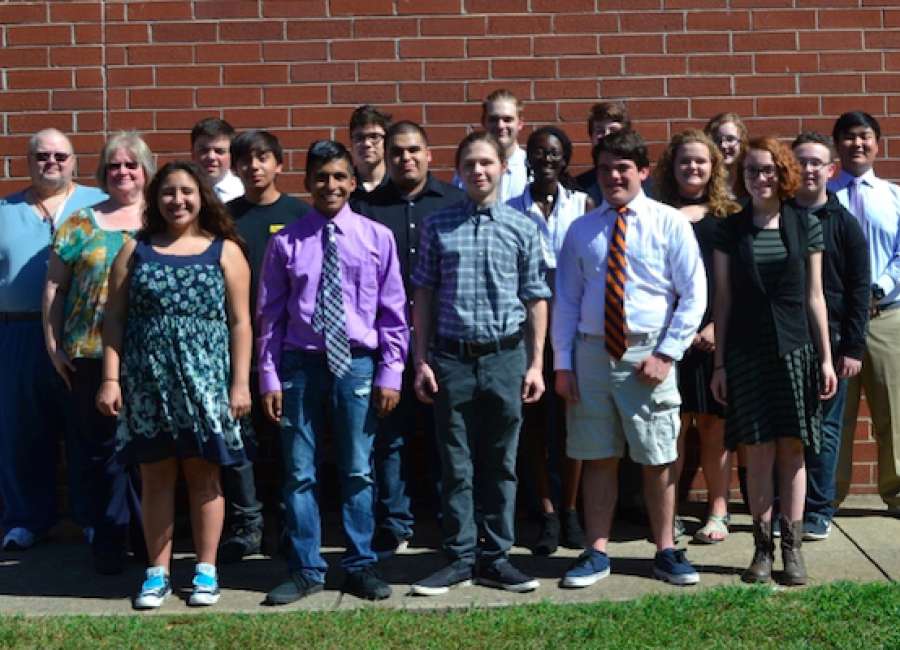 Central Educational Center's TriBots traveled to Auburn University recently to participate in the War Eagle BEST Robotics hub competition against other teams from Georgia and Alabama.

This year's game was called Crossfire and centered around the team building a firefighting and rescue robot from a box of given materials. In addition, the TriBots had to put together a marketing campaign, which involved an exhibition booth, a T-shirt, a webpage and a Shark Tank-style presentation to a panel of judges.
This team of 19 team members, representing Newnan, East Coweta and Northgate high schools, spent more than 100 hours after school, on Saturdays and during student holidays over a period of six weeks preparing for this event. 
The Marketing Presentation team finished third, which is the highest any CEC team has finished in that portion of the competition. The Marketing Presentation team was made up of Marketing Director Janie Edgar (Newnan), Jorge Cervantes (East Coweta), Matthew Francos (East Coweta), Jacob Zawacki (Northgate) and TJ Pylant (Newnan). 
BEST stands for Boosting Engineering Science and Technology, and while designing and building a robot is the big draw, there are several other competitions – team and individual – within the overall event. 
Cervantes was the repeated winner of the CAD (computer-aided drafting) Design Award. In order to compete, Cervantes had to put together a notebook of his CAD drawings showing parts of the robot he designed along with a one-page description of how he designed them. Cervantes, who currently works through the work-based learning program as a draftsman in the engineering design department at Grenzebach, spent numerous hours designing and drawing parts for this year's robot.
This year's team was led by CEO Matthew Francos (East Coweta). The marketing team included Edgar, Thomas Comte (Northgate), Gabbie Dunn (Newnan), Tori Joyner (Newnan), Rodolfo Lopez (East Coweta), Chloe Tomlinson (East Coweta), Kaitlyn Vera (Newnan), Zawacki and Alejandro Cervantes. 
The robot team included Cervantes, who served as Engineering Director, Thomas Bruner (Northgate), Chris Floyd (East Coweta), Laurence Lee (East Coweta), RJ Pettaway (East Coweta), Daron Pracharn (East Coweta), Pylant, Ian Rojas (Newnan) and Michael Scott (Newnan).