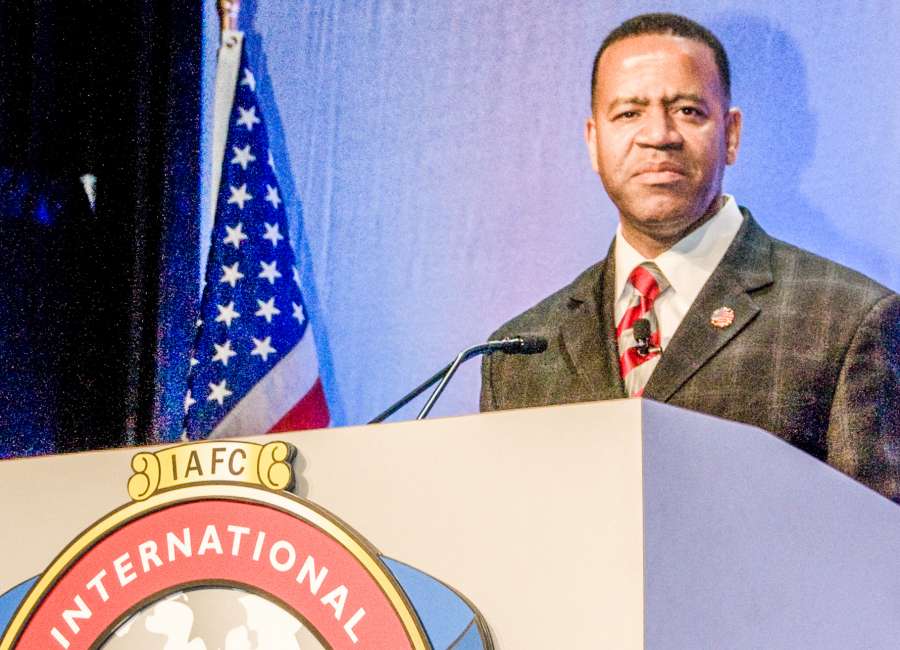 Ousted Atlanta Fire Chief Kelvin J. Cochran got his day in court where his lawyers argued he was fired for his religious beliefs, while Atlanta city attorneys maintained he did not follow required employee procedures.
Cochran wrote a men's Bible study book, "Who Told You That You Were Naked?" that included passages about homosexuality. Cochran spoke at two Coweta County churches about his religious beliefs – one before and one after he lost his job in 2015.
According to The Associated Press, Cochran gave copies of his book to about a dozen subordinates who he said had requested copies or who he knew shared his religious beliefs.
He was fired in January 2015 and filed a federal lawsuit against the city and Mayor Kasim Reed, saying his free speech and due-process rights had been violated. U.S. District Judge Leigh May on Friday heard arguments in the case.
The book lumps together gay people, those who have sex outside of marriage and non-Christians with murderers, rapists, pedophiles and those who engage in bestiality, city lawyer David Gevertz said Friday. The book calls such people wicked and ungodly, he said.
Cochran attorney Kevin Theriot, however, told the AP after the hearing that the book is meant to help Christian men be better husbands and fathers.
"There are a few isolated passages that they take out of context to try to depict the chief as being somebody who's hateful when, in fact, Chief Cochran's beliefs require him to treat everybody equally and the only evidence before the court is that's what he always did," Theriot said.
Cochran said he was shocked that a book encouraging men to be better could jeopardize his 34-year career.
"It's still unthinkable to me that the very faith and patriotism that inspired my professional achievements and drove me to treat all people with love, equity and justice actually is what the government used to ... end my childhood dream-come-true career," Cochran told the wire service.
An assistant chief who had been given a copy of the book raised concerns in October 2014 about some of the book's statements on homosexuality, especially since Cochran clearly identified himself in the book as Atlanta's fire chief.
The following month, Reed suspended Cochran for 30 days without pay to discipline him for selling his book without providing proper notice or getting written approval, Gevertz said. The city law department also opened an investigation into whether Cochran had improperly imposed his views in the workplace. Cochran was told not to make public comments on his suspension, Gevertz said.
Cochran, however, spoke out, saying publicly that he'd been fired for his religious beliefs, and helped organize a public relations campaign to challenge his suspension, Gevertz said. The mayor got more than 17,000 angry emails, some of them using racial slurs, Gevertz said.
Both Reed and Cochran are black.
One of the places Cochran spoke during his suspension was at a service at First Baptist Church in downtown Newnan.
"When we consider the condition of our nation today, I think there are plenty of signs of moral decay. There are curses on this land because the hearts of fathers have turned from children, and children have turned from fathers," Cochran said at the church in December 2014.
He told his listeners in Newnan that he dealt with sexuality as God intended when he penned his book.
"God intended for men and women to be together to have children and populate the earth. And any sex outside marriage and outside of a man and woman in holy matrimony is against the word of God," he said.
His initial suspension, he stated, was "for that stand." At First Baptist, he also said, "This is not about me, it's about the Lord. … I took a stand for Christ, and it's his reputation that is on the line."
Cochran also was the keynote speaker for The Stand, a men's conference held last spring, with sessions held at Trinity Fellowship Assembly of God and at St. Smyrna Baptist Church.
Reed fired Cochran because he violated the terms of his suspension by publicly saying he was fired for his religious beliefs, which irreparably damaged his relationship with the mayor, and because the law department found that while Cochran hadn't engaged in illegal discrimination, his subordinates lacked faith in his leadership abilities because of the publication and distribution of the book, city lawyers maintained.
Gevertz also mentioned that the book could cause problems for the city because fire department employees who were fired or denied a promotion could assert that Cochran's beliefs were the reason.
Theriot told the judge that comments the mayor made when Cochran was suspended and when he was fired make it clear that Reed was retaliating against Cochran because of what the mayor saw as inflammatory ideas presented in the book. Requiring him to have prior approval before publishing his ideas and punishing him for stating his viewpoint are violations of his right to free speech, Theriot said.
The judge, who questioned both sides extensively during the hearing, said she plans to rule in the coming weeks. She could decide to rule on the issues of law raised by the two sides, effectively ending the case, or she could decide there are factual matters that need to be decided by a jury at trial.
Cochran grew up in Shreveport, La., and worked to lift himself from poverty. He became a Shreveport firefighter in 1981 and a fire chief there in 1999.
Cochran served as Atlanta's fire chief in 2008-2009, left to serve as U.S. fire administrator in the Obama administration and then returned to his post in Atlanta. In 2012, Fire Chief Magazine named him Fire Chief of the Year.
"A religious or ideological test can't be used to fire a public servant, but that's what the city did, as the facts of this case clearly demonstrate," Theriot said. "Chief Cochran is one of the most accomplished fire chiefs in the nation, but the city's actions place every city employee in jeopardy who may hold to a belief that city officials don't like."