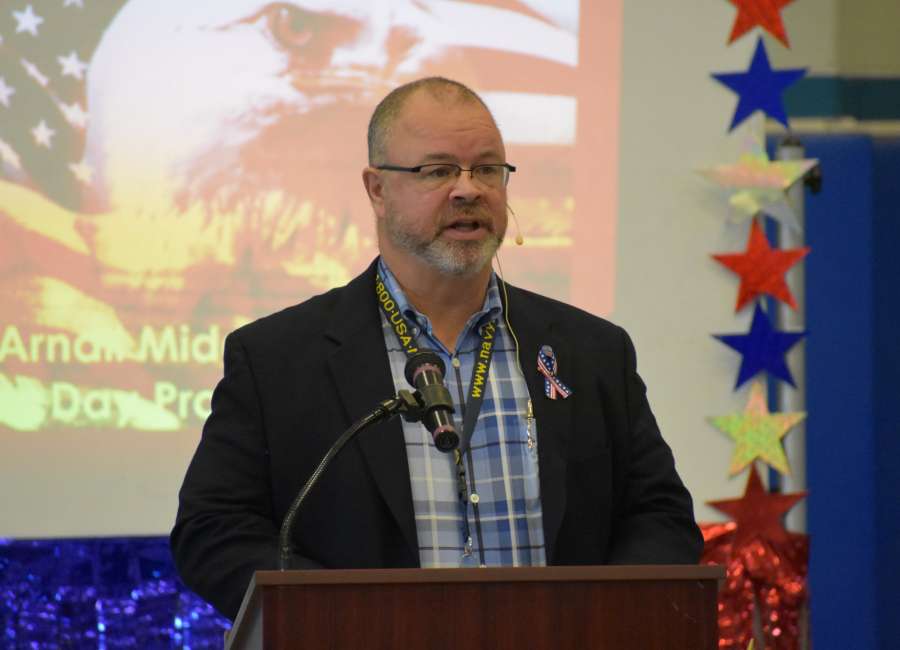 Two military veterans spoke to students at Arnall Middle School for the school's annual Veterans Day program on Nov. 10.
Petty Officer First Class Richard Bennett, retired, and Col. Konata Ato "Deuce" Crumbly, who is on active duty, talked with students about the day and what it means. They were introduced by eighth-grader Madison Duke.
The program opened with "America the Beautiful," played by the eighth-grade band, led by Mrs. Gena Wayne. Northgate High School JROTC cadets, led by Msgt. Ron Wolfe, presented the colors.
Avery Boardman and Jennifer Churampi led the pledge of allegiance to the flag before chorus and band members presented "The Star-Spangled Banner."
Patrick Sullivan, Arnall's principal, welcomed veterans and guests. Mrs. Samantha Clark, eighth-grade social studies teacher, recognized each veteran attending the program.
Lee Greenwood's "God Bless the U.S.A." was presented by the seventh- and eighth-grade choruses under the direction of Mrs. Robin White. Aidan Boswell and Linden Hill sang solos.
"Armed Forces on Parade: A Service Medley," played by the eighth-grade band and featuring Lauren Stallworth, offered an opportunity to recognize members of each branch of the U.S. military service.
Patriot Pen essays were read by their authors – Demetria Parham, Danielle Breneman and Madison Duke. All three are eighth graders. Parham's essay won first place in the schoolwide contest, while Duke's won second place. Third place winner was Nikerion Teagle.
After Caleb Ramey played "Taps," a reception for veterans and guests was held in the Arnall art room.