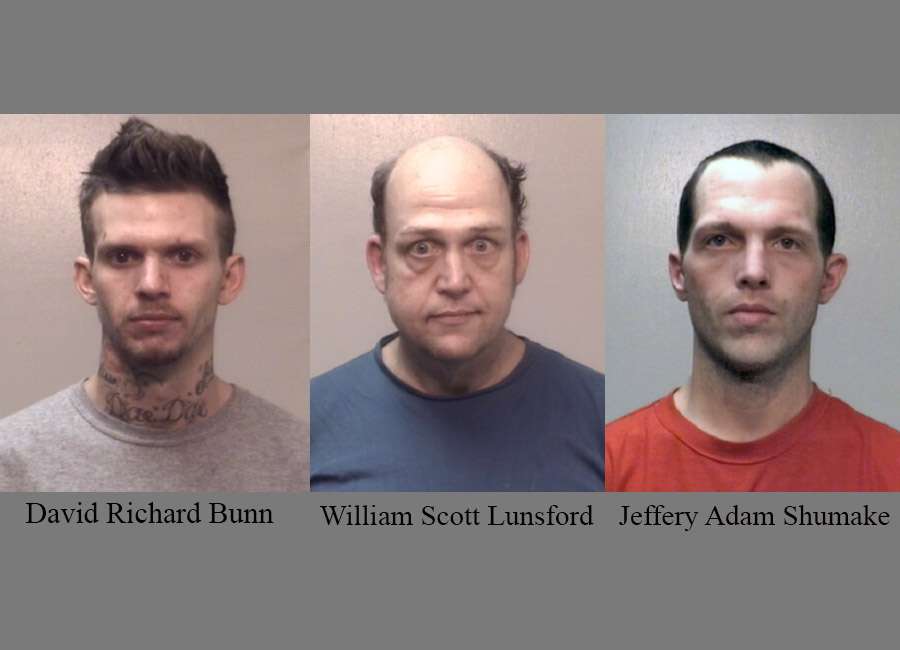 Two men remain behind bars in the Coweta County Jail following a drug bust on Thursday inside the Create Sew Grow and Ethical Hacking businesses located at 15 ½ Greenville Street.

Jeffery Adam Shumake, 28, and David Richard Bunn, 27, were arrested along with William Scott Lunsford, 47, and Charlotte Dubose Lunsford, 42.
Charges against Charlotte Lunsford were dropped by Judge Robert Stokely during her first appearance hearing on Friday morning. 
Scott Lunsford was charged with two counts of felony possession of a schedule 1 and 2 narcotic. He was granted bond and released, according to investigators.
Bunn was charged with one count of felony possession of a schedule 1 and 2 narcotic. He was granted a $4,000 bond but remained in jail as of Saturday afternoon, investigators stated.
The drug charges against Shumake were dropped, but he remains incarcerated on a felony probation violation.  
Crime Suppression Unit investigators initially went to Create Sew Grow to arrest Shoemake when officers outside the business noticed Bunn trying to escape out a window in another room, the police report read.
Bunn was immediately captured and taken into custody.
Investigators searched the room, which was used as an office, and found a bag of suspected methamphetamine along with needles and several bottles of Naloxone, also known as Narcan.
Naloxone is a medication used to block the effects of opioids, especially during an overdose.
Investigators discovered a baggie and two loaded needles of suspected heroin, plus a metal spoon with methamphetamine on it, according to the report.
Deputies also found a metal can containing suspected methamphetamine inside a lock box.
Scott Lunsford allegedly told investigators the lock box was not his, but knew the code to get inside it, the report read.
In total, investigators seized 4 grams of suspected heroin and methamphetamine, officials stated.
All four suspects denied knowledge of the drugs. The Lunsfords, Shumake and Bunn were arrested and each charged with one count of possession of methamphetamine and one count possession of heroin.
Investigators said it appeared Scott Lunsford, Shumake and Bunn were living inside the Create Sew Grow and Ethical Hacking business space.
Scott Lunsford is the proprietor of Ethical Hacking; his wife, Charlotte Lunsford, reportedly runs Create Sew Grow, according to the CCSO arrest documents.
This is not the first time the Lunsfords have been arrested on drug-related charges.
Investigators executed a search warrant for the couple's home off Club Drive in 2016 and discovered 28 fully grown marijuana plants in the basement, along with methamphetamine and a substance believed to be heroin, according to CCSO officials.
The raid was part of a two-year investigation by the Coweta County Sheriff's Office, officials stated.
The Lunsfords and their three children were not home during the search but two people, allegedly the couple's "roommates," were inside the house.
Coweta County Sheriff Deputies arrested Tyler Douglas Morris, 23, and Morgan Brooke Rogers, 19.
Warrants were issued for the Lunsfords on charges of manufacturing marijuana, possession of heroin and possession of methamphetamine.
All charges against Charlotte Lunsford were eventually dropped; Scott Lunsford pleaded guilty in his best interest to the possession of marijuana with intent to distribute. The state did not prosecute the previous charges of methamphetamine and heroin possession.
He was sentenced earlier this year to 10 years to serve two on a suspended sentence and pay a $2,500 fine.
Superior Court Judge Travis Sakrison made it clear if Scott Lunsford failed to abide by conditions of the suspended sentence, he would revoke it.  
It was unclear as of Saturday if the father of three will be re-arrested and charged with violating probation.
Bunn and Shumake have also had prior run-ins with the law.
Bunn was arrested in August 2012 when the Coweta County Jail staff found a baggie of suspect marijuana inside one of his socks, according to the arrest warrant. He was initially taken into custody for driving on a suspended license.  
Bunn was charged with crossing the guard line with drugs and possession of marijuana, the indictment stated.
In 2011, Bunn was arrested and charged with felony possession of cocaine, felony possession of marijuana and giving false information to law enforcement officers.
According to Coweta County public records, five petitions for a temporary protection order have been filed over the past three years against Shumake.
Shumake also pleaded guilty in September 2013 to one count of conspiracy to manufacture methamphetamine and one count of possession of methamphetamine, according to an indictment.
Coweta County public records show Shumake has a lengthy criminal history with arrests dating back to 2008.
He's faced numerous charges including manufacturing methamphetamine, possession of methamphetamine, felony theft by taking, identity fraud, second degree cruelty to children and burglary.
***
By Melanie Ruberti
Email: melanie@newnan.com
Facebook: @MelanieNTH