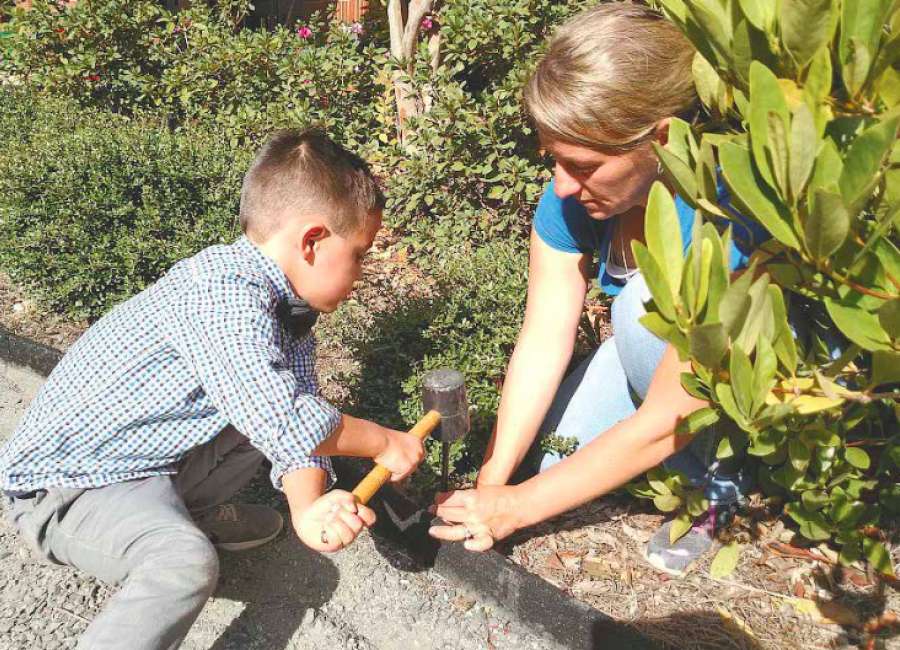 Nestled in an outdoor nook at Welch Elementary School is a place where first-graders grow edibles, the tiniest Bulldogs learn their ABCs on stepping stones, and teachers conduct read-alouds and science experiments with their classes.
It's Welch's Science, Technology, Engineering and Mathematics (STEM) Garden, a collaborative project spearheaded by parent volunteer Jennifer Abke and STEM teacher Sharon McClellan. More than simply an outdoor classroom, the garden was specifically designed to augment STEM classes – which have been in place for grades K-5 for three years – at the school.
"I took the state science standards and sat down with Jennifer, and we figured out things we could be doing," McClellan said. "We wanted to make sure the teachers feel like it will enhance their lessons and not just be something extra they had to do.
Utilizing an unused space between classroom hallways and initially armed with a $2,500 grant from Panasonic secured by Abke, volunteers began carefully transforming the spot into a science-specific learning ground.
"The garden would not have been possible without Jennifer," McClellan said.
Among other features, the garden contains growing tables, a life-sized abacus made of PVC pipe and wiffle balls, a weather station, an experiment table, stepping stones labeled with the ABCs and a low wooden bridge designed specifically to help pre-K students with reading and motor skills. A mourning dove and several hummingbirds have taken up residence in the garden as well.
"The grant from Panasonic really helped get it going, and we've had other donations from The Home Depot and other places," McClellan said, adding that one popular feature of the garden is tree stump stools donated by the Georgia Forestry Commission.
Every teacher at Welch is STEM-certified by Coweta County, and several classes have ongoing or upcoming projects in the garden. First-graders learning about the four parts of a plant are growing lettuce in vegetable trays on the growing tables, learning how the roots pull the water into the plants and using the rain gauge to determine whether rainfall is sufficient or whether they need to water the vegetables. They will harvest and dine on the lettuce around Halloween to cap off their plant unit, McClellan said.
Pre-K students recently planted pumpkins, which they water from the garden's rain barrel. They've learned about food and olfactory senses with herbs that are growing in the garden, McClellan said.
"They were smelling the different herbs and saying things like, 'We smell pizza,'" she said. "They were able to associate the plants with the things they eat.
REACH students planted sunflowers, which generated lessons in several areas. Students compared sizes and charted growth of regular and giant sunflowers, and they practiced calculations of radius, circumference and diameter on the flowers' centers. First-graders added to their plant units by learning how fallen seeds will be spread, ensuring more sunflowers will grow next year. The flowers even sparked a school-wide art project, as budding artists headed outside to sketch and paint pictures that now decorate the school's hallways.
Teamwork has been a happy side effect of the garden, McClellan said.
"The fourth grade helped move and make displays," she said. "Everybody was working together, which was really nice because we're trying to instill teamwork and looking out for each other. It gave them ownership, and they really enjoyed that. We enjoyed watching them work together."
Even technology even takes on a different meaning in the garden.
"We have pinecones out there to put in buckets on the level," McClellan said. "I tell them that level is technology because technology is anything that helps us do our jobs. It doesn't necessarily have to be plugged into the wall."
McClellan said plans for the garden include a permanent covering to replace the pool umbrellas that now shade the stump stools, with the hope of incorporating solar power. A measuring station with built-in tape measures also is on the wish list, to help students connect the classroom work they perform with rulers to other measuring tools.
"Part of the purpose of STEM classes and the use of an outdoor classroom is to make those real-life connections," McClellan said. "When kids are planting, seeing the roots and the stem, they're using standard vocabulary but they don't even realize it. In social studies, they're talking about agriculture and they understand even though they don't have any experience with it. They're connecting the dots so it all makes sense.
"They're learning and they don't even realize it, which is wonderful and exactly what we want," she said.