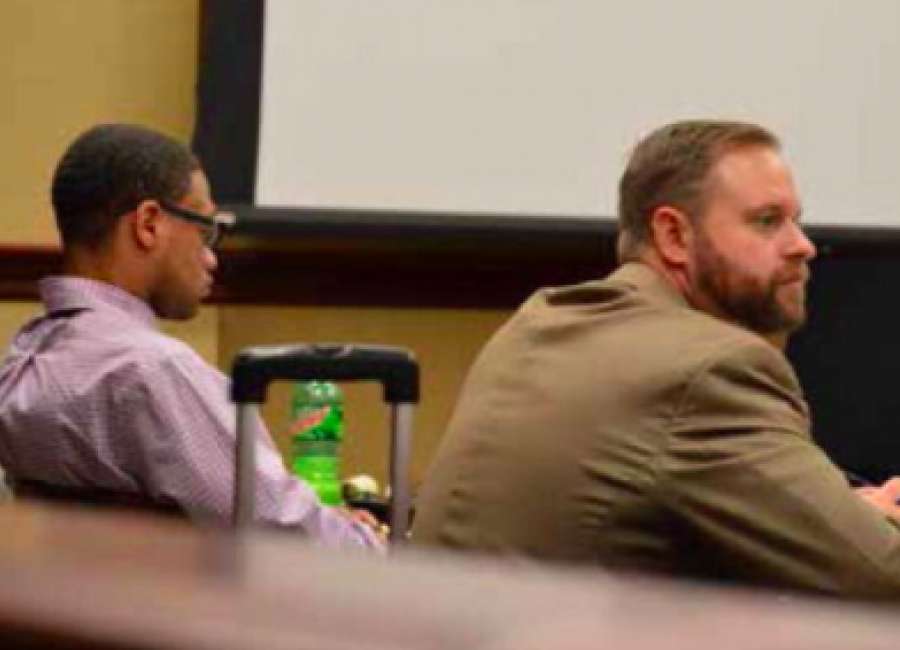 A Coweta County inmate shared intimate details in the shooting death of Travalas Acres, 40, during day three of the state's case against Willie Turner II, 25.

The inmate, Jacob Chapman, 28, shared a jailhouse "pod" with Turner in September.
Chapman said Turner allegedly admitted to another inmate, Randarious Lamond Tenney, 26, that he was the gunman who killed Acres inside a car on Feb. 19, 2016.
Chapman allegedly overheard the conversation between Turner and Tenney.
Coweta County Assistant District Attorney Kevin McMurry played a video recording of an interview between Chapman and Newnan Police Department Sgt. David Schrepfer for the jury.
In the video, Chapman relayed what Turner reportedly told the other inmate.
"He (Turner) said he had Mel's (Jamelle Moss) gun … a Taurus Judge revolver with shotgun shells in it … and he don't really remember how it happened, but he got enraged and he shot him (Acres) and ran," Chapman told Sgt. Schrepfer.
"He (Turner) talked about his (Acres) head exploded onto the car …. Blood went everywhere," Chapman added.
The inmate said Turner allegedly described how he jumped out of the car and ran into some woods near the Target parking lot.
"Willie said he was covered in blood and took off his clothes and washed off," Chapman said in the video interview with Schrepfer. "I don't know where he (Turner) would've washed off. But he said he didn't have blood on him when police found him."
A Newnan police officer spotted Turner walking along Bullsboro Drive a few hours after the shooting, McMurry told the jury. The 25-year-old was brought in for questioning and arrested that same day.
Chapman also described in the video why Turner purportedly said he shot Acres that night.
"He said Baller (Acres) had disrespected his family, which led to the argument before the shooting," Chapman explained to Sgt. Schrepfer.
Turner also allegedly told Tenney that he was high on cocaine and ecstasy that night.
The videotaped interview also revealed Turner had later discovered that Chapman was talking to investigators and tried to have the man jumped by other inmates in the Coweta County Jail.
Defense attorney Charlie Cauble brought into question Chapman's integrity by entering the man's criminal background as evidence.
Chapman was charged with four counts of entering auto and two counts of burglary, according to Cauble. The inmate also reportedly had more charges pending on additional crimes.
A second inmate, Ernest Cousins, took the stand and admitted to warning Tenney that NPD investigators were looking for him.
Cousins called Tenney, who had by that time been released on probation, from the Coweta County Jail on behalf of Turner, who was on lockdown at the time. Turner allegedly knew Chapman was talking to investigators, Cousins stated.
Cousins was charged with trying to influence a witness, but was given immunity by the state in exchange for his testimony.
When Cauble tried to ask Cousins about other charges pending against him, the man pleaded his Fifth Amendment right and refused to answer the question.
Cauble immediately asked presiding Superior Court Judge Emory Palmer for a mistrial.
Palmer denied the defense attorney's request and told Cauble to rephrase his questions.
Cousins finally admitted he was arrested on Sept. 14 and charged with aggravated battery and aggravated assault with a firearm.
However, the man made it clear to the court the District Attorney's office did not offer him immunity on those charges. Cousins also said there have been no plea negotiations on his pending case, either.
Jamelle Moss' current girlfriend, Tanya Myers, and former girlfriend, Annabelle Flores, took the stand late Friday afternoon.
Myers picked up Moss at the Wendy's restaurant off the Newnan Crossing Bypass shortly after the shooting.
Moss was allegedly sitting in the back passenger side seat of Acres' car the night he was murdered.
"I saw him (Moss) running to my car … (He looked like) he had seen a ghost," Myers testified. "He just said, 'Go home right now … He just took everybody's life … I hate him, I hate him ... Why? Why? Why?'"
Myers told the court another woman, Amber Beasley, showed up at their house about ten minutes after they arrived home.
"I heard her say Little T (Turner) was in the woods behind Hibbett Sports," Meyers stated.
Flores testified Beasley initially came to her house the night Acres was killed.
"I opened my door and she (Beasley) stated that Willie Turner had just shot someone and we needed to get in touch with Jamelle (Moss)," Flores stated. "We called him but it went straight to voicemail …  Then she (Beasley) said she was going to Tanya's house to see where Mel (Moss) was."
Flores said as they got into Beasley's SUV, the woman's phone rang. It was Turner. Beasley reportedly put him on speaker phone.
"He (Turner) said he was running," she told the jury. "Then he said something about T.J. Maxx … then something about RaceTrac."
When McMurry asked her why Turner was calling, Flores stated he wanted Beasley to pick him up.
The jury broke for the weekend. The case will resume Monday morning.