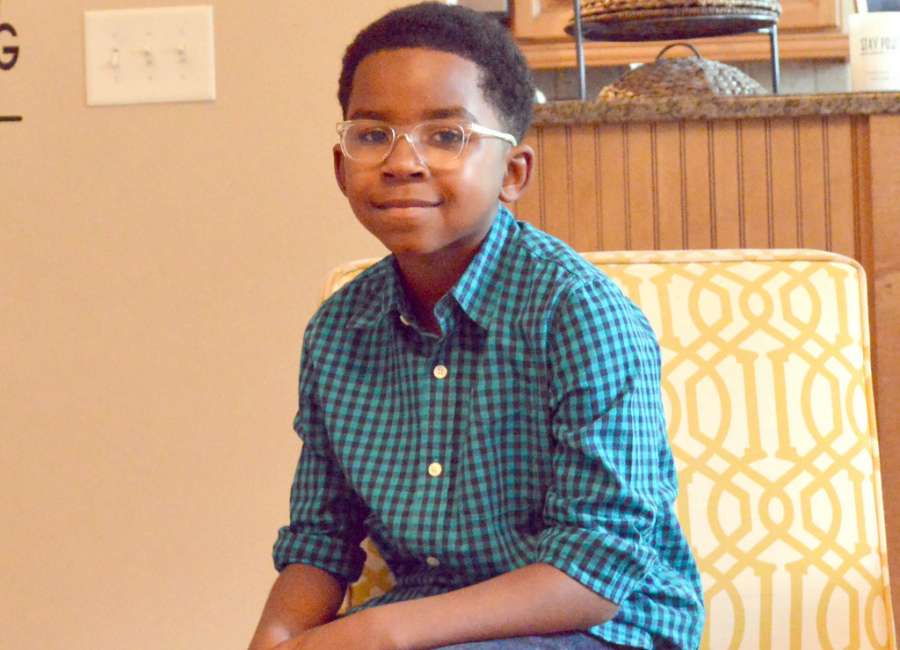 When the new show "Valor" premieres Monday at 9 p.m. on The CW, Drake Strickland's family will be glued to the television.

Drake, 8, has a principal role in the military drama, which follows a group of Army helicopter pilots.
Drake filmed the pilot episode in March, and the show was "green-lighted" in May, according to his father, Vernon. In addition to the pilot, Drake has also filmed episode three. The season has 13 episodes.
The Stricklands won't know when Drake will be back on the "Valor" set until a few days before an episode is shot. 
Drake's mother - and "Momager" - Makisha will get a call, and then they'll get the script. Drake only has a few days – a week at the most – to memorize his lines before shooting begins.
Drake plays Max Kam, the son of soldier Jimmy Kam and his wife, Jess. Based on the long-form trailer for the new series, Jimmy Kam and one other man were taken hostage, and lead character Chief Warrant Officer Nora Madani (Christina Ochoa) feels that the team made a bad decision that led to the men being taken hostage.
Jimmy Kam is played by W. Tré Davis. Jess Kam is played by Corbin Reid ("How to Get Away with Murder).
Drake is the only child in a principal role on the series, according to his parents.
Last Christmas, Drake starred in a Walmart commercial. The Coweta Charter Academy student has acted in several other commercials, and has auditioned for multiple parts in movies, television shows and commercials.
The Stricklands have worked on Drake branching out into different kind of characters – "outside of his normal, comedic, happy-go-lucky self," said his dad.
But the Stricklands have turned down some auditions, primarily for movies and television shows that aren't particularly child-friendly.
"Some were a little too much for our liking," said Makisha. And they didn't fit with Drake's brand, said his father.
Drake is excited about being in a television show, but said he's also a little nervous about being in a show for adults.
"Because I don't know what is going to happen in an adult TV show," he said.
His goal is to be on a children's television show – something that he would like to watch.
And something that his friends and kids at school will watch.
"I want people at school to say – hey, are you on a TV show?" Drake said.
"None of your friends will see this show," his mom said of "Valor."
When it comes time to shoot, Drake said he just imagines that his dad is gone and how that would be.
"I'm really good at imagining," he said. "One of my great acting teachers told me it's called acting, but you don't 'act' like it. You're supposed to be this person."
"It's like 'Nike – just do it.' I just do it," Drake said.
His role in "Valor" is "not a super-hard role to play but sometimes it can get kind of difficult," he said.
Acting in a television show is different than a commercial – especially with all the takes.
Most television shows and movies are shot with a single camera, Vernon said. When viewers see different camera angles within a single scene, it's because multiple takes were shot, with the camera in different positions, and then put together in editing.  
Drake has also been called back in to do "wild tracks" – voice overs on top of previously shot and edited scenes, where the directors want a bit different inflection or tone to his voice.
Another big difference between commercials and television shows is that there are a lot more lines to learn for a television show.  
Drake is fast at learning the lines. He has to be. When his agent sends out an email about an audition, Drake usually has only 48 hours to be ready. Most of the auditions are done through videos that are sent in.
When Drake first started auditioning, the home "studio" was a small video camera and a work lamp. "Finally we decided we probably need to invest in our own equipment," his dad said. Now they have a backdrop and better lighting, and a camera that can easily upload a video to be sent out.
One of the most exciting parts of being on a television show is the on-set trailer. Just like the other actors, Drake has his own trailer. It's even marked on the door with his character's name – though only in gaffer tape.
Inside is a desk for school work, a vanity with lights for makeup, a couch, closet, bathroom, refrigerator and television and DVD player.
"I love the trailer," Drake.
The pilot episode was filmed at Tyler Perry's studio on the grounds of the former Fort McPherson in southwest Atlanta. Other episodes are filmed on the north side of Atlanta, where a former office building is now the base camp.
In the same subdivision where scenes in the Kam home are filmed, Drake and his mother caught a glimpse of the biggest star they've seen so far – Kevin Hart. Well, Makisha saw him, anyway. Drake didn't look fast enough.
"I was like, oh well," he said. Maybe he'll see him at the Kid's Choice Awards. Because Drake fully intends to be there one day.