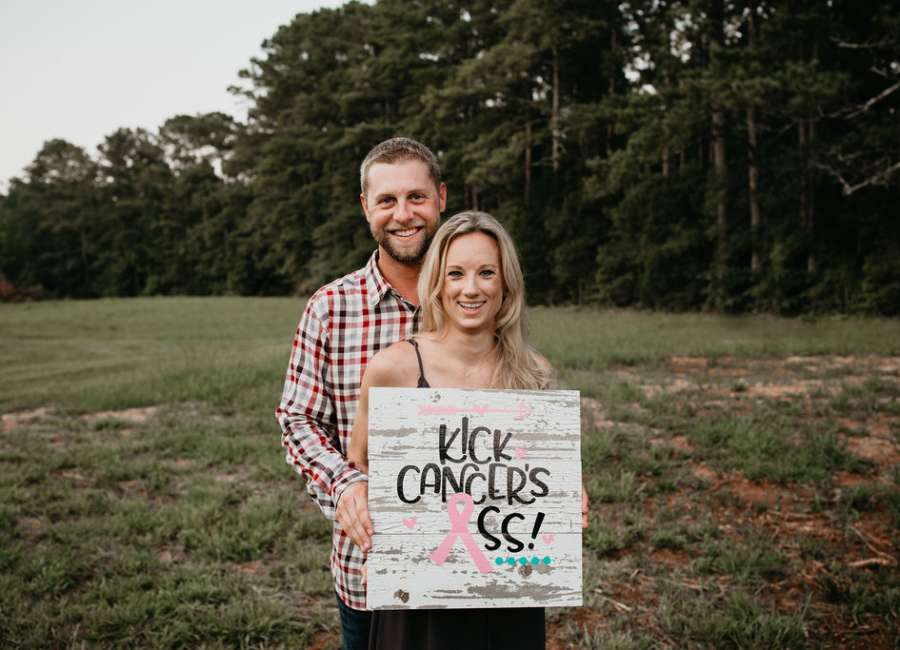 Early 2017 was looking bright for Erica Allgood.  
In March, Erica accepted her dream job as a nurse. In April, she became engaged, and in early May, Erica graduated nursing school and celebrated her 30th birthday with family and friends.
Twenty-six days later, her joy turned to shock; her future plans temporarily put on hold. Allgood was diagnosed with Stage 1 Triple Positive Invasive Ductal Carcinoma breast cancer.
The 30-year-old found a lump accidentally while changing out of her nursing scrubs, she said.
"The day I found the lump, I knew in my gut that something wasn't right," Erica stated. "There is no way to prepare to be told that you have cancer. But I mentally prepared myself for the news as much as possible.
"The mixture of emotions that I felt that day (I was diagnosed) cannot be described," she continued. "I was angry, upset and scared to death. But yet I remained positive because I was fortunate to have been diagnosed with Stage 1. Not everyone diagnosed with breast cancer is as fortunate as I am."
The shock of being diagnosed with breast cancer and determining the best course of treatment were not the only decisions Erica had to contend with.
Early onset menopause can be a side effect of chemotherapy. Erica was told by her doctors she would need to freeze her eggs to ensure a chance at becoming pregnant in the future.
"This news was devastating to me," she said. "One of my greatest joys is spending time with my cousin's children, my soon-to-be niece and nephews, and my best friend's children. The thought of not being able to have children of my own was some of the toughest news to stomach throughout the entire diagnosis process."
Erica and her fiancé met with a fertility specialist in July to determine what their options were for egg preservation.
The couple was given the choice to either freeze her eggs, to freeze fertilized eggs or to freeze actual embryos, Erica stated.
The fertility specialist explained to the couple that embryos are usually more viable once thawed, but the process is double the cost of freezing eggs.
According to Erica, the price of freezing eggs is around $6000; the cost to freeze embryos is about $12,000. Those dollar estimates do not include the price of medications, nor a yearly fee to store the eggs or embryos.
For Erica and her fiancé, freezing her eggs was the best financial option, she stated.
"Fertility treatment and egg retrieval is not something that most insurance companies cover," she explained. "The cost of the entire process is astronomical ...  the medication alone makes up about half of the total cost of the entire process."
She was fortunate enough to receive a grant from a foundation called "Team Maggie for a Cure."  The money helped offset the cost of her first few egg retrievals, Erica stated.
She started giving herself daily injections to begin the fertility process, sometimes taking up to five shots per day.
Erica went through two rounds of fertility treatments. Doctors were able harvest a total of 12 eggs; seven were mature enough to store and freeze, said Erica.
Then she started chemotherapy. She just completed her third infusion and has 14 more treatments to go.
Erica will have a double mastectomy with breast reconstruction following her next three chemotherapy treatments, she said.  
The hardest part for Erica is facing a future of "unknowns."
"I don't know exactly when I can go back to work. I don't know exactly when my surgery will be and I don't know how each (chemotherapy) treatment is going to go," she said. "I have felt so different after each of my first three treatments that I don't know what to expect next.
"I spent three days and two nights in the hospital after my third treatment because my white blood cell count was critically low," Erica continued. "The anticipation of the unknown is what keeps me up at night. I have no doubt that this time next year I can proudly say I beat this nasty disease. But until then, I dwell on all of the unknown."
Erica relies on her faith, family and friends to lift her spirits.
"My family and my fiancé have been beside me every step of the way," she said. "I am so humbled by the outpouring of prayers and encouragement. There is absolutely no way I could make it through this without every single one of them."
Erica's support group is also helping her her focus on her health and starting her nursing career.
"This is just a bump in the road," Erica added. "This is just one chapter in my book of life and I am definitely not finished writing it yet."
****
Melanie Ruberti
Facebook: @MelanieNTH
Twitter: @MelanieNTH
Email: melanie@newnan.com