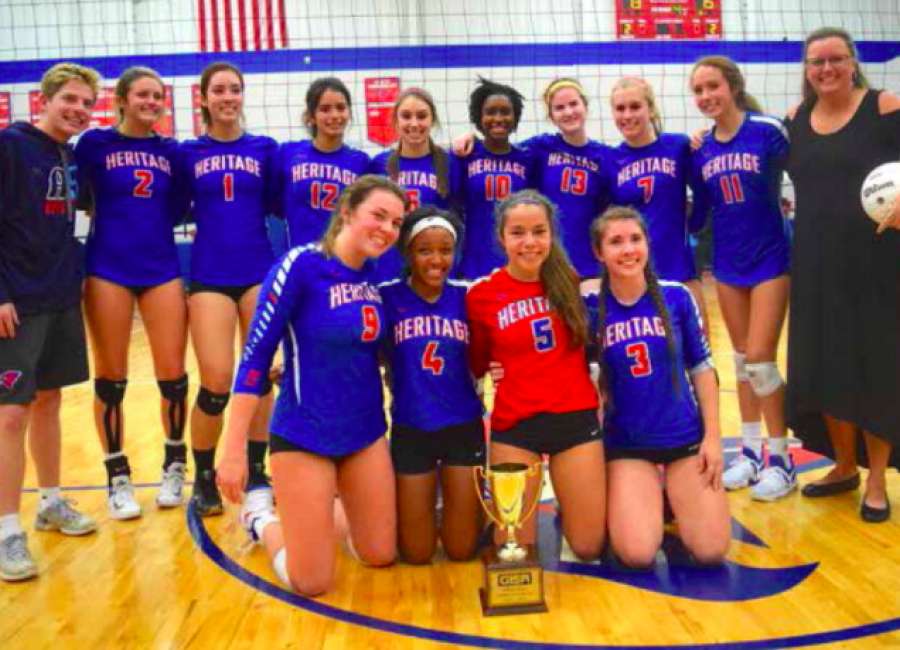 The second time was the charm for the Heritage Lady Hawks volleyball team.
The Lady Hawks rallied from an 0-2 deficit to defeat the Oak Mountain Lady Warriors 3-2 and win the 2017 GISA state volleyball championship Saturday afternoon at The Heritage Center.
"This is so rewarding, amazing and exciting. I told the girls we have battled back before and we can do it again," said Heritage head coach Mary Louise Hunt. "They just had to focus and keep themselves together and they did. I'm so proud of them."
Hugs and tears flowed after the match as the excited Lady Hawks won the state title after a bitter defeat in five games to county and region rival Trinity Christian in 2016.
"Losing to Trinity last year was rough, but to win it all this year is just so surreal. It's amazing that we did it," said senior middle hitter Keera McDonald. "I knew what this team was capable of all season and I'm really proud of what we accomplished."
It didn't look good for Heritage early. After a rough and thrilling win over Valwood earlier on Saturday, the Lady Hawks had to turn around and play Oak Mountain minutes later without much of a break.
Oak Mountain had just beaten Trinity Christian in the first match of the day, so the Lady Warriors were able to rest for over an hour before playing in the state title match.
Oak Mountain was able to get out to a quick 2-games-to-none lead. They were aggressive from the start, taking advantage of a tired Heritage team. In Game 1, the Lady Warriors raced out to a 14-7 lead but a kill from Heritage sophomore Cate Yancey cut the lead 15-11. Oak Mountain then went on an 8-2 run to lead 23-13 and coast to the 25-16 win.
Game 2 was closer as Heritage tied Oak Mountain at 14, 16, 17, 19 and 20 before falling 25-21. All Oak Mountain needed was one more victory and Heritage would've suffered back-to-back losses in the state finals.
"I could see we were cracking a bit, and that's not like us. We feed off each others' energy and we didn't have that after Game 2," said Heritage junior libero Carissa Vazquez. "I knew it wasn't impossible for us to come back. We had to get our confidence back."
"I was calm when we were down 0-2. I wasn't worried," Hunt said. "I think the fact that I was calm steadied my girls and gave them encouragement that we could win."
The Lady Hawks rebounded well. Freshman outside hitter Genevieve Richards returned from a left-hand injury to make some great plays, sophomore Peyton Knight had key blocks for points and the Lady Hawks won Game 3 by the score of 25-19.
"I was just trying to play my position and come through for my team, especially on the defensive end," Knight said.
Richards was the catalyst for the Game 4 win, making strong kill shots and even getting a timely serving ace or two when Oak Mountain would try to come back. Heritage tied the match at 2-all with a huge 25-21 victory, setting the stage for a do-or-die Game 5 to 15 points.
Richards' six kills at the start of Game 5 pushed Heritage's lead to 10-7, but Oak Mountain scrapped back and got within one point at 12-11. Two straight Oak Mountain errors put Heritage on the brink of a title at 14-11, but the Lady Hawks made errors themselves to make the score 14-13. Fittingly, the title was won on a kill from Richards for the 15-13 win.
"I didn't doubt us one bit. I felt horrible that I hurt my hand, but once it was wrapped, I felt better," said Richards. "We wanted this win so badly and we got it. I'm extremely happy."