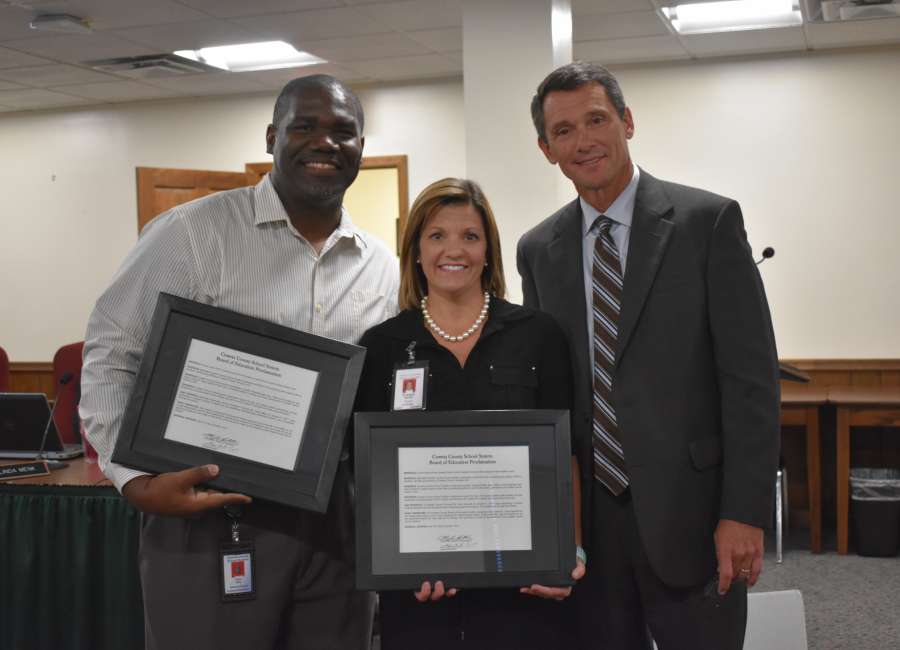 Two school administrators were honored Tuesday by the Coweta County Board of Education for rendering aid to students who were choking.

Representatives from Lee Middle School and Northside Elementary School as well as members of the students' families were at the board's regular October meeting to recognize Lee Principal Cindy Bennett and Northside Assistant Principal Donte Miller. In separate incidents on Oct. 4 and Oct. 6, respectively, Bennett and Miller aided students at their schools whose airways had become obstructed.
"In each case, they were able to intervene with a student that was in distress and possibly save a life," said Coweta Superintendent of Schools Steve Barker, who presented each of the administrators with a framed proclamation issued by the board of education.
Bennett and Miller showed "exceptional bravery and compassion" through their actions, according to the board's proclamation, which commended them for "demonstrating the highest ethical values of (their) profession" and for the "significant impact" they made on the students' families.
The pair received a standing ovation from board members and others attending the meeting.
In other business, board members:
• Appointed Beth Barnett Coweta County's 2018 Georgia School Board Association legislative liaison
• Reappointed Dr. Marc Guy the 2017-18 Non-Discrimination, Title IX and Equity in Sports Compliance coordinator
• Approved early payroll distribution for December of 2017 to accommodate the Christmas holidays
• Approved field trips to compete in out-of-town events for Newnan High School's Winter Guard, East Coweta High School's wrestling team and East Coweta High School's Academic Bowl team.