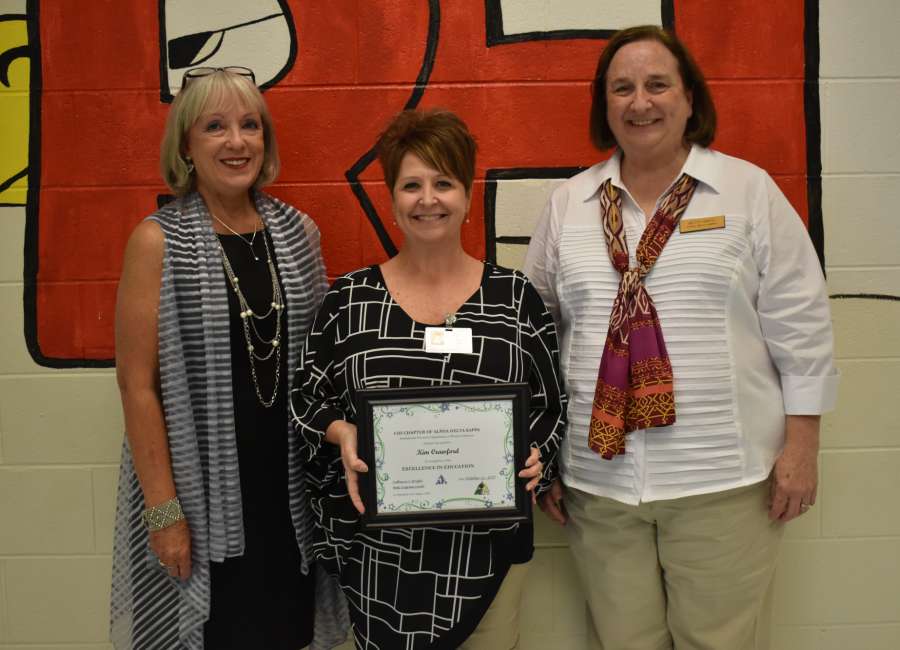 What instructional coach Kim Crawford thought was a routine staff meeting turned into a celebration of her 29-year career at Ruth Hill Elementary School Wednesday, when she received the first Excellence in Education Award from the Chi Chapter of Alpha Delta Kappa.
"Kim Crawford enters her classroom every day ready to give 100 percent in teaching and also ready to give 100 percent in guiding and caring for every student in the room," said Betty Smith, who along with Alpha Delta Kappa co-president Cathy Wright presented the surprise award to Crawford. "She is dedicated to giving her best to make sure every student learns. She is firm, but fair.
"The students have great respect for her," Smith added. "I see her in classrooms working with one student, sometimes a small group of students, always smiling and positive. She is truly an example of excellence in education."
Crawford has spent her entire career at Ruth Hill. She was a first-grade teacher for 27 years and is now in her second year as an instructional coach, working with students of all grade levels.
"Mrs. Crawford embodies everything that makes Ruth Hill Elementary such a great place to work and learn," Ruth Hill Principal Aaron Corley said. "Her positive spirit, honesty, gentleness and compassion for others make her a mentor, leader, coach, and friend to everyone she meets. She inspires kids and adults alike to believe in themselves and reach their highest potential."
A retired educator, Smith was a colleague of Crawford for a time. Smith served at Ruth Hill for eight years, first as assistant principal and then as principal.
"I became well-acquainted with Mrs. Crawford's teaching expertise," said Smith, who nominated Crawford for the award. "She served as the first-grade level chair for many years, leading her team members competently. Her first-grade classroom was always a pleasant, comfortable learning environment for all students. I enjoyed dropping in Mrs. Crawford's first-grade classroom just to enjoy watching her teach and seeing the positive rapport she had with every student."
The award was presented as part of an ongoing celebration of October as Alpha Delta Kappa Month, during which the international honorary organization for female educators – originally founded in 1947 – plans special events and projects. Wright said Chi Chapter has unofficially adopted Ruth Hill, and another of its planned projects for this month is thanking all members of the school's staff with a gift for their efforts toward the students' remarkable gains on last year's Georgia Milestones exams.
Foundation Christian Church, which recently donated a new pair of shoes to each student at Ruth Hill at the beginning of this school year, provided and served a meal following the presentation of the award to Crawford.
There are more than 30,000 Alpha Delta Kappa members and 1,200 chapters throughout the world.