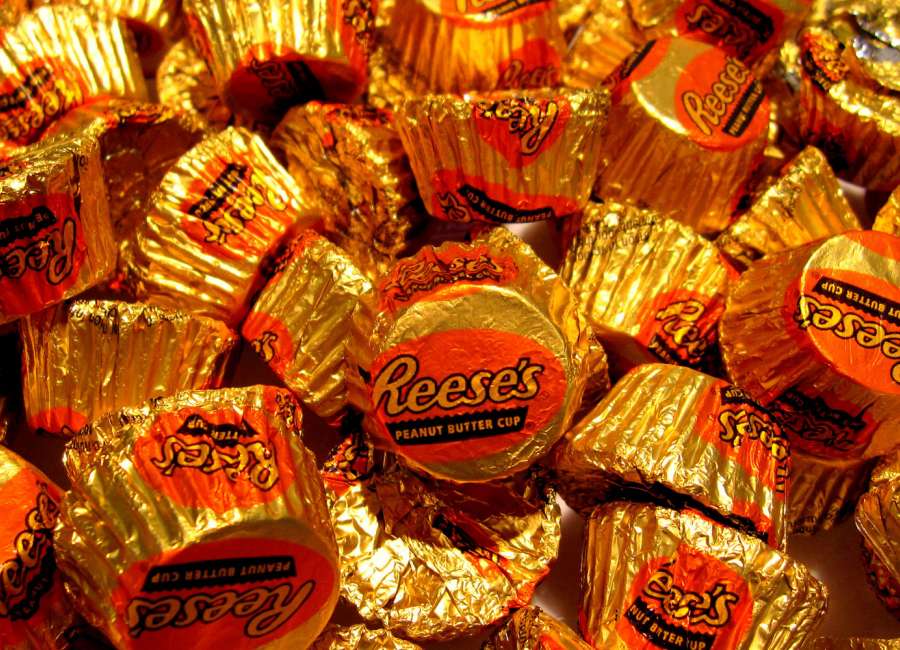 If you want to make some trick-or-treaters happy on Tuesday, pick up some Reese's Peanut Butter Cups.
Reese's were – by far – the top candy in a recent Newnan Times-Herald online poll. In response to the question, "What's the best Halloween candy?" 307 people responded.
Reese's got 104 votes, followed by 71 for Snickers, 52 for Kit Kats, 28 for Twix and 12 for Milk Duds. There were individual votes for 36 other types of candy, and two people voted for Mary Jane Peanut Butter Kisses.
"I loved getting Reese's Peanut Butter Cups – and still do," reader Teresa McDonald said. "Not only are they delicious, but my brother, Rodger Bowen, named me 'Reesie' when I was a baby, so that's my nickname, too."
An online poll by Infographic rated favorite candy types by state. That poll –
https://www.influenster.com/article/americas-favorite-halloween-candy-state-by-state – showed Georgians like Pixy Stix.
Times-Herald readers shared their thoughts about their favorite candy. Many remember the holiday as a time when there was plenty of something rare most of the year.
"I grew up on the highway coming from Newnan to Franklin," Barbara Martin said. "There were seven of us siblings. We were very poor and didn't get candy very often. So it was exciting when Mama and Daddy would pack us all in the old car and ride around in search of candy on Halloween."
She particularly remembered visiting the Powers family at Powers' Crossroads. Each child would be given a sack and encouraged to fill it with candy from bowls on a large table.
Among reader comments about their favorite Halloween candy:
• Barbara Kookogey likes Skittles, "because they are a rainbow of deliciousness."
• Victoria Price has a sweet spot for SweeTarts, "because my dad and I would always share them when I was growing up."
• Sandy Wood's favorite is Bit-O-Honey. "Honey and almonds – and they lasted forever, plus I liked their song. 'Bit-o-honey lasts a long long time. It's the chewy candy you don't have to chew.... just put it in your mouth till the nuts pop through.'"
• BettyJean Bowers listed Smarties, remembering she "could make them last." She also remembered one neighbor giving dimes when she was growing up. "We thought she was the greatest."
• Sam Coggin was one of several readers who liked "anything wax," particularly wax lips and teeth.
Jeff Westbrook remembered wax bottles with juice in them. "I would drain them dry and chew the wax."
Beth Snipes also liked them. "It was pure sugar, I'm sure, but kept me hydrated and full of energy to make it to a few more doors," she said.
• Michelle Mashburn said Pop Rocks are "not only tasty but fun."
• Susan Hardigree is a fan of "the big Atomic fireballs." She explained, "They were cheap, and you could eat on one all day." If some was left, it could be left on the night stand for the next day.
• Carrie Knight remembered a longtime Halloween tradition. "My favorite Halloween candy to get when I'd trick-or-treat as a child was the individual bags of candy corn. To me, it was so special because it was the only time of year I could get it, and very few houses would give it," she said.
"It symbolizes Halloween. The colors and the shape replicate jack o'lanterns," she said.
Gale Goldenberg agreed. "Nothing says 'Halloween' like candy corn," she said.
Several readers remembered the era of homemade Halloween goodies. "My neighbor used to make us popcorn balls," Debra Ragsdale said.
Martha Morgan had similar memories about candied apples. Costumed youngsters would get them "years ago when people were nice and made treats for Halloween," she said.
Jack Brannon remembered enjoying cheese straws in a waxed paper baggie. He liked getting them at Halloween because he could not have them "at home as often as I would have liked."
"The sweet lady down the street used to make caramel apples, and you had to race there to get one," Ginger Hall remembered.
Frank Farmer remembered Genet Barron giving our Rice Krispy Treats in the 1960s.
Carlton Stallings recalled trick-or-treating in the 1950s. One matron would offer nickels on a silver tray at her home on Nimmons Street. "Our biggest hazard was the goldfish ponds in front of the big homes on LaGrange Street," he said.
"It is sad that kids generally can't enjoy getting homemade candy or treats from their neighbors," Carol Chancey reflected.