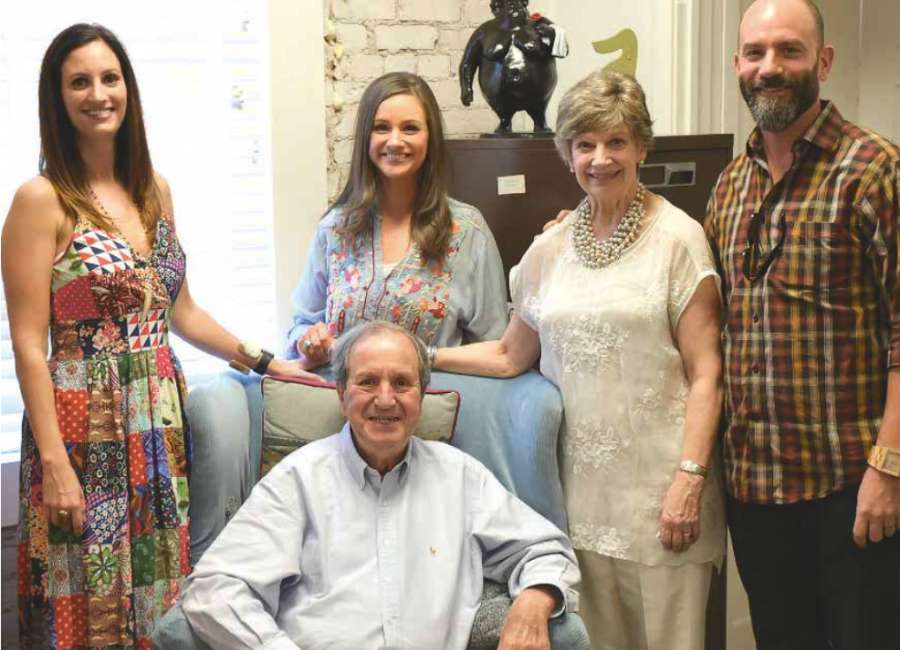 The passion for art runs deep and rich through the veins of the Boyd family - almost as extensive as their roots in Coweta County.
David Boyd Jr. grew up in Newnan doodling on the bare walls of his bedroom at the urging of his parents.
Decades later, the doodles of a budding artist have morphed into thoughtful, ornate oil paintings of lush and barren landscapes.  
Boyd's expressive and colorful artwork now decorates the walls of the newly opened Boyd Gallery at 14 E. Washington Street.
"I'm really known as an 'urban landscape' painter," he explained. "When I go into a town, I ask locals to show me where the railroads are. Some of that (landscape) is going away, but we're fortunate in Newnan. I think some of the back alleyways of Newnan are some of the most beautiful landscapes I've ever seen."
Boyd has toted his canvas, easel, brushes and paints around the United States  - from California to Maine to Florida. But two of his favorite places to paint are Apalachicola, Fla. and in his hometown.  
David Boyd Jr.'s paintings are not the only artwork hanging from the gallery walls. So are the delicate watercolor images created by his sister, Rosalyn Moore Boyd McKoon, plus the popular caricatures and illustrations generated from his dad, David Boyd Sr.
The elder Boyd drew sketches for Jeff Foxworthy and his colorful cast of 'redneck' characters up until the mid-1990s. He was also well-known for his political cartoons that ran in The Newnan Times-Herald for decades.  
David Sr. eventually decided to fully retire from the illustration industry.
Though he prided himself on never missing a deadline, the elder Boyd missed his final deadline after he had a brain bleed and fell into a coma, said David Jr.
He remained hospitalized in a medically induced coma for six weeks.
Miraculously, David Sr. recovered and picked up his drawing pencils again.
But the building at 14 E. Washington Street, which was the elder Boyd's office and the family printing business known as The Print Shoppe, was being rented out.
The structure is steeped in rich history. It had belonged to David Jr.'s mom, Rosalyn (nee McKoy), and her family since the turn of the 20th century.
Years passed, and while new occupants moved in and out of the building, David Jr. was still trying to make his mark in the world of art.
He graduated from the Savannah College of Art and Design, moved back home to Newnan and eventually became the art teacher at his high school alma mater, The Heritage School.
After briefly dabbling in illustrations and political cartoons, he found his passion after he attended a plein air workshop at the invitation of his friend and fellow artist, Millie Gosch.
"It changed my life. Eight hours changed my life," he said. "I was already on the path (to painting), but someone was put in my path to help me along my way.
"I started playing around with paints and fell in love with oil paints, with the texture and dry time. It really gave me a purpose in life … it's good for my soul. It's good for me," David added.
It was an act of mother nature that finally brought all of the Boyd family's talents and works of art back under one roof.
The basement of 14 E. Washington Street flooded and ruined furniture the family stored there. David Jr. helped with the cleanup.
"I thought, 'This would be a great gallery,'" he remembered. "I started talking to mom and dad about it. My mom said she always wanted to start an art exhibit ... she said we could call it the McKoy - Boyd building. At first, I thought it was a horrible idea.
"I always thought it would be great to own my own gallery, but I never wanted to do it … I already had a lot of irons in the fire," David Jr. stated.
But as he curated a collection of dad's illustrations and caricatures, David Jr. had a change of heart.
With the help of friends, the Boyd family quickly transformed the historical building into a new, modern, permanent art exhibit called The Boyd Gallery.
The structure is a family affair, showcasing the artwork of David Sr., David Jr. and Rosalyn Moore McKoon – plus the decorative stylings of Bonne Bedingfield, the third Boyd sibling.
Bedingfield bakes cakes and transforms them into ornately designed delicacies. She holds cake tastings and receptions inside the gallery.
Rosalyn Boyd has an office inside the building – as does David Sr. The father and son duo have separate studios within the gallery where they can focus on their art.   
"This (gallery) brought us together again and I get to see family more than normal," David Jr. said. "I'm back on the scene at downtown … and I just want to be here."
The family officially opened The Boyd Gallery to the public in early September.
"… This whole process has been a beautiful bonding experience for all of us Boyds - to be together under one roof and to share this time together is something that I will cherish for a lifetime," said Bonne. "… My hope for the future of the gallery is that it will give each of us the experience to feed off of each other and continue to grow in our own artistic endeavors, while creating a successful business. It is so special to bring all of our creative energy under one roof."
Sibling Rosalyn Moore McKoon agreed.
"There's something very special about having a piece of each of us together under one roof again," she stated. "There's also something very special about our childhood memories of this building and having the fortune to now make more (memories) as adults with children of our own."
David and Rosalyn Boyd believe the gallery's success does not rely on the family's deep-rooted past – but with their children's bright, talented future.
"It is just wonderful to have a place where our children can display their own unique talents," Rosalyn stated.
"Rosalyn and I admire and love our children dearly. In fact, we want to be just like them when we grow up," laughed David Sr.
The Boyd Gallery will be open during the week by appointment only. Call 678-361-8909 to schedule a date and time.  
The gallery is also open the first Saturday of every month from 10 a.m. - 3 p.m.
*****
Melanie Ruberti