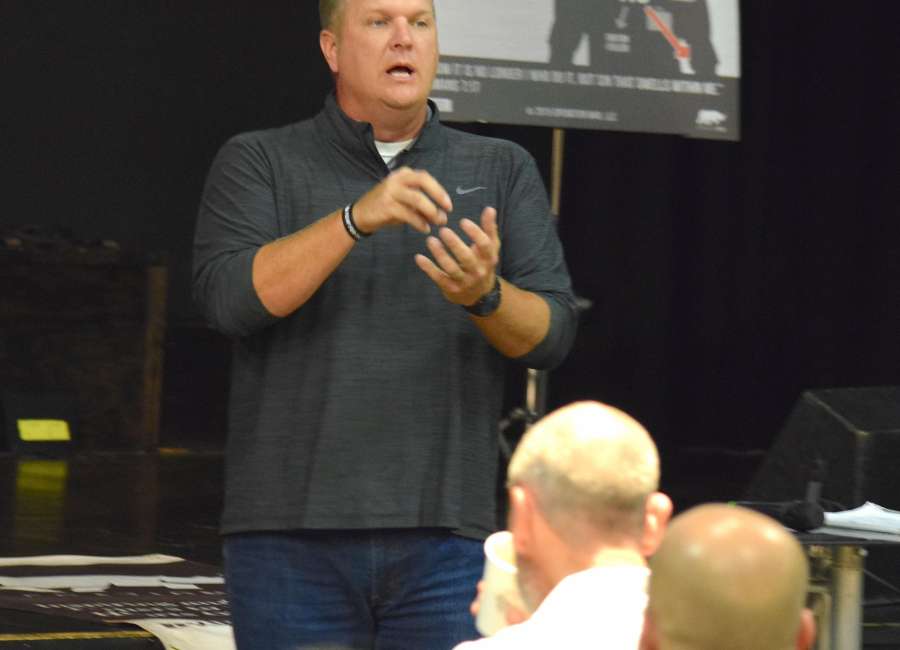 Kenny Dallas is a man who wears many hats: football coach, husband and motivational speaker.
The one hat that he's most proud of is father, as Dallas and wife Shannon are the parents of six children. Fatherhood is something he takes very seriously.
So serious that he and his partners, Tim Sexton and Robert Young, have started Operation M46, a monthly meeting of a group of men which strives to ensure that they will be better fathers to their children, using biblical principles and videos to illustrate points and terms. 
The Bible verse Operation M46 is based on is Malachi 4:6, which says in part, "He will turn the hearts of the fathers to their children and the hearts of the children to their fathers."
"What Operation M46 is designed to do is inspire dads in the community to become more focused on the needs of their children and become the spiritual leader in their homes," said Dallas, who's the head football coach at Trinity Christian School. 
"It is amazing to know that so many fathers believe they're not equipped to train their children or feel they're failing in some aspect of fatherhood."
The symbol for Operation M46 is a rhinoceros, and Dallas said there were three reasons he chose the rhino for the program's symbol. 
The first reason he said is that the rhino is a large creature and that the father is huge in the life of his family. 
The second reason is that rhinos can run at speeds of about 30 miles per hour, but they can only see 10-20 yards in front of them.
"That's the reason why rhinos have their huge horns — they may run into something and they need to protect themselves," Dallas said. "Also, it equates to fathers because we want to run by faith and not by sight, just like the rhino."
The third reason is because a group of rhinos is called a "crash," and Dallas said when the group meets, it's called a "Crash Community meeting."
The last M46 crash meeting happened on an early morning last month at Trinity Christian. Nearly 70 men showed up for the lesson, which was based on a video curriculum that let the fathers know it's never too late to mentor their children spiritually. 
Both Dallas and Sexton spoke to the men and had a slideshow presentation.
"It's funny that the people who get the best from us are the people we work with on a daily basis," Dallas said to the crash members. "We have to be careful not to be so spent from work that we don't give the best to our families when we get home."
Dallas gave an example at the crash about how he, like most men, would come home from work and want to relax and spend time in front of the television or computer, neglecting their children in the process.
"I used to come home and want to be left alone for a good while. My kids wouldn't be happy about that," he said. 
"So now I will try to jump on the trampoline with my youngest two kids once I get home even after a long day or I'll jump in play X-Box, PlayStation and video games with my older boys, even though they whip me pretty good and tell me I ain't good at all. It's all part of the process of being a good dad."
During last month's crash, Dallas and Sexton had the men at each table speak in groups about what's happening with their kids and after that, he showed another slide presentation before adjourning.
The second slideshow talked about the four types of fathers — the AWOL Dad, the Best Buddy, the Drill Sergeant and the Operation M46 Dad. 
The AWOL Dad is the one who isn't present in the house. The Best Buddy tries to be friends with his children to their detriment, and the Drill Sergeant is the no-nonsense guy who's always fussing and yelling at this kids with very little love, if any, for them.
The Operation M46 Dad is the dad who incorporates loving his kids tremendously while also instilling high discipline in them.
"The homework assignment for you guys is to talk to your kids about where they put you in the dad hierarchy," Dallas said at the crash. "When we meet next time, we have to ask each other how that went."
Dallas told the crash that he performed this exercise with his children and said one of them put him in the Drill Sergeant category.
"We had this ritual at my house called Clean Up Saturday, which meant that the kids and I would help Shannon clean up, because you can imagine with six kids in one house, there's a bit of a mess," Dallas said, laughing. 
"So one of my sons said I went into full 'football coach' mode, barking orders, yelling and raising my voice like everyone was at football practice. That's why he put me in the Drill Sergeant role. It took him to tell me that before I told my wife that maybe we should go about Clean Up Saturday in a different way."
The crash was helpful for the men in the audience.
"This was very impactful for me. It will definitely help me focus on the needs of my kids and reach out to them," said business owner Quincy Randolph, who has four children. 
"At one point, I was the dad who was cracking the whip like the Drill Sergeant but now I know that I have to take time to listen to them. I need to understand their love language and I want them to think I'm a loving father."
"Kenny Dallas is more than a football coach – he is a really good dude and a great spiritual person, to be honest. To get a room full of dads together is a blessing," said Jay McInvale, who has two children. "Going to these crashes has changed the way I father my kids."
Dallas was inspired to create Operation M46 back in 2015, when he realized that he, Sexton and Young all had struggles with the Gospel in their own way, and they decided they should do something to become "father coaches."
"It's funny that they have coaches for business, life and other situations, but there wasn't anything showing men how to be great fathers and spiritual leaders," Dallas said. "There wasn't a 'daddy coach' out there. So that's why we started Operation M46 and we hope to see it grow for years to come."
Operation M46 crashes are the last Fridays of each month. The next two crashes will be Oct. 27 and Nov. 17 from 6:30 - 7:30 a.m. at the Trinity Christian preschool building.