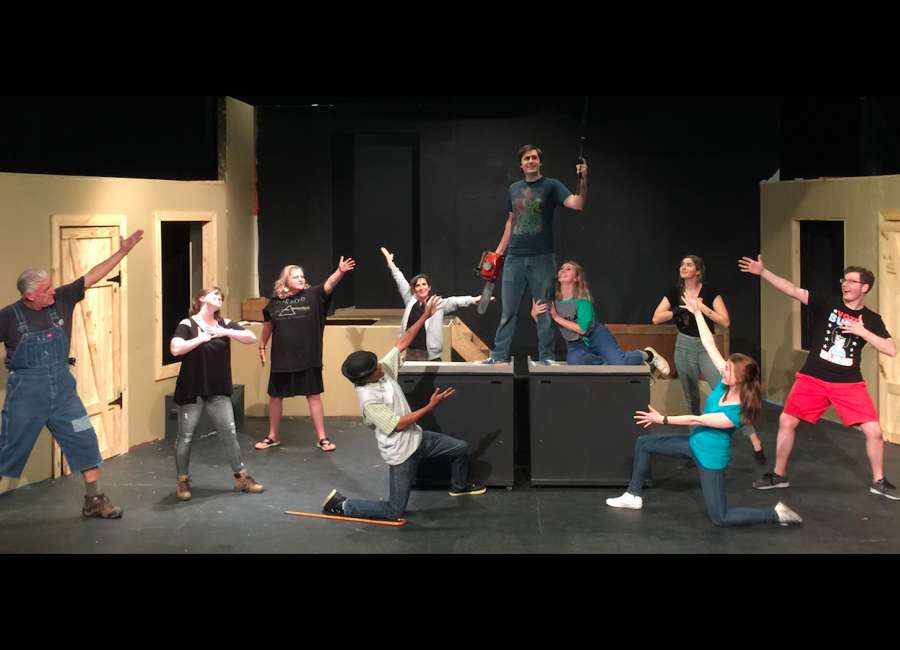 This Halloween, Newnan Theatre Company will be full of rock and roll, bloody zombies, heroic store clerks, and Kandarian demons in NTC's production of "Evil Dead: The Musical."

Based on the cult movie trilogy directed by Sam Raimi and starring Bruce Campbell, "Evil Dead: The Musical" was conceived in 2003 as a horror-comedy-spoof. The play was written by George Reinblatt, with music and lyrics by Christopher Bond, Frank Cipolla, Melissa Morris, and George Reinblatt. Raimi approved of making a play from his movies, and the theatrical version started off-Broadway in 2004. "Evil Dead: The Musical" has become a permanent show, playing nightly in Las Vegas and Toronto.
Tony Daniel is the director of NTC's production, and he said fell in love with the show the first time he saw it. 
"I had been a fan of the movies for many years, but when I saw the stage show, I was completely hooked," he said. "It uses every genre of music you can imagine, from opera to 50s doo-wop, from 80s power rock to hardcore R&B, all to tell the story of five college students in an abandoned cabin in the woods who accidentally open a portal to another dimension and release Kandarian demons into our world."
Josh Hendricks plays Ash, a hapless housewares clerk who must become the savior of the world. Emily Kimbell plays the dual roles of Shelly, the "small-town hussy" and Annie, the paranormal archeologist who has to help Ash in his quest. Lance Smith plays Jake, the local yokel who somehow seems to know much more about the plot of the show than he should. Megs Free and Hannah Rubenstein play Cheryl, Ash's tagalong sister, and Linda, Ash's doomed girlfriend.
"It was a bit daunting at first, playing such an iconic horror role," Hendricks said. "Ash has such a following in the horror world. Everyone wants to be him, be 'Ash Cool.' Bruce Campbell has made the role his own in so many ways. But I'm having fun learning his little signature moves and quirks everyone expects of him. This is going to be a blast."
"I am so excited to be in this show," Free said. "I get to be the first one who becomes a demonic zombie, and I get to do it while singing three great numbers! Who couldn't love that?"
NTC is following precedent and offering special "SplatterZone 4D" seating. 
"We have added a special row of seats in our front row that puts a group from the audience right in the midst of the action," said Daniel said, an evil grin on his face. "If you are in the SplatterZone, there's a good chance you might get some 'zombie blood' on you… or more. The SplatterZone seats come with a special poncho to save your clothing, and we offer swim goggles, too."
Musical Director Tammy Kimbell has formed a four-piece rock band to play for every show. 
"We're calling ourselves 'The Last Resort,'" said Kimbell, laughing. "It's the first time in a long time NTC has done a musical with a live orchestra, even if the 'orchestra' is only a four-piece one. But I promise you, we will rock the house."
"This show is not for all audiences," Daniel said. "It does have a lot of stage blood, cartoonish violence, zombies, and mature language, but it's all in fun. The only statement we're making with this show is 'Halloween is a lot of fun.'" 
"Evil Dead: The Musical" opens on Oct. 19 and runs through Oct. 29. Showtimes are 8 p.m., Thursdays through Saturdays. Sunday shows have a special time of 7 p.m. Tickets can be purchased through the Newnan Theatre Company website, www.newnantheatre.org , or by calling 770-683-6282. For more information, contact Daniel, who is also the theatre's artistic director, at 770-683-6282.