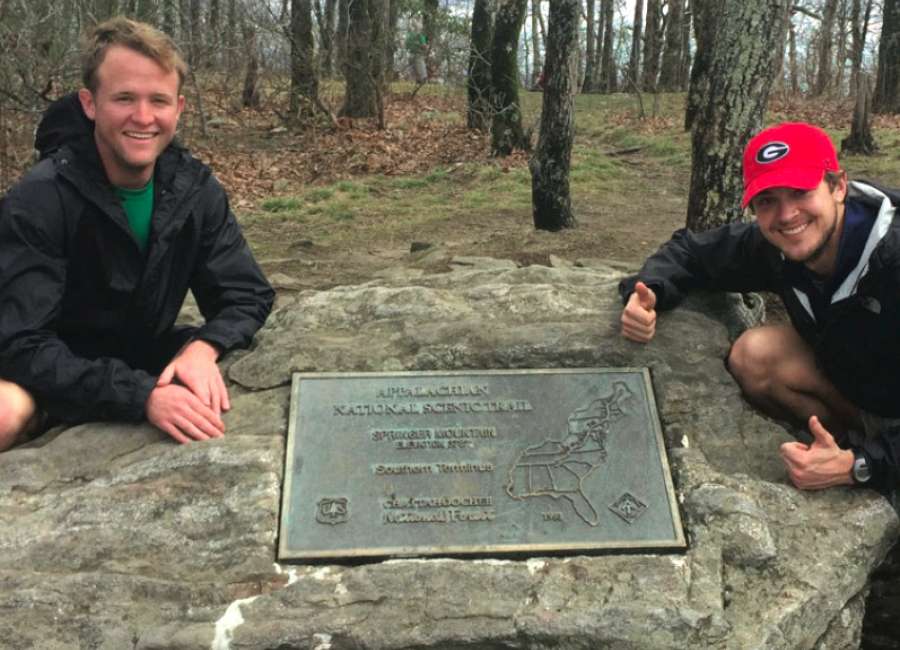 Newnan native Michael Colpoys said he's always been an outdoors guy, but he wasn't someone who would've ever hiked a trail.

But that is what he and his former University of Georgia roommate, Matt Duckworth, did for a glorious — and sometimes inglorious — five-month period this year: they hiked the Appalachian Trail.
The Appalachian Trail hike is a more than 2,000-mile trek through 14 states, where hikers encounter various woodland animals, plenty of insects and extreme temperatures. And it ends with a 5.5-mile climb up Mt. Katahdin in the state of Maine, where tired hikers have to deal with huge rocks to climb and pretty strong winds before finishing the hike.
Other than that, it's just another walk in the park.  
"I have a buddy who hiked the Appalachian Trail and he came back with a tremendous beard and plenty of awesome stories," said Colpoys, 25. "He didn't sugarcoat a thing. He said the highs will be really high and the lows will be really low. He also said there are some bad days on the trail, for sure."
Colpoys, a 2010 Newnan High graduate, played baseball as a freshman and lacrosse from his sophomore through senior years. He said he never hiked before, especially on a very long and tedious trail. 
After he and Duckworth heard their friend talk about the ups and downs of hiking the Appalachian Trail, the two former college roommates had a serious talk with each other.
"We sat down and weighed everything out. In the end, we felt that since we're both young, single and had no major responsibilities like wives and kids, this might be the time to do it," Colpoys said. "I told my family about it, and they supported me all the way, and the same went for Matt. We have great support systems."
So Colpoys — who currently resides in Charleston, S.C. — read all the information online about the Appalachian Trail hike and he and Duckworth prepped for it with a 10-mile hike in the woods in Greenville, S.C.
"We did the hike in Greenville to test our gear and tent for the major hike," Colpoys said.
The gear Colpoys purchased for the hike included a backpack, shelter system, tent, food, clothes, trekker poles, iodine tablets for water purification and the most important item, the footwear.
"You definitely want to have great trail runners, ones that may get wet but they will dry out quickly," said Colpoys. "You don't want water to get in your shoes and have your feet sweat and come up with athlete's foot or something like that."
Colpoys and Duckworth began their long journey in Springer Mountain, Ga., on March 31 and proceeded from there. The next phase of the hike was in North Carolina, then the Smoky Mountains in Tennessee. He said he was fascinated as he walked upon plenty of deer, chipmunks, rabbits in their native habitat.
But just as Colpoys was getting started, he encountered a setback: he suffered a knee injury just three days into the hike.
"I was so stoked for the hike that I walked faster than I probably should have and I twisted my knee. That was the wake-up call I needed to slow down," he said. "I managed to go through one of the small towns on the trail and pick up a brace, which helped a lot. It got sore at times, but it was bearable once I got the brace."
Knee pain wasn't the only thing Colpoys had to bear. The elements were also unkind at times.
"I'd say for the first month of the hike, we were hit with so much rain it was ridiculous," he said. "There were times when I laid down after being wet and cold all day when I asked myself, 'What the hell am I doing?' over and over."
Also drinking clean water was a challenge. Many times, stream water was the only available water and that's where his iodine tablets were handy. Colpoys said he would drop the tabs in the bottle of water and watch it fizz, similar to an Alka-Seltzer tablet in water. 
"That took about 30 minutes for it to finish before I could drink. After a while, I bought a water filter from a store in one town and used that from then on," he said. "That filter quickly strained out all the impurities. The water went from brown to very light brown, but thankfully I didn't get sick."
After Tennessee, the next phase of the Appalachian Trail was the over 500-mile hike through Virginia, where even the most sturdy hikers will sometimes quit the journey. Colpoys said veteran hikers referred to it as the "Virginia Blues."
"The Virginia hike is so long and tedious that many hikers get depressed and quit. I didn't have that problem," he said. "Matt and I met a great group of trail hikers by that time, and we all had a great time. It was like hiking with family."
The worst encounter for Colpoys was in the Shenandoahs in Virginia when he stumbled upon a black bear. Or specifically, when the bear stumbled upon him.
"I was on my regular pace when all of a sudden, I hear a crash in front of me and this decent-sized black bear kind of stumbled in front of me, like it was running away from something," he said. "I read that black bears are skittish and to get away from them, you shouldn't run. You just have to act like you're as big as they are."
Of course, Colpoys forgot that when he saw the bear in person.
"I froze for a minute and then the bear stood on its hind legs. That's when I started banging my trekking poles together and I made a lot of noise to make myself big," he said. "Once I did that, the bear went the other way."
After rolling through Maryland, Pennsylvania, New York and New Jersey in the summer months, he finally ventured into New England, where the only other potentially dangerous animal lurked.
"It was mating season for the moose in New England, so sometimes they would be a bit aggressive," Colpoys said. "There were trying to figure out who we were."
Colpoys managed to avoid the moose while trekking through Connecticut, Massachusetts, Vermont and New Hampshire before hitting the final destination — Maine.
He got to Mt. Katahdin, which is known as "The Greatest Mountain," and prepared for that climb. He said it was a steady incline for miles, climbing rocks, braving 30-40 mph winds and scaling a metal bar before finally reaching the summit on Sept. 11.
"That was an emotional day, for sure," he said. "Some people were crying, while others were cheering and laughing."
Through it all, Colpoys enjoyed the journey even though he admitted it was brutal. The mosquitoes were rough from Pennsylvania through New York in the heat of summer, and it got very cold in Vermont. But he lived through it all to tell the tale.
"It was definitely the hardest thing I've ever done. But it made me thankful for the amenities I have back home and for family and friends," Colpoys said. "Another great thing was the hospitality from the town residents who have businesses that cater to hikers. Many treated us to beers at the bar and helped us with everything we needed. I definitely enjoyed them, and I would love to one day help someone else who wants to do this hike."