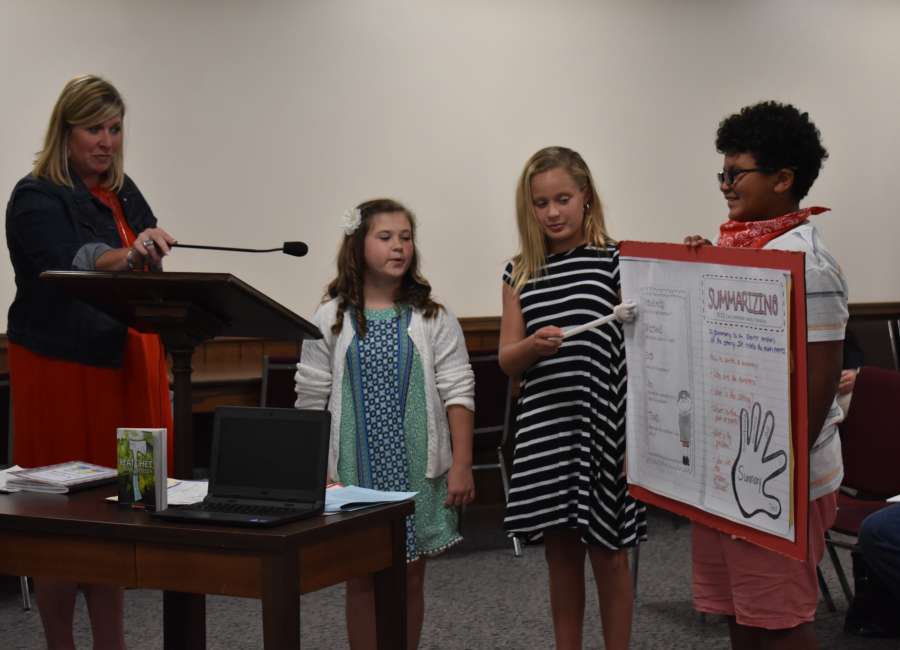 Fifth-grade students at Newnan Crossing Elementary School recently put themselves in a book character's place, allowing themselves to be blindfolded and attempting to use their other senses to acclimate to their surroundings.
It was an exercise designed to increase reading comprehension skills and align with state standards, with a goal of increasing student performance on assessments and lexile scores, according to Newnan Crossing Principal Terri Lassetter.
Fifth-grade teacher Keri Davis and students Charlotte Bacho, Mary Gokey and Zion Joiner spoke at the October meeting of the Coweta County Board of Education, describing their studies.
"We're always looking for ways to engage with our characters," Davis said.
Walnut, a visually impaired Native American character in "Sees Behind Trees," can't see well enough to pass a tribal coming-of-age test, but he develops other abilities. Brian, alone and stranded in the wilderness, has to use all of his senses to survive in "Hatchet." Davis planned activities to help her students better understand the characters in both novels during the project.
The students explained to board members how, outside and blindfolded after reading "Sees Behind Trees," they described their surroundings using their other senses. They said the experience helped them connect first with Walnut and later, as they read "Hatchet," with Brian.
Students created graphic organizers to bring together their experiences, then wrote narratives describing their experiences using senses other than sight. Davis observed they were using more descriptive words and phrases in their writing by including sensory phrases.
At the conclusion of their presentation, the students outlined their future career goals and how their reading project might help them in their chosen professions. Bacho said she wants to become "a famous journalist and travel around the world," and that the experience will help her in her writing. Gokey said she wants to become a pediatrician, and the experience will help her be more compassionate. Joiner said he plans on studying marine biology, and the experience will help him be more aware of his surroundings when he's in the field.
Newnan Crossing's presentation was part of the board's regular "Our Core Values" meeting segment, in which schools share some of the lessons and instructional strategies they've created and implemented with their students.