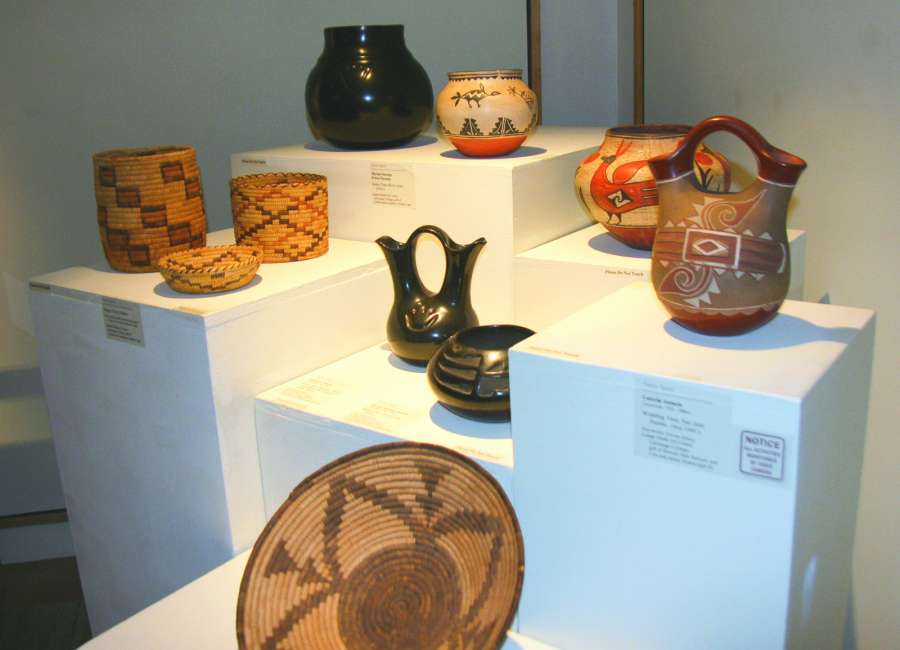 The Lamar Dodd Art Center at LaGrange College is exhibiting two collections of North American Indian art objects from scholars Leland and Josephine Altman Case and Bonnie Dale Sansom.

The Case collection came to the college in the 1970s through a friendship with former college President Waights G. Henry Jr., and the Sansom Collection was donated recently by Lisa and Ken Boatwright of LaGrange. The exhibition includes more than 200 art objects from the early 20th century such as basketry, rugs, ceremonial mats, jewelry, pottery and paintings.
Sansom was Lisa Boatwright's aunt and worked at Mississippi State College for Women, where she was an assistant professor and university extension service specialist. She also earned a master's from Columbia University Teachers College.
For some time, she also taught in a Michigan boarding school with Chippewa children. Her vocational interest focused on the nutritional needs of displaced American Indian children, including management and preparation of nutritious meals for large groups. 
For 10 years, Sansom taught at a vocational Indian school in Riverside, Calif., where her students were primarily Navajo. The Sansom collection includes items she purchased or pieces that were given to her by her students. She traveled extensively and gave presentations about her hobby.
The Case collection came to the college largely through the work of former college president Henry.
"Back in the late 1970s, then-President Henry had a correspondence with a fellow Rotarian from Tucson named Leland Case," said John Lawrence, Fuller E. Callaway professor of art and design. "They both were big admirers of Lafayette, so they hit it off."
In his youth, Case worked with The Paris Herald (now the International Herald Tribune). Discovering their shared fascination with Lafayette, Case arranged for Henry to travel to Paris, where he was presented with an American flag that had hung over Lafayette's grave. 
He also met the great-great-grandson of Lafayette, who invited Henry to visit the ancestral home of Lafayette, Chateau de Chavaniac, in Le Puy.
It was there that Henry was so impressed by the statue of Lafayette that he was determined to have a copy made for the college. On permanent loan, the statue stands in the downtown square.
Leland and Josephine Case were invited to attend the statue dedication festivities because they had played a large role in attaining the statue. Lawrence was asked to drive the Cases to dinner at Callaway Gardens. During the ride, Case commented that they owned an American Indian collection and were trying to decide what to do with it. By the end of the evening, Lawrence had persuaded the Cases to consider donating the collection to the college, including Josephine Case's research.
"It is an incredible collection of works from the Pueblo, Navajo, Hopi and Sioux," Lawrence said.
In fact, Josephine Case spent a year living with a South Dakota Sioux tribe – studying music, dance and art. They were so impressed with her knowledge and dedication that they adopted her and gave her the name Yellow Singing Bird. She traveled around the country, doing lectures and performances about the Plains Indians.
She completed undergraduate work at Northwestern University and graduate work at the University of Chicago.
The Plains Indians were migratory, so everything they made had to be easily transported, Lawrence said. "Most of their art was made on things they could travel with like pottery, robes, moccasins, baskets, leather goods and jewelry."
Another part of the exhibition includes paintings and photographs of the western United States by Tim Taunton, professor emeritus of ceramics and sculpture.
"I don't think a lot of people knew that Tim was a painter," Lawrence said. "Tim spends his summers in Colorado and has always loved hiking in the canyons and mountains of the Southwest, especially to the ancient sites of the Anasazi Indians. His paintings deal with the mythic beauty of place with a photographic precision."
The upstairs galleries includes three exhibitions – "Southern Icons A to Z: Writers Respond to Photographs," "Once Was Lost: Photographs by Richard Johnson" and "Toward Abstraction: Lamar Dodd Selections from the Permanent Collection."
The gallery is open 8:30 a.m.-4:30 p.m. weekdays when school is in session.