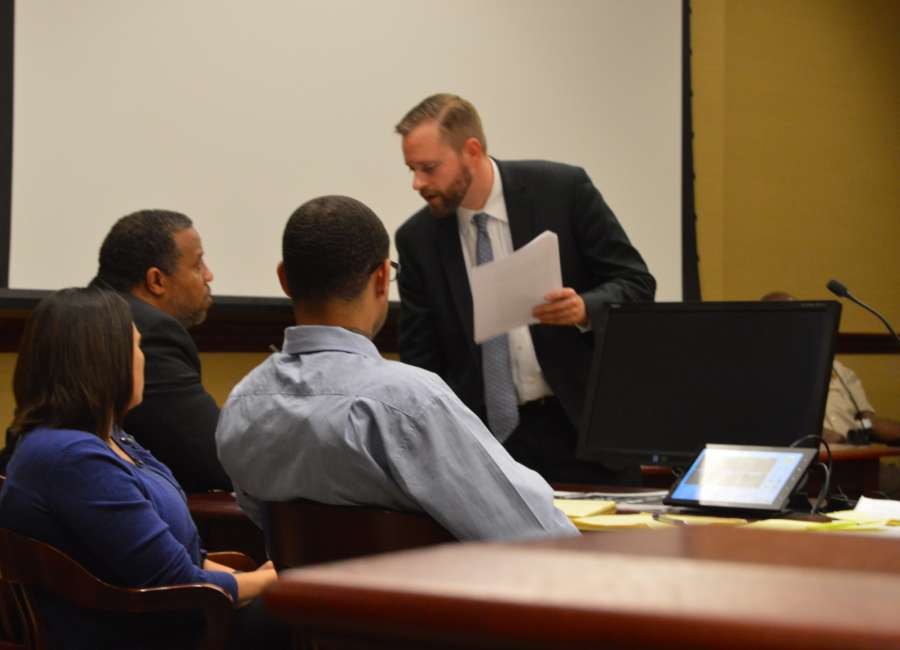 The murder trial for Willie Louis Turner II is underway in a Coweta County Superior courtroom.  

Turner is charged with one count of malice murder, one count of felony murder and possession of a firearm by a convicted felon in the shooting death of Travalas Acres, 40.
Turner was originally tried for the murder in May, but that case ended in a mistrial.
Coweta County Assistant District Attorney Kevin McMurry alleged Turner, also known as "Little T," shot Acres while they were inside a 2014 Kia Optima near the Target parking lot in the early morning hours of Feb. 19, 2016.
Turner and two other passengers inside the car - Jonathan "Jon" Allen, and Jamelle "Mel" Moss, also fled on foot after the vehicle crashed into a light pole, stated McMurry.  
The prosecutor said Acres, also known as "Baller," died at the scene from a single gunshot wound to the head. Acres was reportedly driving the car at the time of the shooting, according to investigators with the Newnan Police Department.
Jonathan Allen, 27,  was the first person on the stand. He appeared in an orange jumpsuit and wore shackles around his ankles and wrists. Allen, a convicted felon, is currently in the Fayette County Jail for a probation violation.
Allen was allegedly riding in the passenger seat of the car next to Acres when he was shot and killed.  
Allen admitted on the stand he lied to NPD investigators and Coweta County prosecutors about events leading up to Acres' murder, after the death and until May of this year. He said he only told the truth after he was offered immunity for his testimony in Turner's trial.
Allen allegedly immediately fingered Turner as shooter.
Allen stated hours before the shooting, Turner and Moss confronted Acres about an earlier incident in which Acres reportedly barged into a home owned by Moss' mother, looking for drugs.
The argument allegedly continued while the four men were inside Acres' car as they headed to a bar in Atlanta.
Allen testified that Turner was very agitated with Acres, and his behavior continued to escalate.
"Mel (Moss) chilled out but that's when Willie Turner was rambunctious and wouldn't chill out … he was bobbing his head," Allen remembered. "... Baller kept telling Little T (Turner) to relax.  
"Baller missed that turn right there and Willie T went ballistic," Allen stated as he pointed to an oversized map of the Ashley Park area.  "... Baller tried to make another turn … and right before the Corner Tavern, that's when the gunshot went off."
Allen testified he knew immediately Turner, reportedly seated directly behind Acres,  pulled the trigger. He said it was obvious because the direction of the shot, noise and smoke all came from the left hand side of the car.
Allen also told the court he knew his friend was dead.
"I seen blood trickling down his neck and his head was slumped over," he testified. "… I proceeded to get out of the car and hauled tail ...it was obvious he was dead."
Prosecutors played surveillance footage from Target security cameras for Allen and the jury. The video showed the car crash from a distance and someone running through the Target parking lot toward the woods.
Allen said he was the man seen running on the video. He also admitted to the court that he did not try to help Acres but did finally stop at a nearby apartment complex and asked residents to call 911.
He claimed Moss and Turner also jumped out of the vehicle, but said he did not know where they ran to that night.
A point of contention with Allen's testimony leading up to the trial is the many details he allegedly omitted and lied to investigators and prosecutors about in regard to the shooting.
According to Turner's defense attorney, Charlie Cauble, Allen lied about Moss' involvement in the incident until he was offered immunity from the state.
Allen admitted that was true because he sold Moss the gun that may have ultimately killed Acres.
"My concern was me. I sold him this gun and I'm a convicted felon and now I'm in the mix … and I know that Jemelle passed him (Turner) the gun," Allen told Cauble. "... I was concerned with me being implicated in this crime… I'm not scared of anybody."
The man also claimed he saw Moss hand the weapon over to Turner the night of the murder.
The gun used to shoot and kill Acres has never been found, McMurry said.
Allen also admitted in court he took money from Moss as "payment" for not turning the man into police.
Moss ended up turning himself in a few days later, officials said.
Turner was captured by Newnan Police the night Acres was shot, according to McMurry.
Acres' first trial was declared a mistrial after the D.A.'s office allegedly violated an order that barred any evidence that indicated the defendant spoke to law enforcement officers.
When prosecutors played audio recordings taken from phone calls Turner made from jail, presiding Superior Court Judge Travis Sakrison brought the proceedings to a halt.
The new trial against Turner will continue Thursday morning.
*****
Melanie Ruberti