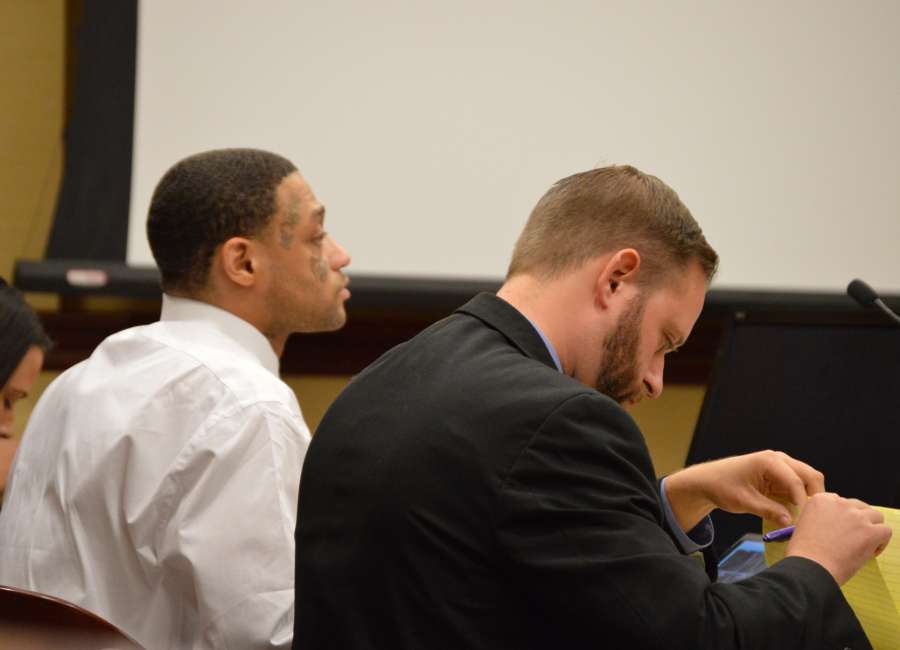 The murder case against Willie Louis Turner II is one step closer to being in the hands of the jury.
Both the state and defense rested their cases on Wednesday afternoon in a Coweta County Superior Courtroom.
Turner, 23,  is accused of shooting and killing Travalas Acres, 40, near the Target parking lot on Feb. 19, 2016.
Testimony on Wednesday centered around the day Turner discovered another inmate was talking with investigators from the Newnan Police Department. Both Turner and the inmate, Jacob Chapman, were incarcerated at the Coweta County Jail and lived in the same dorm, or "pod," in September.  
Newnan Police Sgt. Victor McPhie told the court he received a message from Chapman's mom and was told to speak with the inmate regarding a murder case.
McPhie stated he purposefully entered the jail through a back door so other inmates would not see him talking to Chapman.  
"After we (McPhie and another investigator) spoke to Chapman, I walked over and advised the detention officer we were done," McPhie told the court. "We were waiting for the door to be popped (opened) to exit. A few seconds later, we heard the voice of Turner. … At that time, I tried to lean against a wall and hide.
"Mr. Turner peeks his head in the door, sees me and his eyes light up," McPhie continued. "He runs downstairs and starts banging on the pod door and yells, 'He's talking to '12,'... he's talking to the police. I kept yelling upstairs to the detention officer, 'Don't pop that door!' I was concerned for the safety of Chapman."
Coweta County Assistant District Attorney Kevin McMurry played several videos taken from security cameras inside the Coweta County Jail that day.
One video showed Turner bolting through a previously locked door as Chapman re-entered the pod.
Coweta County Jail Director Major John Lewis testified Turner rushed up a set of stairs and looked into a multi-purpose room where he spotted NPD investigators.
Another video picked up a few minutes later as inmates suddenly crowd around the locked door, then surround Chapman, pinning him against a wall. A detention officer opens the door to get Chapman out of the jail dormitory.
Turner was placed in an isolation cell where he allegedly flew into a rage and screamed to talk to someone, according to Lewis.
That "someone" was Lewis.
McMurry played a video recording of their conversation for the jury.
"You put the word out that Jake's a snitch," Lewis said to Turner.
"Tell them to leave me alone … it's like I'm about to explode," Turner stated.
"... Snitches can't hide on the streets or in prison," he continued. "At some point it's (information) going to get out."
Turner then asked Lewis if Chapman would be placed back in the pod.
Lewis said no.
Lewis also told the jury Turner allegedly threatened to take out another inmate, Reginald Tenney, just one day before the incident with Chapman.
McMurry played video taken that day as Turner returned to the jail from court and learned Tenney was scheduled to testify against him.
The defendant appeared agitated in the video as he approached the intake counter and waved his arms around.
Lewis was on the other side of the counter. Turner allegedly told him to "put Tenney back in there … I have some 'snacks' for him."
According to Lewis, the term "snacks" is code for wanting to do bodily harm to another inmate inside the jail.
"He's threatening violence towards him," Lewis testified.
Tenney was key to the state's case, according to McMurry. The man reportedly provided information to investigators that led them to Turner's missing shoes.
Turner maintained robbers stole his shoes, pants and money in the Shenandoah Forest Apartment complex the night of Acres' murder. He stated he was not in the vicinity of the shooting, nor did he know anything about it.
Turner allegedly told Tenney he did shoot Acres and gave vital details about the crime.
Tenney passed on the information to NPD investigators, who found Turner's Air Force 1 "J" tennis shoes deep in the woods near the Cancer Treatment Center of America off the Newnan Crossing Bypass.
Investigators did not locate Turner's pants or the gun allegedly used to kill Acres.
GBI Special Agent Jeremy Dawkins also took the stand on Wednesday.
Dawkins helped NPD Officer Tom Lanyi process Acres' car. He looked for trace evidence such as hairs and fibers and conducted a visual exam of suspected blood smears found on the driver's seat, passengers seat and glove box.
"Would you be surprised to know that Investigator Lanyi did not include any of your conclusions in his report?" Cauble asked Dawkins.
"I can't testify to that," Dawkins replied.
Cauble told the court NPD investigators never tested the suspected blood smears – nor did they confirm it was blood.
The state rested its case against Turner.
The defense called one witness, a man named Dustin Clark, who is friends with Cauble.
Clark took photographs of Cauble's cousin as the man shot a Taurus Judge revolver with .410 shotgun shells at a target.
According to Clark, he was trying to capture a photo of the kickback from the gun using a camera that fires in rapid succession.
Clark admitted he is not a professional photographer. He is a used car salesman from LaGrange.
The state immediately questioned Clark's credibility and knowledge of guns.
"You wouldn't know if a metal or polymer frame would fire more powerfully or what the kickback would be like, would you? McMurry asked.
"No," Clark replied.
The defense then rested its case.
Turner did not take the stand.
Closing arguments in the murder trial will be Thursday morning. The case will then be handed to the jury.
****
Melanie Ruberti