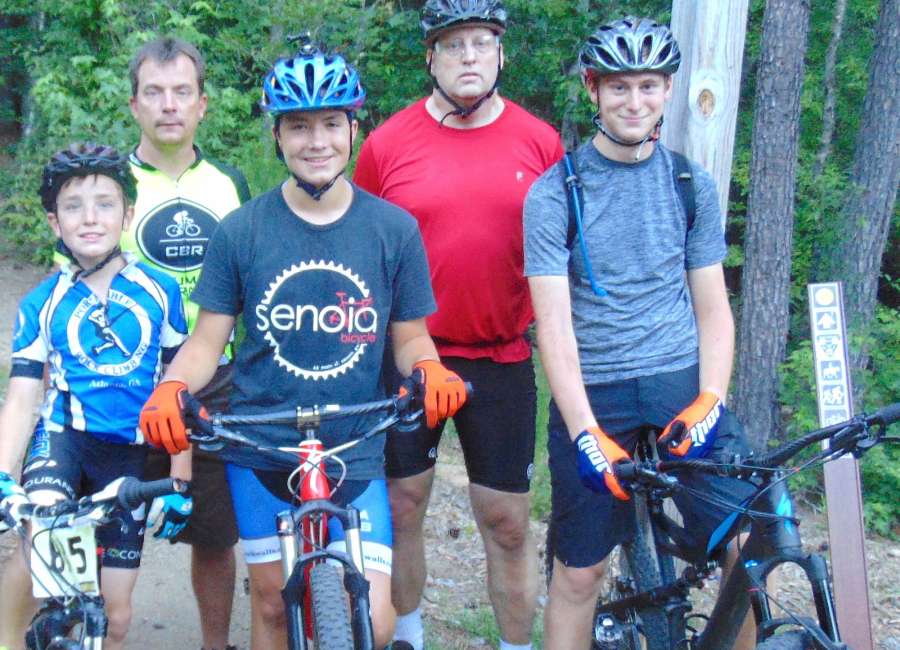 The Coweta Composite Mountain Bike Team, a local youth cycling program, provides young people with a chance to have fun, to compete against others in mountain bike races throughout Georgia and to get exercise.
There is also an additional benefit for some of the young men on Coweta Composite — time spent with family.
Coweta Composite head coach Tim Ulinski has two sons — Chris and Jake — on the team and assistant coach Steve Peterson also has a son, Nick, on Coweta Composite, which helps the family dynamic.
Both Ulinski and Peterson participated in bike racing when they were young men, and they both say it's great to see their sons grow up and follow in their athletic footsteps.
"Coweta Composite is a great connection for us. It's a blessing for Nick to enjoy what I used to do when I was young," said Steve. "And what's great is that he's far exceeded my skill level. He's really a great rider."
Nick Peterson, 15, said he wanted to try mountain biking after hearing all the biking stories from his dad.
"He told me about all the fun he had in the 1990s, and I wanted to try it myself," said Nick, who was also into motocross racing at one point. "I wanted to be on Coweta Composite to race and to achieve a better fitness level. Biking also helps the two of us get out of the house and my mom thought mountain biking was safer than motocross."
Chris Ulinski, 15, said it was natural for him to want to ride bikes after watching his dad ride for years.
"I've watched videos of mountain bike racing and once I saw my dad in action, I knew I wanted to do it as well," said Chris. "I love riding with my dad and I love the competition of mountain bike racing. It's cool to ride through all the trails in the state."
Younger brother Jake Ulinski, 11, didn't want to be left out of all the fun.
"I definitely wanted to ride mountain bikes because my brother and my dad ride them," Jake said. "It's fun to impress others with speed and bike tricks. And it's also nice to beat others in races."
Tim said the great thing about biking is that not only is it great exercise, it's extremely family-oriented.
"The beauty of biking is that it brings families together. You can be a newspaper dad, a tech dad or any kind of dad and you have the ability to bike with your kids," Tim said. "What my sons and I do with biking keeps us together and gives us something to talk about on a regular basis."
Tim said spending quality time with his sons is irreplaceable.
"The boys and I bond over learning how to fix the bikes and things like that," said Tim. "It's inspiring for us, and it's inspiring to see other parents and their kids bike together."