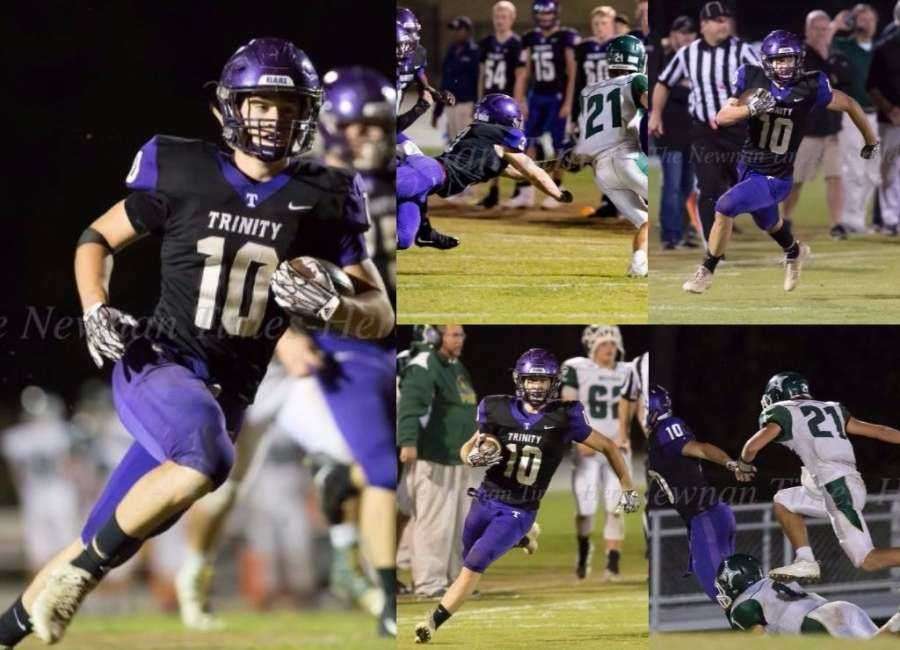 Trinity Christian senior Luke Vermilya rushed for a career-high four touchdowns to help lead the Lions to a dominating 48-0 win over the Westfield School Hornets on Friday night in the first round of the GISA State Football Playoffs at Trinity. 
Trinity won its ninth straight game to improve to 9-2 overall, while Westfield ends its season at 2-9. It was the first-ever state playoff win for the Lions in school history.
For a gallery of photos from this game, click here.

"This first state win is the result of a lot of kids doing the right things and making the right choices," said Lions first-year head coach Kenny Dallas. "This is also the result of a lot of hard work of the people who were here before me, like coaches, players and administrators. I'm truly fortunate to be here in this great community."
Trinity didn't disappoint the home fans who came out to see its first ever-home state playoff game Friday, jumping out to a quick first-quarter lead and rolling from there.
Kyle Riesselmann got the party started for the Lions with a 5-yard touchdown run from the quarterback position and Vermilya scored his first TD on an 8-yard run to give Trinity the 14-0 lead.  
"We worked on running the Wildcat all week, and tonight we put all the pieces together and made it work," Riesselmann, who normally plays wide receiver. "Any way I can help contribute to our victory, I'll do it. We are team-first around here."
The second quarter was more of the same as Vermilya rushed for a four-yard TD, Shep Hancock rushed for a nine-yard TD and then threw a 17-yard TD pass to Sam Cotton. When the smoke cleared, Trinity led 35-0 at the half.
Vermilya scored his final two TDs — from three and 20 yards out — in the third quarter to give Trinity the 48-0 lead before he and the starters were done for the night. Vermilya rushed for 151 yards on 13 carries, Cotton had a fumble recovery at linebacker to go along with his touchdown catch, and Caleb Dallas and Brennan Burks had an interception apiece Friday.
"It was great to win our first state-playoff game at home. It's an awesome feeling to see that we played our best game all year," Vermilya said. "The defense played lights out and the offensive line was awesome, giving all of us room to run all night. It was beautiful to see."
"Our goal on defense is to win each play — we don't think about getting shutouts or things like that," Dallas said. "We don't even look at the scoreboard until the game is over."
Trinity hosts Southland at 7:30 p.m. next Friday in Georgia Independent School Asssociation Elite Eight action.