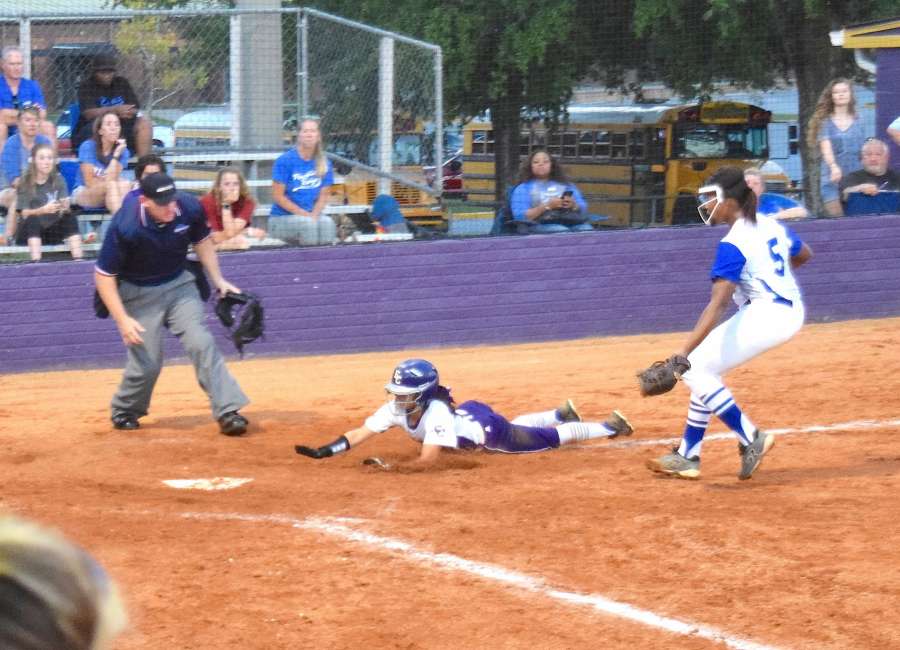 The No. 1 state-ranked East Coweta Lady Indians broke out the broomsticks Thursday evening, sweeping the Peachtree Ridge Lady Lions 3-0 and 5-0 in the first round of the Class AAAAAAA state softball playoffs, held at ECHS.
With the best-of-three series win, East Coweta remains undefeated at 30-0.
Rachel Vaughan pitched a one-hitter and shortstop Kelley Lynch smashed a two-run home run in the top of the first inning in Game 2, and that would be all the Lady Indians would need.
Peachtree Ridge couldn't score, but the Lady Lions were able to limit scoring outbursts from EC. After Lynch's home run, Peachtree Ridge held the Lady Indians scoreless until the top of the fifth inning.
Caison Byars led off the fifth with a grounder to third and her hustle down the line resulted in a throwing error, making her safe at first. Junior right fielder Carmen Prior then hit a triple to right-center field, scoring Byars for the 3-0 EC lead. Minutes later, Prior slid home after a pitch got past the Lady Lions catcher and EC led 4-0.
The final run of the game came via an RBI single from Ansley Gunter, putting EC up 5-0 at that point. Vaughan did the rest on the mound, holding the Lady Lions to only a sixth-inning hit from Aleix Hudson.
Vaughan also finished with 10 strikeouts for EC, which will host either Cherokee or Hillgrove on Oct. 18 in the Sweet 16 at ECHS.
"It's good that we won our first-round game and we got the jitters out," said EC's Olivia Davis, a senior infielder. "We just have to have fun, play our game and beat everyone in front of us."
"I'm happy to do whatever I can to help our team win games. I'm glad I was on base when Carmen came through as she usually does," said Byars, a sophomore outfielder. "It's fun to advance through the playoffs and I hope we can keep it up."
EC 3, Peachtree Ridge 0 (Game 1): Ashlynn Gunter hit a fifth-inning double that scored Carmen Prior and Lilly Agan, helping the Lady Indians of EC defeat Peachtree Ridge 3-0 in Game 1 early Thursday.
EC was stuck with cold bats for the first four innings before finally breaking out in the fifth.
Fortunately for EC, Kelley Lynch pitched Game 1 and that meant Peachtree Ridge would also be stymied, giving the Lady Indians time to string some hits together — which they did.
Olivia Davis' RBI single in the sixth scored Prior from third base for the final 3-0 margin. Lynch finished with a complete-game one-hitter, striking out 14 Lady Lions in the process.