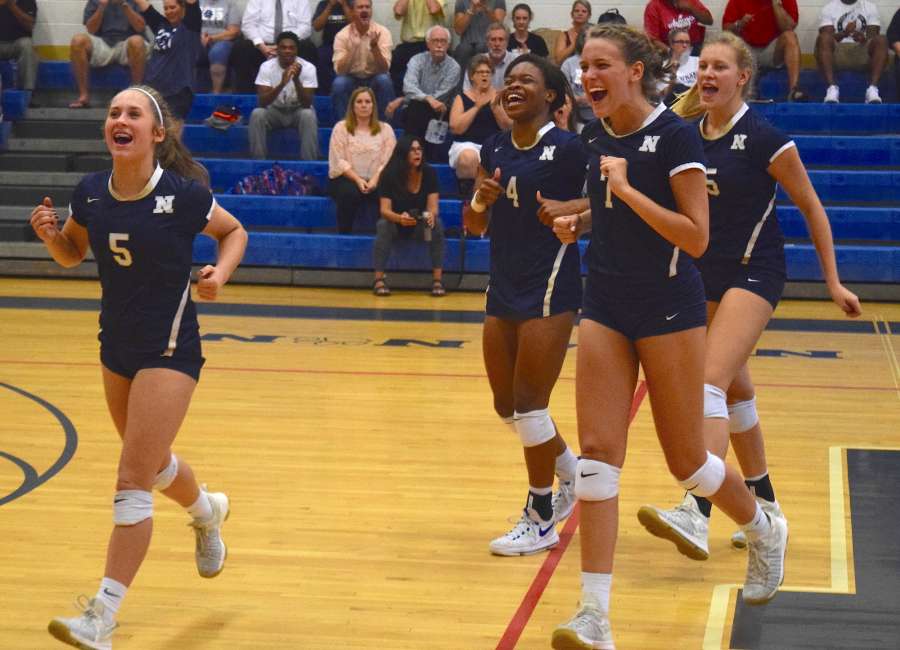 The Newnan High Lady Cougars volleyball team started the Class AAAAAAA state playoffs on a good note Wednesday evening, beating the Woodstock Lady Wolverines 3-0 in first-round action at Max Bass Gym.
Newnan, ranked No. 5 in Class AAAAAAA, looked like a team on a mission to advance far in state this season and No. 4 seed Woodstock happened to be the first victim Wednesday.
"Our whole plan for this season was on coach Wilson's board all year. We're motivated from last season's Elite Eight loss," said Newnan right side hitter Madison Headley, a junior. "We are definitely on a mission to go back to the Elite Eight and beyond."
No. 1 seed Newnan (35-5) got off to a rousing start in Game 1. Two kills by Crystal Burk and two serving aces from Anna Marie Campbell put the Lady Cougars up 8-2. The Newnan lead rose to 11-3, and after a kill by sophomore outside hitter Mary Beth Headley, Madison's sister, it was 16-7 and the rout was on.
Minutes later, Burk had three straight kills to push Newnan's lead to 24-10 and she personally ended Game 1 with a nice dink shot for the 25-10 victory.
Newnan ran off to another quick start in Game 2, as kills by Burk, Mary Beth Headley and Maggie Strickland put the Lady Cougars up 10-5. A kill shot by Campbell and a block for point from Campbell and Mary Beth Headley seconds later increased Newnan's lead to 12-5, and it looked like the home team would run away with the win.
Woodstock, however, fought back. The Lady Wolverines went on a 5-2 run, thanks in part to two blocks for points by Nyla Shepard and McKenzie Norris, to cut the Newnan lead to 14-10. Woodstock then cut the lead to 17-15, but it would get no closer. Burk stopped the bleeding with a nice kill shot, leading to a 4-0 run and a 21-15 lead. Woodstock would only score one more point, and Madison Headley scored consecutive points to end the game as Newnan won 25-16.
Woodstock jumped out to a 2-0 lead in Game 3, but Newnan rebounded to lead 10-5. Woodstock rallied and again got within two points, 12-10, but Newnan went on a 9-2 run to take control of the game, 21-12. A block for point by Mary Beth Headley and Campbell seconds later gave the Lady Cougars the 24-14 lead and a sweet tip shot from setter Taitum Boston sent Newnan into the second round with a 25-15 victory.
"We have great communication as a team, and that helps us hitters know where we have to place our shots," said Mary Beth Headley. "I think that worked out well for us tonight against Woodstock."
"We're so close as a team that we know where everyone likes to get the ball, and that helps as well," said Madison Headley.
The Lady Cougars will host the winner of Wednesday's West Forsyth-Kennesaw Mountain match in state second-round action on Tuesday, Oct. 17 at Max Bass Gym.