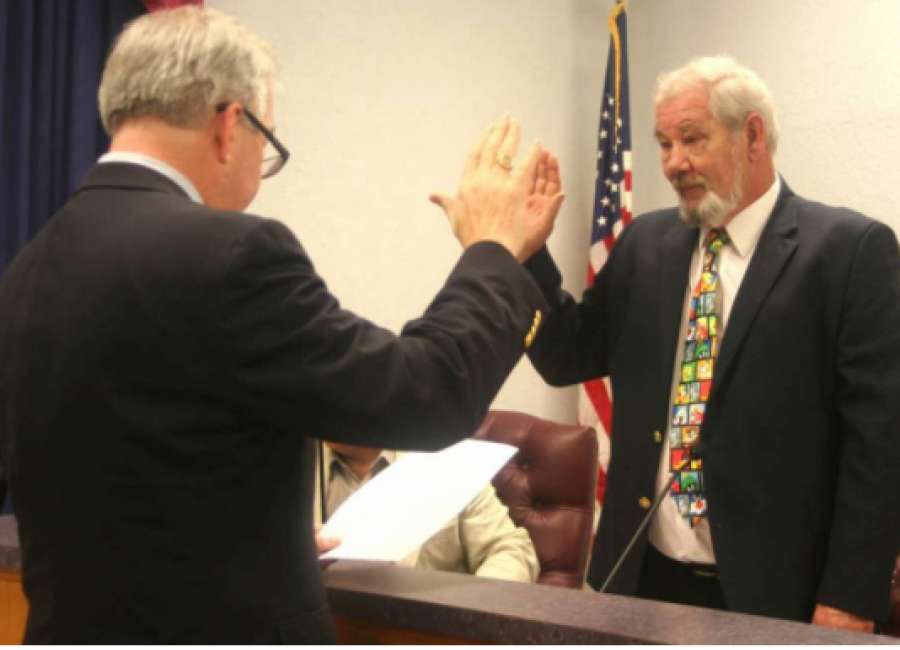 Grantville Councilman Mark King has filed suit for $9.08  against Mayor Doug Jewell for the alleged illegal removal of campaign signs last month.

The suit was filed last week in the Magistrate Court of Coweta County. King is asking for $104.08, which includes the cost of two signs for $8.08,  $1 for punitive damages,  plus $95 for court costs, according to court documents.
King said a total of six signs were moved, but only four were recovered.
The signs were removed on Sept. 29, according to Jewell, because the signs were not in compliance with city code of ordinances, which says that signs should be at least 10 feet away from the right-of-way line of any street or highway to which it orients.
The councilman said the suit isn't about him, but about getting the mayor to do the right thing.
"He overstepped his boundaries," King said. "The right-of-way setback is determined street by street. I used a tape measure from to make sure signs were at least 10 feet away from the street."
King's signs were located on Highway 29 and Maple Street.
King alleges Jewell instructed city workers to remove the signs because of a meeting that was held prior to the signs being removed. King said code enforcement should have removed the signs.
In a previous Newnan Times-Herald interview, Jewell said city workers were instructed to pick up the signs. He said that he also had campaign signs removed in 2014 because of noncompliance.
"I had several of my signs removed," Jewell said. "Like these candidates, I felt they were in the right spot. Evidently they did not comply, and they picked them up, and I came to city hall and picked them up."
The Grantville mayor said the signs were returned to city hall for pickup, but King said the signs were taken to the dumpster and a Grantville resident delivered the signs back to candidates.
Jewell said the copy of the code of ordinances – including rules about signs – was included in the qualification packet that had to be picked up by candidates. City Manager Al Grieshaber said candidates are allowed to place campaign signs after qualification, which ended on Aug. 23.
Signs must be removed seven days after the election.
City Attorney Mark Mitchell was not able to comment on the matter because he represents the entire council.
King was appointed by the council in January to replace Councilman David Riley, who resigned at the end of October 2016, after serving one term that began January 2014. Riley said he and his wife had sold their house and moved out of the city.
Sandra Luttrell, Dee Berry and Alan Wacaser are running for the Post 4 seat currently held by Leonard Gomez, who did not qualify for re-election. Barham Lundy, a former member of the Grantville City Council, is challenging Post 3, the seat King currently holds.
The city elections will be held Nov. 7. Also on the ballot will be the extension of the Special Purpose Local Option Sales Tax for Coweta County.