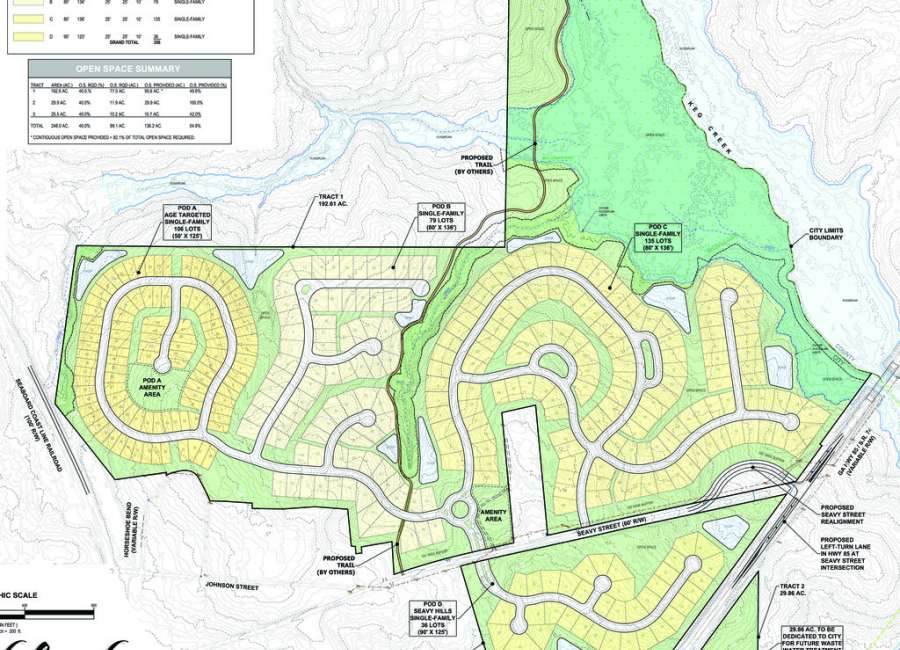 A subdivision with 365 residential lots is proposed for property on Seavy Street and Hwy. 85 in Senoia.
The Keg Creek Landing development is on 248 acres currently owned by the Frances Cleveland Estate and Bray Properties, and wraps around land owned by Berti Lu Nations-Miller.
The developer is Brent Holdings LLC/Brent Scarbrough.
The property was zoned for a conservation subdivision several years ago, according to Community Development Director Dina Rimi, and the conceptual plat for the development went before the Senoia Planning Commission on Sept. 19. The planning commission voted 3 to 2 against approving the plat.
The conceptual plat request will go before the Senoia City Council on Oct. 16.
There is a proposed overall density of 1.44 units per acre, with 136.2 acres of greenspace. That greenspace includes 29 acres that could possibly be used by the city for a future sewer facility.
The developers will get a density bonus for making improvements to the intersection of Seavy Street and Hwy. 85, Rimi said. The base density under the zoning district would allow 223 lots on the property. The density bonus allows for an additional 133 lots, according to information on the conceptual plat.
The planning department and planning commission are asking that the developers do a traffic study on the property prior to submitting a preliminary plat, which is the second step in the platting process. Typically the traffic study is done with the construction plat, which is step three.
The conceptual plat shows the development divided into four pods. Pod A shows smaller homes designed for senior living, with 106 homes on lots 50 feet wide and 125 feet deep. Pod B would have 79 homes on 80 by 136-foot lots. Pod C shows 135 homes on 80 by 136-foot lots, and Pod D would have 36 homes on 90 by 125-foot lots.