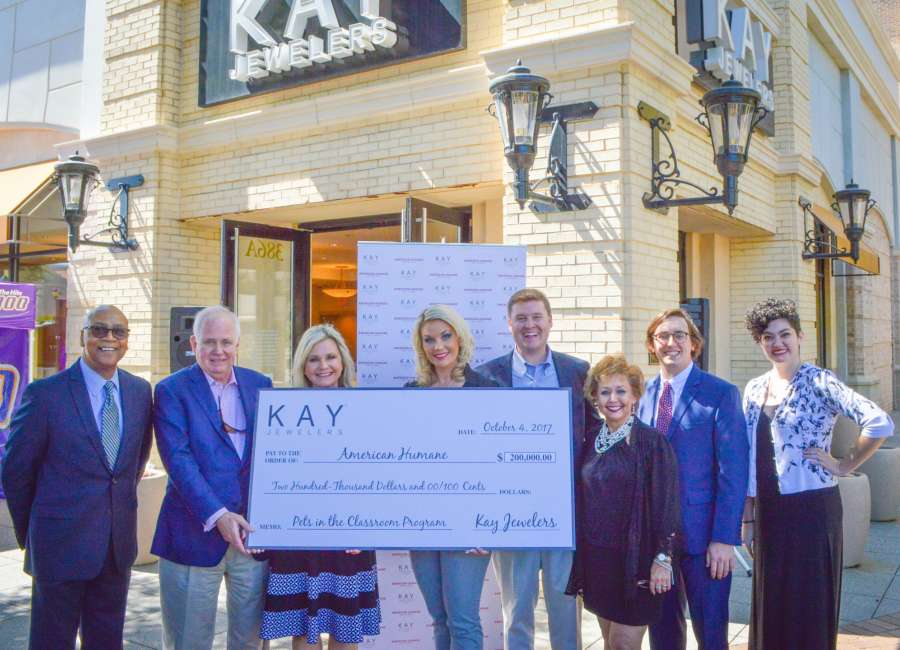 On Wednesday, the Newnan location of Kay Jewelers was the site of a presentation of a $200,000 donation to American Humane.
The ceremony was a pet-friendly event, with dog treats – and human treats – for attendees.
The donation goes to support American Humane's "pets in the classroom" initiative.
"Pets and kids are both near and dear to our hearts so we thought that would be a great tie-in," said Kimberly Kanary, vice president of public relations and social media for Kay Jewelers.
The pets in the classroom initiative includes a teaching curriculum that has been set up around the world, said Robin Ganzert, CEO of American Humane. Teaching plans and other free resources are available on Kindness100.org.
"It's really about celebrating the fact that animals teach children the values of kindness and compassion better than us humans can," Ganzert said.
Some of the money donated by Kay will go to a grant program to help teachers and schools add pets to their classrooms, said Jack Hubbard of American Humane. The pets in the classroom program educates teachers and school districts about the power of having animals in classrooms, he said.
A study found that children demonstrate more empathy, compassion and kindness in classrooms after they have spent time with pets in classrooms, Hubbard said.